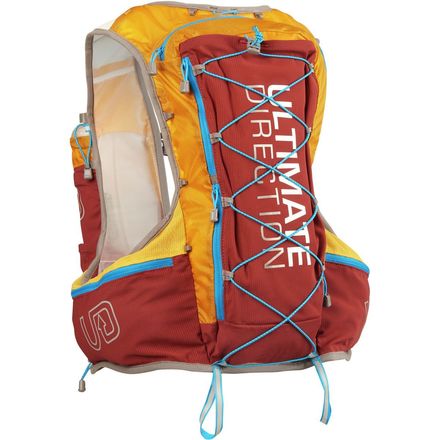 Colors

Detail Images
A minimalist vest designed by ultra-runner Anton Krupicka.
Ultimate Direction teamed up with ultra-runner Anton Krupicka to create the AK Mountain 3.0 Hydration Vest. Since Anton sticks to a 'less is more' philosophy, this vest is super light and only contains the features you need to carry gear that is completely necessary. A hydration bladder, although clever in design, is inconvenient to refill and becomes a pain when it bounces around on your back. Water bottles are a much more elegant solution, and the AK Race vest allows you to carry two at chest-level, with one on each shoulder strap. Here the bottles are free from the bounce caused by running on the trail, and they're easy to grab for drinking and refilling.
Behind these holsters lies a harness made of highly breathable knit mono mesh that conforms to your body, and behind that, a stretchy storage compartment comprised of Darlington Power Mesh. In order to carry the necessary gear for more adventurous trail runs, Anton updated the design of the AK by adding dual ice axe loops, trekking pole straps, and a large main back compartment to carry a harness and rappel rope.
Knit mono mesh shoulder harness
Darlington Power Mesh
Silicone-impregnated 30D nylon with PU face
Sliding rail sternum straps
Bottle holsters
Two soft flasks included (16.9oz)
Trekking pole holders
Double ice axe loops
External stretch pocket
Secure lateral pockets
Great pack!
Familiarity:

I've put it through the wringer
I researched all the hydration pack options for about a month and finally landed on this one! I'm glad I did. I love how versatile this pack is! It's light enough to trail run with and has enough storage for a long day hike! The pockets on the waist belt can hold a ton of extra snacks and the soft pouch on the back is a great spot to stash a light jacket. There is a lot of adjustability to make sure it's as snug as you want. The only thing I'd change is I'd like more of a barrier between my back and the hydration pack. My ice doesn't last as long and my drink gets a little warmer since there isn't much of a barrier between it and my HOT back. Other than that one thing, I really do love this pack!
John Peter Barrand
Great pack; runs a bit big
Familiarity:

I've put it through the wringer
Fantastic pack that I'm definitely a large fan of and as expected performs better than Salomon. Fantastic for long days out in the mountains, runs light weight and seemingly doesn't chafe. Only complaint is how large it runs - at 6'4" with large shoulders, one would think I would be a Large or XL. I found the medium fits the best. No other complaints apart from the sizing! Size down, folks.
Peter C.
Steller Vest/Pack
Familiarity:

I've put it through the wringer
As always with UD stuff. Lightweight, quality, craftsmanship, and well thought out ideas. I loved this pack, but had to swap it out for a different one. I ended up going with the Ultimate Direction Jurek FKT 12L Hydration Vest instead.
Reason: lower set water bottles on the Jurek don't snag my beard...lol
Joshua J Mountain
Comfortable vest/pack
Familiarity:

I've used it several times
I've used the pack on a few runs probably totaling 50 - 60 miles. I'm 5' 11'' and weigh ~150lbs and I bought the medium. The vest fits comfortably and doesn't bounce around too much when both bottles are full. However, I have found that if one bottle is full and the other is empty, the unbalanced bounce of the vest is pretty uncomfortable. Other than they everything is great. Plenty of storage for snacks, jacket, etc. Definitely a good option for the runner / fast hiker that wants to carry a bunch of stuff but doesn't want the bulkiness of a larger daypack.
Joey Sweeney
Loving this pack so far
Familiarity:

I've used it several times
This is the fourth pack I buy in 10 years. I had stuck to different models of Salomon and loved their durability. It was time for a change, and I so far I have no regrets. I love the no frills approach of the design, only two little cords jumping up and down is a massive difference to other packs where you have straps, cords and other adjusting peripherals getting in the way of your run. The waterproofing is a double-edged sword, as well as keeping the water from coming in, it traps condensed water vapour inside. This can be a problem on longer (4+ hour) runs. apart from that minor niggle, the pack was pretty good when I took it to a 15 trail commute (lunch, 2 phones, windbreaker, wallet banana and swipe cards galore).
The fitting for the M size is on the larger side, so If you are sitting on the fence go for a size shorter.

Valentino L.
I should give this pack a wash
Familiarity:

I've put it through the wringer
Email me directly for all your running pack questions - jelam@backcountry.com

With somewhere around 1,000 mountain miles in the AK Vest (and zero washes) I have a few things to say....

The Good - This thing fits like a glove. I love how there are no underarm straps. It has seamless coverage which hugs nicely under your arms and around your rib cage. My favorite thing about this pack has to be how there is pretty much no bounce. I hate when a pack bounces around. I've had the AK Vest loaded to the brim on my Zion Traverse and still barely noticed the pack on me.

The Bad - I have a hard time fitting anything but soft bottles in the front pockets. There are a few other great bottles out there which I wish I could use. Maybe UD can have slightly larger pockets up front next time. That being said, I don't mind primarily using soft bottles. Also, there are a few zip pockets on the side/front which I always have a hard time using while on the move.

The Awesome - This is an amazingly designed pack. It's light, comfortable, durable, and now extremely salty from all the miles I've put in it.
Jimmy Elam
Great running pack
Familiarity:

I've used it once or twice and have initial impressions
I used this pack for running and even a long adventure roadie ride where I needed lots of layers. Very comfortable and the water bottles and front pockets are very convenient. You can fit lots of stuff in the back. Fits well whether loaded up or just out for a 10 mile trail run.
Anonymous
S/M is not for people under 5'4"
Familiarity:

I've used it once or twice and have initial impressions
I gave this a gift, he really love the design and how lightweight it is, the back storage has enough space to put in even fruits and all the food I need for a 100 miler. The problem with this vest is that my friend is 5'4" and the bottles keep soring his ribs at the point where he needed to actually remove them and run with the bottles on his hand. It also lacks of space to put his smartphone in the front.
Agnes Vanessa Alvarez Torres
Love UD Packs
Familiarity:

I've put it through the wringer
UD makes arguably one of the best group of running packs on the market and caters to all different distances. These packs are durable, fit snug and are designed for the pickiest of runners. I have run for 6+ hours in these packs with no shirt and never had any sort of chafing or any issues. Very easy to clean as you can easily throw them in the washer along with your running clothes. These vests come with soft bottles which are fantastic! Don't be skeptical, just try them out.
Seth Barnes
Messy Size/Fit
Familiarity:

I've used it once or twice and have initial impressions
I really want to love this vest since I've been a big fan of UD vests and owned PB 1.0, SJ 1.0, and AK 2.0. Wear the M size for each of those.

I'm 5'7', 138lb with 40" chest size. Tried the AK3.0 Medium and couldn't make it fit snugly after a couple hours of run. Exchanged it for a S and it was way too tight. Loosened everything up and it barely fit.

I went to a local running store to try SJ 3.0 and found sizing to be a problem as well for both S and M. Either too tight or too loose. What gives UD?
Wan A.