Twin Six

Get Bent T-Shirt - Men's
Item #TWI00A7
Twin Six
Men's Cycling Apparel
Short-Sleeve Jersey
S
M
L
XL
XXL
3XL
Chest

37in

(94cm)

39in

(99.1cm)

42in

(106.7cm)

46.5in

(118.1cm)

49.5in

(125.7cm)

53in

(134.6cm)

Waist

30in

(76.2cm)

32in

(81.3cm)

34in

(86.4cm)

36in

(91.4cm)

39in

(99.1cm)

42in

(106.7cm)

Front Length

21in

(53.3cm)

22in

(55.9cm)

23in

(58.4cm)

24in

(61cm)

25in

(63.5cm)

Back Length

26.5in

(67.3cm)

27.5in

(69.8cm)

28.5in

(72.4cm)

29.5in

(74.9cm)

31in

(78.7cm)

31.5in

(80cm)

Standard Jersey
XS
S
M
L
XL
XXL
3XL
Chest

35in

(88.9cm)

37in

(94cm)

39in

(99.1cm)

42in

(106.7cm)

46.5in

(118.1cm)

49.5in

(125.7cm)

53in

(134.6cm)

Waist

28in

(71.1cm)

30in

(76.2cm)

32in

(81.3cm)

34in

(86.4cm)

36in

(91.4cm)

39in

(99.1cm)

41in

(104.1cm)

Front Length

20in

(50.8cm)

21in

(53.3cm)

22in

(55.9cm)

23in

(58.4cm)

24in

(61cm)

25in

(63.5cm)

Back Length

25.5in

(64.8cm)

26.5in

(67.3cm)

27.5in

(69.8cm)

28.5in

(72.4cm)

29.5in

(74.9cm)

31in

(78.7cm)

31.5in

(80cm)

Wind Jacket
XS
S
M
L
XL
XXL
3XL
Chest

40in

(101.6cm)

44in

(111.8cm)

47in

(119.4cm)

48in

(121.9cm)

49.5in

(125.7cm)

51in

(129.5cm)

52in

(132.1cm)

Waist

31.5in

(80cm)

34in

(86.4cm)

36in

(91.4cm)

37in

(94cm)

38in

(96.5cm)

39in

(99.1cm)

40in

(101.6cm)

Sleeve Length

24in

(61cm)

24.5in

(62.2cm)

25in

(63.5cm)

25.5in

(64.8cm)

Front Length

21in

(53.3cm)

22in

(55.9cm)

23in

(58.4cm)

24in

(61cm)

25in

(63.5cm)

26in

(66cm)

27in

(68.6cm)

Back Length

29.5in

(74.9cm)

30.5in

(77.5cm)

31.5in

(80cm)

33in

(83.8cm)

34in

(86.4cm)

35in

(88.9cm)

36in

(91.4cm)

Wind Vest
XS
S
M
L
XL
XXL
3XL
Chest

38.5in

(97.8cm)

41in

(104.1cm)

43in

(109.2cm)

45in

(114.3cm)

47in

(119.4cm)

49in

(124.5cm)

51in

(129.5cm)

Waist

33in

(83.8cm)

35in

(88.9cm)

37in

(94cm)

38in

(96.5cm)

40in

(101.6cm)

41.5in

(105.4cm)

43.5in

(110.5cm)

Front Length

20in

(50.8cm)

21in

(53.3cm)

22in

(55.9cm)

23in

(58.4cm)

24in

(61cm)

25in

(63.5cm)

26in

(66cm)

Back Length

30in

(76.2cm)

31in

(78.7cm)

31.5in

(80cm)

32.75in

(83.2cm)

33.5in

(85.1cm)

34.25in

(87cm)

35.25in

(89.5cm)

Long-Sleeve Jersey
XS
S
M
L
XL
XXL
3XL
Chest

38.5in

(97.8cm)

40.5in

(102.9cm)

42.5in

(107.9cm)

44.5in

(113cm)

46.5in

(118.1cm)

48.5in

(123.2cm)

50.5in

(128.3cm)

Waist

27in

(68.6cm)

29in

(73.7cm)

31in

(78.7cm)

33in

(83.8cm)

35in

(88.9cm)

37in

(94cm)

39in

(99.1cm)

Sleeve Length

22.5in

(57.1cm)

22.75in

(57.8cm)

23in

(58.4cm)

23.25in

(59cm)

23.75in

(60.3cm)

24in

(61cm)

24.25in

(61.6cm)

Front Length

22in

(55.9cm)

23in

(58.4cm)

24in

(61cm)

25in

(63.5cm)

26in

(66cm)

27in

(68.6cm)

Back Length

28.5in

(72.4cm)

29.5in

(74.9cm)

30.5in

(77.5cm)

31.5in

(80cm)

32.5in

(82.5cm)

33.5in

(85.1cm)

Thermal Jacket
XS
S
M
L
XL
XXL
3XL
Chest

42in

(106.7cm)

44in

(111.8cm)

46in

(116.8cm)

48in

(121.9cm)

50in

(127cm)

52in

(132.1cm)

54in

(137.2cm)

Waist

33.5in

(85.1cm)

36in

(91.4cm)

37.5in

(95.2cm)

39in

(99.1cm)

42in

(106.7cm)

43.5in

(110.5cm)

45.5in

(115.6cm)

Front Length

22in

(55.9cm)

23in

(58.4cm)

24in

(61cm)

25in

(63.5cm)

26in

(66cm)

27in

(68.6cm)

Back Length

31in

(78.7cm)

32in

(81.3cm)

33in

(83.8cm)

34in

(86.4cm)

35in

(88.9cm)

36in

(91.4cm)

37in

(94cm)

Standard Tech Jacket / Hoodie
XS
S
M
L
XL
XXL
3XL
Chest

37in

(94cm)

39in

(99.1cm)

41in

(104.1cm)

43in

(109.2cm)

47in

(119.4cm)

51in

(129.5cm)

55in

(139.7cm)

Sleeve Length

34in

(86.4cm)

35in

(88.9cm)

36in

(91.4cm)

37in

(94cm)

37.5in

(95.2cm)

38in

(96.5cm)

38.5in

(97.8cm)

Front Length

24.5in

(62.2cm)

25.5in

(64.8cm)

26.5in

(67.3cm)

27.5in

(69.8cm)

28.5in

(72.4cm)

29.5in

(74.9cm)

30.5in

(77.5cm)

T-Shirt
S
M
L
XL
XXL
Chest

34 - 36in

(86.4 - 91.4cm)

38 - 40in

(96.5 - 101.6cm)

42 - 44in

(106.7 - 111.8cm)

46 - 48in

(116.8 - 121.9cm)

48 - 50in

(121.9 - 127cm)

Waist

30 - 32in

(76.2 - 81.3cm)

32 - 33in

(81.3 - 83.8cm)

33 - 34in

(83.8 - 86.4cm)

36 - 38in

(91.4 - 96.5cm)

40 - 42in

(101.6 - 106.7cm)

Bib Shorts
S
M
L
XL
XXL
3XL
Waist

29 - 31in

(73.7 - 78.7cm)

32 - 34in

(81.3 - 86.4cm)

35 - 37in

(88.9 - 94cm)

38 - 41in

(96.5 - 104.1cm)

42 - 45in

(106.7 - 114.3cm)

46 - 50in

(116.8 - 127cm)

Weight

120 - 145lb

(54.4 - 65.7kg)

145 - 170lb

(65.7 - 77kg)

170 - 190lb

(77 - 86.1kg)

190 - 220lb

(86.1 - 99.7kg)

220 - 250lb

(99.7 - 113.2kg)

250 - 260lb

(113.2 - 117.8kg)

Height

5ft 4in - 5ft 8in

(162.6 - 172.7cm)

5ft 7in - 5ft 11in

(170.2 - 180.3cm)

6ft 1in - 6ft 5in

(185.4 - 195.6cm)

6ft 3in+

(190.5cm+)

Chest

35 - 37in

(88.9 - 94cm)

38 - 40in

(96.5 - 101.6cm)

42 - 44in

(106.7 - 111.8cm)

44 - 46in

(111.8 - 116.8cm)

46 - 48in

(116.8 - 121.9cm)

Inseam

9in

(22.9cm)

9.5in

(24.1cm)

10.5in

(26.7cm)

11in

(27.9cm)

11.5in

(29.2cm)
How to Measure:

For best results, take measurements over your underwear.

Chest:

Measure under your arms, around the fullest part of your chest.

Natural Waist:

Measure around your natural waistline, keeping the tape a bit loose.

Inseam:

Using pants that fit well, measure the crotch seam to the bottom of the leg.

Sleeve:

Measure from the center of your back to your wrist with arms held out.
Select style & size:
Select options
Select options

Black/Metallic Gold, S

Sale:$11.97
Tech Specs
Manufacturer Warranty:
1 year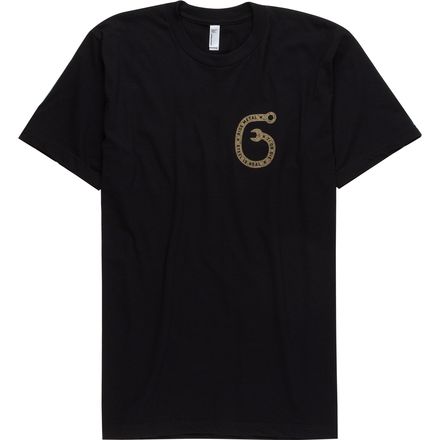 Colors

Detail Images
In a good way.
Whether you're a steel enthusiast or titanium nut, you can let your freak flag fly with the Twin Six Men's Get Bent T-Shirt. This cotton tee pays homage to metal steeds while remaining comfortable enough that you can wear it when you're putting another round of components on your bombproof frame.
Show your appreciation for metal frames with this tee
Soft and breathable fabric puts a premium on comfort
Twin Six products are made in the USA
Frequently purchased together