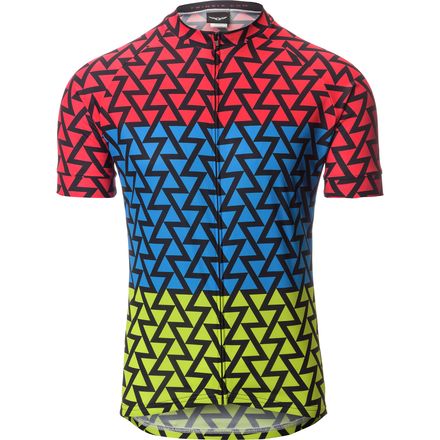 Strikingly situated.
The Twin Six Men's Ascent Jersey draws admiration as you blast down the road with its striking collection of jagged geometry and bright hues. It's a surefire way to not only catch the attention of other cyclists, but of passing motorists as well, with the sublimated graphics popping nicely in a myriad of outdoor and urban environments. To ensure continuity of the jersey's vivid graphics, the full-length zipper hides out of sight without sacrificing temperature-regulating function.
Seeing that eye-grabbing graphics sit at the forefront, you'll be pleasantly surprised to note it doesn't sacrifice functionality at the expense of form. Soft polyester microfiber elevates your comfort without irritation holding you back on the road. This microfiber pulls perspiration where it can readily evaporate, rapidly cooling you down when you're on the brink of exhaustion during sustained climbs and high-cadence efforts.
Newly redesigned, all Twin Six Jerseys sport slightly longer sleeves (approximately an inch longer than before). These longer sleeves use well-proportioned, fitted cuffs that stay put without the pinching effect of elastic. The jersey itself falls between the slightly relaxed fit of a standard American jersey and the skin-tight cut of Euro offerings. US-made quality shines through in every stitch and seam, with exceptional attention to detail.
Catch the attention of passing cars and cyclists
Polyester microfiber for soft, quick-drying comfort
Hidden zip preserves graphic, prevents overheating
Three deep rear pockets for plentiful storage
Proudly made in the US with striking detail