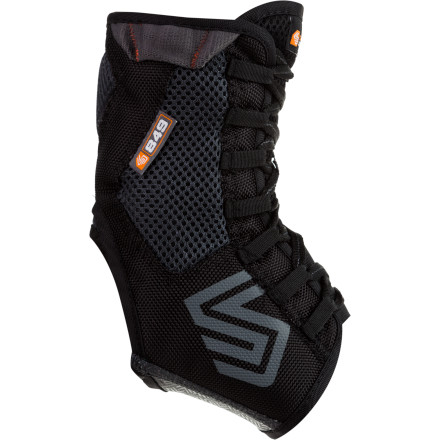 Colors
No time for downtime.
Protect that torn-up ankle from further damage with the Troy Lee Designs Ultra Lite Ankle Support. Built in collaboration with the sports medicine wizards at Shock Doctor, it takes the standard compressive ankle cuff to the next level with plenty of ride-driven features. After all, just because you can't stomach taking time off doesn't mean you have to be unsafe about it.
Inside this lace-up compression cuff, you'll find gel padding placed throughout, which helps to improve comfort, especially when you really crank the laces down. The low-profile lace loops help to fight hot spots when you stuff your foot into your riding shoes. An external compression wrap mimics the hold produced by a good tape job, further enhancing joint stability. And the silicone grippers at the bottom of the foot keep you planted in your shoe.
The Troy Lee Designs Gel Ultra Lite Ankle Support is available in four sizes, from Small to X-Large, and in the color Black. Please note that these guards are sold individually, and can be used on either foot.
Does job
Familiarity:

I've put it through the wringer
Provides stability to ankle when doing activity.
Tyrannosaurus Dex
Good
Familiarity:

I've used it several times
Purchased this ankle brace because of a prior injury that came back. The brace provides great support, but still gives you more mobility than a more supportive brace. Not only does it provide support from side to side motions but also from front to back. Overall I am happy with the support the brace provides and how easy it is to use.
Sven Joergens-Kokate
Good
Familiarity:

I've used it once or twice and have initial impressions

Fit:

True to size

Size Bought:

L
Good
Ricky Morales
Height:
6'00"
Weight:
200lbs
Laces = Large Scale of Adjustability
Familiarity:

I've used it once or twice and have initial impressions
I (luckily) wasn't able to put much into using this product. I bought it quickly after tweaking my ankle riding. The reason I bought it was from my overwhelmingly positive experiences with other TLD/Shock Doctor items such as the Wrist Guard or Knee Braces. This item is right up there with those other items. While it took awhile to get it properly secured on my ankle, due to the lace closure, it provides a stable platform for even the most haggered ankles. The laces make it really easy to adjust the pressure needed or wanted for support. Additionally, the Ultralight version seemed slim enough to work with a riding shoe, but I did not get to test it out. Whether you're on the mend or working on preventative maintenance, you can't go wrong with the TLD/Shock Doctor products.
Kevin K
Seems like it should work. Haven't really used it since my ankle started to feel better
ty
I'm recovering from a spiral fib fracture/ ankle dislocation.

Does anyone that's been thru this kind of injury use this (or any other) ankle support?



And if so, how effective do you find these types of product?



I really don't want to have to go through this ever again, if you know what I mean.
gearmonger
Hey,

Sorry to hear about the ankle. I too have been plagued with severely breaking my tib / fib.



I do use an ankle brace regularly, it definitely helps and gives you an added sense of security while doing vigorous activities or action sports.



One thing to keep in mind is that you are limiting the mobility of your ankle (during healing this is a good thing so you don't re-injure yourself ). It gives you a bit more of a sense of security having the ankle brace, because it's not going to allow you to tweak too far it in the wrong ways where you get mass amounts of shooting pains.



I use my ankle brace for every activity that I do, except snowboarding. They are a bit bulky wearing under your shoe and take some getting used to wearing, but they are definitely a lifesaver.



A word of advice, start out wearing it around the house to loosen it up, wear it in your shoe loosely, then tighten moderately to fit snug, not too tight. If it's too tight, it will create pressure points and tight spots that can be overbearing during certain movements.
Mark Burnett
Thanks for the excellent insight Mark,



It sounds like this might be exactly what I'm looking for.



I really wish I had a pair of these before my fib blew apart like a cheap pencil....



Looking forward to biking and skating again, but right now would be happy just to be able to walk normally.










gearmonger
Best Answer
No worries, I know your pain ! If you have any other questions I'd be glad to help, feel free to reach me at mburnett@backcountry.com or my direct extension : 800.409.4502 ext 4789
Mark Burnett