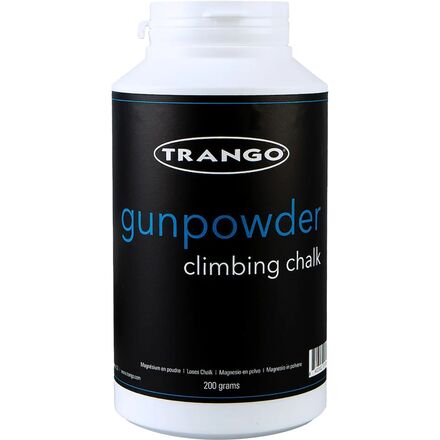 Colors
The Trango Gunpowder Chalk provides 200g of fine ground magnesium that keeps your hands dryer than conventional chalk so you can focus on the sending instead repeated visits to your chalk bag.
Good Stuff
Familiarity:

I've used it once or twice and have initial impressions
Good chalk. Big bottle.
Colin Clancy
Super Chalk
Familiarity:

I've put it through the wringer
I always come back to this chalk. Have gone though a couple bottles of it and have no complaints. It is super fine and there are never and crunchy hard chunks to break up.
Briana L.
Great Chalk
Familiarity:

I've put it through the wringer
I've gone through a container of this stuff after using a ton of Superchalk and a few other chalks and definitely prefer this the most.

Container:
This is the one thing I don't love about the chalk. The cap can pop off easily if you store it in your climbing bag, so I store mine in a 1-gallon plastic zip lock bag. That way if the bottle opens, I've got some protection from having my gear get covered in chalk and containing it so I can still use it.

Chalk:
I really like how fine this chalk is. It coats your hands nicely and evenly. No awkward chunks and doesn't leave my hands feeling wrecked after climbing like Superchalk does. I definitely notice more of it can get on my hands a little faster, so I go through it a little quicker. So to help with that, I just wide my hand on the inside of my chalk bag to wipe off the excess.
Jared Downs
Plenty of Chalk
Familiarity:

I've put it through the wringer
I love powder chalk because I feel like I get plenty of chalk on my hands.
Jessy Maier
Boom!
Familiarity:

I've put it through the wringer
Gunpowder is...da bomb! My go to chalk every time
Patrick
Silky smooth
Familiarity:

I've put it through the wringer
huge difference from the metolius chalk i was using before. Much finer so it gets in all the creases of your hand much better
John Martin
Cut it with normal block chalk!
Familiarity:

I've put it through the wringer
Super dry, super soft, and a bit silky.

I cut this with a little block chalk in my bag and its the perfect combo - full converage - quick drying .
Alex Quitiquit
Best stuff ever!!!
Familiarity:

I've used it several times
This is by far my favorit chalk so far. For reference I've used Black Diamond White Gold, Metolius Super Chalk, black diamond refillable socks and even liquid grip liquid chalk. Trango Gun powder is incredibly fine and comes completely pulverized to the point that it is impossible to find any pieces in the bottle. It stays on super well and does a good job of keeping your hands dry but not incredibly dry. Highly recommend trying this.
Tyler Itterly
Sweaty hands Williams gives this chalk 2 thumbs up. I have sweaty hands and this is the best chalk i have used so far.
Nate w
This is by far the the chalk that I have ever used!
Nolan Walker
Sweat Be Gone
Familiarity:

I've put it through the wringer
This chalk comes pretty finely ground, without any chunks at all. The fact that it comes ground is handy for putting it into use most quickly and efficiently and the bottle that it comes in is sturdy and reliable, so you don't have to worry about an explosion of chalk all of the car when the plastic breaks. Overall, this is my second favorite chalk, second only to Frank Endo, and does a great job coating your hands as well as not rubbing off too quickly. Some chalks tend to slip right off while others are difficult to clean off. Trango's gunpowder finds the middle ground of staying on just long enough for you to stick that crux move. If you haven't tried it, go for it, you won't be disappointed.
Daniel Goodman
The Best Chalk Evaaaaa!
Familiarity:

I've put it through the wringer
This chalk feels like silk on your skin. It is insanely fine ground and there are no chunks. I does a great job at keeping my hand sweat at bay and is perfectly gritty to help me stick holds. I definitely recommend it! I'l never buy any other chalk :)
Natalie Ramon
This is great chalk. Whenever I'm climbing with friends and they use my chalk I always get the comment of how soft it is! It doesn't dry out your skin and lasts longer than other chalks I've tried. The price is a steal for the amount you get and it lasts a long time. I got mine for Christmas and I climb at least twice a week and still have more than half the bottle left.
Charissa Olsen
First time Trango Gun Powder user
Familiarity:

I've put it through the wringer
And i am now in love. As the name says this is straight baby powder for grip. It lasts through 3-4 Boulder problems usually before I need to chalk up. You get a great amount of chalk for the price and being that it has a glove like fit to your hand that helps stay on longer your one bottle will last a while. a month and a half of climbing at least 2 times a week and i still have 3/4 of the bottle
Anthony Manina
Good Chalk for a Good Price
Familiarity:

I've put it through the wringer
This was my first time to use the Trango Gunpowder and I'm pretty satisfied with it! The consistency and texture remind me of the Bison Chalk, but this seems to last longer (for me) than the Bison Chalk. I am a bit partial to the Black Diamond White Gold that is same price (but I have seen the Gunpowder on sale and have never seen the White Gold on sale). If you are a fan of the Bison Chalk but not the price, this is a great option for you! I actually loved the container for this chalk! I use a refillable chalk sock and this container is the perfect size to pour directly into it without getting hardly any loose chalk in my chalk bag (my preference is to have a small amount anyway so it works out haha). The lid is super secure and I never worry about it spilling. I might experiment with mixing this with the White Gold, if I have any luck I will be sure to share!
Luke R.
Grant Kates
perfection
Familiarity:

I've put it through the wringer
This stuff is great! There isn't any drying agent, so it doesn't crack my skin like some other chalks do, and it lasts longer than block chalk, etc.
Adam S.