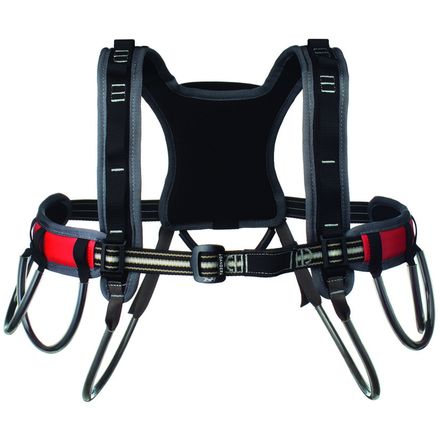 Colors
Double, or even quadruple, your racking options.
Sometimes the route requires more gear than your harness can handle, so slip on Trango's Double Rack and head up big walls with everything you need. This full-strength chest harness boasts seven large lops for more than just a double rack, and Trango added daisy chains to clip even more gear if need be. Padding at the shoulders, waist, and back keeps you comfy whether you're leading with a heavy load or relaxing at the belay station.
A full-strength chest harness with more racking options for big wall climbs
Padded shoulders, waist, and back for comfort
Front double-back buckle
Seven gear loops and multiple daisy chain attachments
Trango is a Colorado-based company focused on the modern, core climber
Great chest harness and rack system
Familiarity:

I've put it through the wringer
I bought the Trango Double Rack to use as a chest harness for solo top roping. Overall I think the harness is a well made piece of equipment. Seems durable and safe. The chest harness holds my Petzl Croll perfectly. I've used the racking system for trad climbs and it does exactly what it's supposed to do. One thing I did notice however was the various "racks" on the harness have plastic tubing covering the nylon strap that you clip your gear to. Two of the straps the plastic tubing was short, which made the rack not hang exactly as I wanted it to. I went to Home Depot bought some plastic tubing and fixed the problem. Perfect now. I've read other reviews about the rack being small and tight fitting . I'm 5'7", 165lbs, and around a 40-41inch chest. The harness is snug around the arm area. It's not uncomfortable, doesn't impede movement or range of motion. I primarily use it as a chest harness so I wear it pretty snug anyways. I would say after the first time you climb with it you don't really notice it anymore. Overall I would say for the price this is a great rack system.
Tony N.
Good if small, not if big...
Familiarity:

I returned this product before using it
I was torn between this harness and the Misty Big Wall Gear Sling, and picked this one for lower price and the split gear loops. However I found that it did not fit me in a way that got it past the trying on stage. I wear an XL T-shirt, and am in the 230lb class, and found that I could not adjust the harness to ride low enough on my chest. It has lots of adjustability in the chest belt, but there is NO adjustment in the shoulder straps, so if you have a big chest and shoulders the chest belt ends up in your armpits...

The construction and design is otherwise excellent, and I would not hesitate to recommend this harness for a smaller person.

However I am having to return this harness and exchange it for the Misty Mountain BWGS which DOES have adjustable shoulder straps (and comes in both small and medium sizes)

Adding adjustability to the shoulder straps would make this harness much more versatile and able to fit more users. Alternatively if they had more than one size???
Arthur T.
Great for the $$
Familiarity:

I've used it several times
This was a great option for me. I was looking for something that would be large enough for long trad climbs but not as burly as the "Big Wall" gear slings. I often rope solo routes so the chest harness feature is a plus and it doesn't get in the way for regular climbing. I'm 6'1" about 190lbs and this sling has a lot of adjustment. I removed the 2 padded under arm gear loops, they can be handy but not for me. If you have big arms & chest it may be restricting under the arms. Meaning there is no way to adjust the height of the chest strap in relation to the shoulder strap. You can adjust the chest strap to accommodate different chest sizes (girth) but if you have large arms this sling may be a tight fit. In addition, once I adjusted the length of the main gear loops on either side of the sling and I had to replace the plastic tubing. You can adjust the length of the gear slings but the tubing is short. My gear would bunch up at the front and back because the plastic tubing was short. I fixed this by replacing the plastic tubing with full length tubing. It was a bit of a pain but it fixed the problem. Like I said this thing has a lot of adjustment.
shawnraxelrod