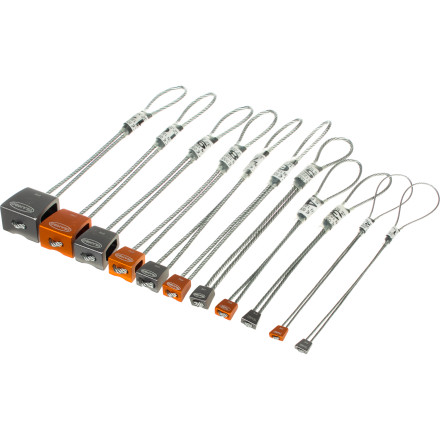 Colors
Whether you're just learning to place gear on techy Joshua Tree slabs or you are gearing up for your seventh summer in the valley, no trad rack is complete without a full set of Trango Chockstones. The classic curved design provides secure placements, and the bi-color system allows you to quickly find the size you need when you need it.

Classic curved design wraps around features for secure placements
Set of 11 Chockstones covers a range from 0.15 inches to 1.42 inches
Alternating bi-color system allows you to quickly locate the appropriate size without having to learn a new color system
Yesss!
Familiarity:

I've used it several times
So my favorite pieces are the smallest. And I've got to say when you place a nut the size of the #1 and trust that to protect a fall, it's such a great feeling when you don't fall. Try the Long John Wall's first pitch in Eldo and you'll see what I'm talking about. The smallest crack in the rock and it'll only take your smallest of nuts and then you still have to climb up 4 feet and over about 13 feet. Also can't beat the cost. Thanks again to Trango and Backcountry!
Kaz Hatfield
Grant Kates
These guys fit everywhere! The curved design gives you more versatility in placements, and the stability groove hugs bumps and other imperfections in the rock, wrapping around them for an extremely secure fit. These nuts utilize an alternating color system (gray and orange) that eliminates the need to fiddle with gear, so that you can find the piece you need when you need it.
Erica L.