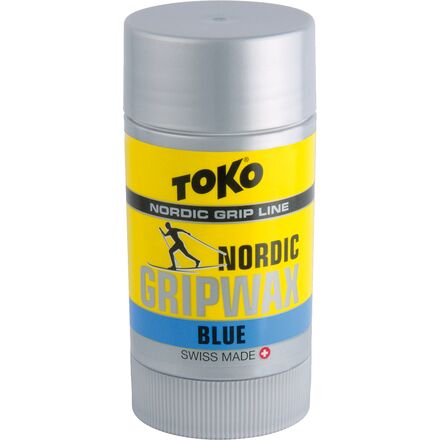 Colors

Detail Images
Get a good wax and get moving quicker.
You spend less time prepping your skis and more time gliding over the peaceful trails once you start using the Toko Nordic Grip Wax. The Bluesign approved material, which means it's going in the right direction environmentally, improves your skis' glide after you select the right color for your current snow conditions. All waxes screw outward and rub on like deodorant.
Base Green: put on first before any other grip wax layer, it increases durability and friction
Yellow: best for damp, new snow and loose, old snow; the warmest wax (Air: 38 to 26F)
Red: the most versatile for new snow, man-made snow, and old snow; the middle temperature wax (Air: 32 to 14F)
Blue: best for cold, dry, and compact snow; the coldest wax (Air: 20 to -22F)
Hello, I wandering to know how I can use...
Hello,
I wandering to know how I can use this product for my skies? I have to warm it or what? If you know a site of information about that, send me plz.
Thanks for your answer
mehdi
The Toko Green Base Binder can be rubbed on and corked in without heating. For the longest life, it is best to rub on and then iron it in. Here is the Toko Tech Manual (http://www.tokous.com/Manuals/Nordic%20Tech%20Manual.pdf) and a video specific to the base binder (http://www.tokous.com/Grip%20Waxing%20Videos.htm#Base%20Green%20Binder%20Application).
san3172823
Demonstrates grip wax application
Demonstrates grip wax application
Ian Harvey/Toko