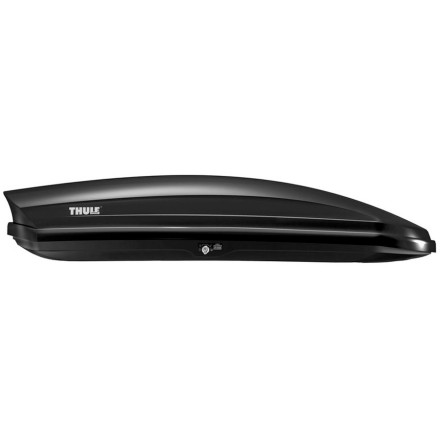 Colors
Haul your gear, without the drag.
With the Sonic Cargo Box, Thule offers an efficient and convenient way to transport your gear the next time you hit the road. The Sonic Cargo box features Thule's patented AeroNose design to reduce drag, which in turn creates a quieter, more fuel-efficient ride. The box also features Thule's patented rear-angled base for improved truck clearance. And for total convenience, the Sonic's DualSide feature allows it to be opened and locked from either side of the vehicle. The oversized SecureLock ensures the box is securely fastened before you drive off. The Sonic's expanded vehicle mount points make installation quick and easy, and with its AcuTight mounting, you'll know when you've reached the most secure hold.
AeroNose design
Rear-angled base for added trunk clearance
DualSide for convenient access from either side
AcuTight mounting
Oversized SecureLock
Unanswered Question
How many snowboards will the large hold?
Garret A.
With everything I do outdoors I needed to add more storage to my compact SVU. After purchasing the Thule, I started leave it on year round. The extra storage has helped a ton on all our outdoor adventures but it totally made my car look better as well. This is strong, durable and I've now had it for years and it works just as great as the day i bought it and I leave it on my car all year round. Highly recommend!
Ben Christensen
Awesome Box
Familiarity:

I've used it once or twice and have initial impressions
Put this on our Nissan Rogue and love it! and looks amazing too!
Jeremy M.
Broken hinge at second opening!
Familiarity:

I've used it once or twice and have initial impressions
Front hinge broke upon second opening. Not happy at all. Will ask for a return and hope to get good service...
Ludovic B.
Great Thule Cargo Box for SUV
Familiarity:

I've put it through the wringer
Thule just seems to make great products. This is my first Cargo box and it does not disappoint. First off, I find it sneaky how much gear it is able to accommodate. It was also really easy to install. We actually choose not to leave it on top of our SUV and I'm able to store it in the garage, and lift, place & install by myself in under 10 minutes prior to a trip. Though driver side works best for my situation, I do think it's awesome that the side it opens and locks from is interchangeable. My only minor criticism thus far is that the plastic 'handle' on the side is actually shallowly screwed in, so it will break if you apply a significant amount of force (like trying to jam too much in the cargo box). My suggestion would be for them to glue it as well as a 'belt & suspenders'.
Rob Wykoff
Frees up Lots of Space, Not Very Noisy
Familiarity:

I've used it several times
This box is nice, incredibly easy to mount on the bars, just turn four dials and its locked and secure. I like the ability to open from both sides, and the box stores plenty of gear which really frees up space for me in the back of my car, as I've transitioned to residing in the back to save that mullah and travel.

It is good and I haven't had any issues with it as of yet, just 4 stars as it seems a little pricey for what it is, but if you need to free up space, it does a great job!
Jacob Wilbanks
Unanswered Question
Has anyone tried the Thule Sonic M or XL on a Subaru Outback wagon 2008? Looks like Thule doesn't promote the Sonic L anymore and replaced it by the Sonic M. I am trying to figure out if the XL will limit the back hatch from opening all the way and how far forward the nose of the box sits above the windshield.



I'll probably buy the Sonic M and will post some pics. But hope to hear back with additional feedback before buying.



Thanks for your help!

tk
tbearwilson
Thule cargo box had catastrophic failure
Familiarity:

I've put it through the wringer
The top of my Thule roof-box just got lifted up by the wind and ripped off, the whole top splintered into pieces on the road. I had 2 pairs of skis in there that luckily stayed put. The whole situation was very dangerous as the box pieces were on the highway behind me. I'm just lucky no-one was hit by flying debris.



It was on my car for a couple years but The item is supposed to have a life-time warranty.



The box is destroyed and since I don't have proof of purchase Thule doesn't care. I'll never buy from them again.
TR
Great aerodynamic box - worth the money!
Familiarity:

I've put it through the wringer
I wanted to find the perfect roof box. I did. This one was a bit more expensive than the Thule Force box I looked at but the design is much more sleek and aerodynamic. It's more low-profile than Yakima's comparable Skybox, has less wind resistance and slightly more capacity. I love that you can open the box from either side and it features two internal straps for securing your gear inside so it's not rattling around. It has minimal wind-noise and seems to be fine up to 80mph. It's a bit noisy on super windy days but that's pretty unavoidable.
Duncan
Exploding box
Familiarity:

I've used it several times
There isn't any appreciable increase in wind noise.
Locks down securely and was very easy to install.

The only nit I have is the locking mechanism is extremely finicky. It can take quite a lot of jiggling to lock the box.

Update:
Exploded into fragments during my wife's commute. Luckily nobody was hurt.
lee eggebroten
Eastern Wyoming Abduction
Familiarity:

I've put it through the wringer
I am re-rating this item as a 2. It works great but can't hold up to crosswinds. A very expensive loss.
I purchased a black Thule sonic box when I was home for Christmas in NW Montana. With crossbars and box $730 well spent.
I was driving a VW Touareg with the proper Thule crossbars connecting the stock VW rails. I guess the windshear was too much for Thule. Probably won't be spending that kind of money on box system again.

Fast forward driving back to Denver for work, 20 miles south of Glendo Reservoir, Wyo. on I-25. CROSS WINDS AT LEAST 50MPH. Heard a thump and a woosh. Pulled over just in time to see my $730 investment heading to Nebraska. My vehicles side rails and roof were not damaged at all.....but the whole set up was irretrievable for the WIND. It was properly mounted but still a victim of the Wyoming Wind Shear test.....anyway it was a nice set up.
Kevin Matejovsky
Has any one used the Sonic XL on a '12-'14...
Has any one used the Sonic XL on a '12-'14 Subaru Impreza hatchback (with a spoiler)? I've read from one source that there is interference with the hatch and that the Force (Alpine) is the largest box you can run with it but I'm skeptical. I've been meaning to give Thule a call but figure someone here might know firsthand. Thanks!
Duncan
I would love to know this too. Anyone?
Chris
Awesome Chris, thanks for the help! Looks good! Are you able to fully open your hatch? Thanks again!
Duncan
Yes, can open the hatch with no problem at all.
Chris
What size is this, the L or XL?
Zambranojl
Super Sonic Cargo carrier!!!!!!!!!
Familiarity:

I've put it through the wringer
We recently made a long distant trip.We were traveling at high interstate speeds.(70 plus mph with AC on)We have VW Jetta Sportwagon TDI.We were getting 39 mpg. This is pretty amazing to say the least.We have a large mountain dog and he needs all the room available .This forced us to buy the THULE SONIC CARGO BOX so we can take him and our gear. The main thing we were concerned with was fuel mileage. Not only did we get good fuel economy, but two different people inquired about our feelings about the Thule carrier.They both had different types of carriers and complained about noise and fuel mileage loss. Said they bought the others thinking they were saving money because of the Thule being a little more.Wrong?Believe you me I've got the best for Fuel economy,Ease of application & use, And looks,Bar none.My sincere thanks to the GEARHEADS who hooked me up!
Jimmie L Howard
This cargo box is wonderful. I use it on my jeep grand cherokee for carrying things i don't want in the main cargo area, like shovels, wood, muddy and wet things, etc. It is Bigger than I expected, but it doesn't look like it is too big for the vehicle. Super easy to install. The acutight mounts are just like a gas tank screw, clicking when they get tight enough. I also love that I can open it from both sides. I didn't notice much difference in road noise or in my gas mileage. Overall great cargo box. I love it so much it hardly ever comes off my car.
Alex
Great Box
Familiarity:

I've used it once or twice and have initial impressions
I bought this box for our family vacation. I use it on a Honda Odyssey with Thule a Thule Rack. The Box is great and I am amazed at the amount of gear I can put in it. It seemed really huge when it arrived and I was worried it would dwarf my van. Once I got it on it looks nice. It functions well and was easy to install. I was able to put in on myself. I drove it empty for a few days to see how it did with road noise etc, and then added gear for comparison. It was quieter than expected and I didn't have a lot more wind noise than with just the Thule Rack alone. I did not see a big dip in fuel economy either which was great.

The one problem I have with this is in it's storage. The claws that grip the crossbars don't come off like my old box and I am afraid might not stand up to the wear and tear of placing the box on a shelf with even just he weight of the box. I had to rig up a way to hang the box from my garage.The box is bulky and storing the box that way was not easy. Another con is that the travel on these claws is limited and I had to readjust the crossbars to make it fit even at it's maximum spread. Given that the box has to be placed forward so as to not interfere with the lift gate, requires that I place the rear crossbar up about a 10" closer to the front than I like it to be.This means each time I move from carrying the box to carrying my boats I have to readjust the crossbars.



The reason I give it 4 stars anyway is because most of the other boxes have the same issue. For carrying a lot of gear this is a great tool!
Scott F.
Does this really do anything for my mpg's?...
Does this really do anything for my mpg's? And where does thule take their dimension measurements from? Will a 74" box fit 185 cm skis or would I need to move up a couple inches?
Cory M.
Hey corp399663,



Thanks for the question. When it comes to your vehicle's MPG when the Thule Sonic Cargo Box is added, it's more of minimizing how much loss there is in MPG due to wind resistance and it is minimal nowadays with the newer aerodynamic designs of cargo boxes. Also, the dimension measurements shown are external, so the internal dimensions for the Large is more like 64" where your 185cm skis will not fit. Your skis will fit in the XL though as the internal length on that size is 81".
Wally Phillips
go here for more size info... http://www.thule.com/en-us/us/products/cargo-carriers/boxes
mrgriffith