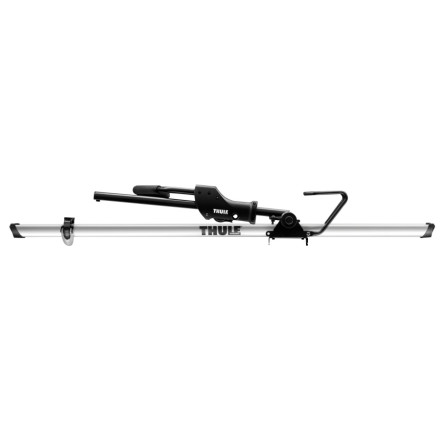 Colors

Detail Images

Community Images
Simple, effective, versatile.
The Thule Sidearm will accommodate bikes with wheels between 20 and 29 inches, with tires up to three inches in diameter. This means you can take your new 29+ rig to the trailhead alongside Junior's new 24-inch kid bike, and use the same rack for both. The Sidearm attaches your bike to your rack via one ratchet strap in the rear, and one arm on the side that slips over your tire and locks everything into place.
Compatible with 20-29-inch tires up to three inches wide
Double-wall aluminum tray
Thru-axle and disc brake compatible
Best roof rack bike carrier
Familiarity:

I've used it several times
Just got this in addition to a hitch mounted bike rack, and I couldn't be happier! I've always hated the roof racks that go through the bike's fork - half my bikes aren't compatible with those, and I'm always concerned when I hit windy patches that the fork will bend. This one is easy to use and very secure!
Losaunne
Unanswered Question
Will this fit my 2008 mini cooper 2 doors hard top? Thank you!
Jidapha K.
Good for carrying bikes ;)
As expected Thule quality. If you are putting this on the passenger side of your car it's an easy install. It's a little bit of a hassle to flip the arm to make it driver side. That's my only complaint. I wish there were two options from the factory...driver side or passenger side. That being said, I love the arm system and it holds my bike securely.
Zak Farrington
Thule!!
Familiarity:

I've put it through the wringer
Love this universal rack because you don't have to take off your front tire! Leave your bike as is adjust the lever and tighten down for a secure snug fit. Super sturdy rack!
Jesse Ramirez
The best
Familiarity:

I've put it through the wringer
This is my second set of these and the only roof mount rack I will use. I have these and the brass knuckle and although they are similar the movement and ratchets on the thule are better and last longer.
Steve O
Unanswered Question
It seems useless to buy the optional lock when it looks like the rack can be removed by loosening the thumbscrews. Is it really that easy to take off of a vehicle?
Stewart Hurst
Buyer beware
Familiarity:

I've used it several times
Well, I've been a lifelong Thule fan until now. I received the sidearm as a gift a year ago. Somehow the lower tire bar has significantly bent which now tilts the bike 15% when on the rack...not good. I attempted to get a replacement, even just the $5 part thru Thule's awesome lifetime warrantee. Now I'm told by them that it's not covered as I'm not the original purchasing customer and ownership has been transferred. Are you kidding me? Well Yakima is looking better all the time. Thule apparently doesn't care about my bike falling off the rack nor the liabilities? Boo!
Dave M.
Awesome rack for all types of crossbars!
Familiarity:

I've put it through the wringer
I tested this rack down in Virgin, UT. I have super wide cross bars that I bought third party, this rack was able to accommodate the weird sizing of my bars. (about 1 1/2 in. tall)

I ride an evil insurgent (27.5 wheels 2.4 width tires) fit fine.

I use a wheel step to easily get the bike up onto the rack.

Not only was I going the 80 MPH speed limit on the way down there, I was getting LOOSE on some rutted out roads to get to the trails and some camping spots. I have had cheap racks and I was always glancing up to make sure my bike was on. With this rack I had full security and rest assured I put it through it's paces'.
david
Great Rack
Familiarity:

I've put it through the wringer
This is easily my favorite bike rack to use on my car, I have two of them in addition to a Thule Paceline between them. Switching the orientation to fit the driver's side of the car (comes oriented for passenger's side) takes a little while, but is not very difficult to do if you have a screwdriver. Some people complain about the front wheel wobbling when driving, I have never had this issue, but this is probably because I use additional straps to hold down the front wheels.
Link here: http://www.backcountry.com/thule-wheel-strap?skid=THU0236-ONECOL-ONESIZ&ti=U2VhcmNoIFJlc3VsdHM6dGh1bGUgc3RyYXA6MTo3OnRodWxlIHN0cmFw
Max Jorgensen
hold my bike mickey
Familiarity:

I've put it through the wringer
ive owned a few of these in the past and havent ever had a complaint. they do good work, though i have almost had a misshap at around 90mph down a windy highway. But all in all this rack keeps the bike in place, you can adjust to either do driver side or passenger side.
Evan Grott
It doesn't get much easier than this.
Familiarity:

I've put it through the wringer
I bought these to move when I had to transport my bikes, but I have ended up using them a lot more than I thought I would. They are just so easy! You never have to worry about taking off the tire, they can fit MTB and road bikes, and if you buy the locks then you don't even have to worry about your precious cargo. These racks are sturdy and hold the bikes very well. I will agree that the little end caps are pretty lame and fall off, but that isn't a huge deal to me. Being able to setup the arm for different sides of the vehicle is also something that I love. These just make life so much easier.



Here they are on my Isuzu Rodeo and I didn't have any problem installing them. The bars are curved but Thule even planned for that and includes extra pads to put on the outer sides to make sure the tray is straight. One of the best purchases I have made.
Austin Robbins
Super Tight Fit
Familiarity:

I've put it through the wringer
I was a little hesitant about buying this rack because of the way it secures the bike. I thought it would be unsecure and move and what not. Boy was I wrong! Once you lock the rack down over the front tire the bike is not going anywhere. First test was driving from Sedona to Moab and I didn't have any worries transporting it that distant. Also not having to take the front tire off after a long ride like a lot of other racks is a joy.
Chris Luna
Great for my Nomad
Familiarity:

I've put it through the wringer
Great carrier for my 650B Nomad, it works great and is super secure if I need another one this will be the one. This rack comes set up as passenger side, but in the instructions it tells you how to switch it to driver side.
Kyle K
prefer fork mount for my bikes, but for younger kids' bikes which do not remove front wheel this is perfect.
Patrick B.
It's a love hate thing
Familiarity:

I've put it through the wringer
I've been using this rack for about 6 months now and functionally it is superbly convenient. One and off with great ease, haven't lost a bike yet. But the design on those darn end caps is just plain stupid. Lost them in the first two weeks and put another set on. Lost them again about a month later. They have to think of a better solution there. I use the aero cross bars and these things are not a natural fit. I also don't like all the knobs hanging off the bottom. Hopefully their future generations will improve. It gets the job done but it could be so much better.
Michael P.
Its ok...
Familiarity:

I've put it through the wringer
These racks are ok.

Pros. You don't need to take the wheels off, the bikes are secured in place (and locked) so you can duck into the shop without worrying too much bout your bike.

Cons. It is really quite tricky to get bike on and off SUV as its just too tall, fuel economy is awful cos the bikes catch heaps of wind, they are a bit time consuming to get on and off and they cause a fair bit of noise even without a bike on em.
Amanda
Bought it for my mountain bike
Familiarity:

I've put it through the wringer
Grabbed this for my mountain bike so I wouldn't have to take the wheel off. I've been pleasantly surprised. Arm has gotten a little harder to move overtime, but that's better than easier to move. No problems yet.
Alex Welton
Leaves a lot to be desired.
Familiarity:

I've put it through the wringer
Have had two of these racks on my car for four years. It's not easy to place and remove bikes in rack on top of SUV, especially our mountain bikes. After a year on top of car the arm becomes very difficult to move and position properly. Have traveled a lot and have had no problems with secure fit in either road or mountain bikes. Still looking for low maintence, long lasting , easy on-off roof racks. Placement of these racks on car is not an easy task, and once there you do not want to mess around to remove them.
Brian W.
decent roof rack
Familiarity:

I've put it through the wringer
I have two of these racks on my car. I have never had an issue with either rack. The primary assembly takes a while, once it is on the rack it takes less than minute to load and go with any bike.
Israel Garcia
Best Roof Rack
Familiarity:

I've put it through the wringer
This roof rack just works. The only flaw I could think of with this product is that it attachs almost too easy to that someone could steal it super easy. That being said, it's ridiculously easy to put on your vehicle and remove if you don't want it on top when not in use. The system works practically with any bike and was quite stable at highway speeds. The only way this rack really moves is if your bars are flimsy. It has a universal fit so it should work fine on practically any bars.
Kevin K