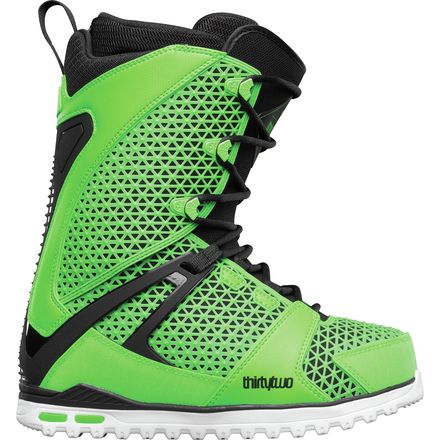 Colors

Detail Images
The gold standard.
It's no secret that the TM-Two Snowboard Boot is the go-to choice for the ThirtyTwo team, thanks to its responsive flex and classic lace-up design. Seeing that ThirtyTwo has one of the most stacked teams on the planet, this boot caters to a wide variety of riders pushing their skills across the entire mountain. It's more responsive than a standard freestyle boot, promoting technical mastery across bigger park features and natural terrain.
Thanks to its articulated design, the TM-Two is supportive for charging, yet flexible enough for tweaking out tricks. Adding to its supportive feel, the Performance Backstay maximizes energy transfer to your heelside edge. ThirtyTwo uses a tongue tension system for locking down the ankle portion of the boot with its laces. The Dual Power Wrap closure atop the liner tightens down for a fine-tuned fit, and the Level 3 footbed provides plentiful support underfoot with its custom-mold Evolution foam. And to ensure the boot stays lighter than the competition, the STI Evolution Foam sole shaves serious weight while absorbing vibration with G2 Gel cushioning.
Responsive boot for technical freestyle mastery
Articulated shell preserves its flex over time
Stiffer flex maximizes energy transfer and support
Level 3 Intuition Foam liner conforms to your feet
Internal harness and liner power strap for locked-down fit
Lightweight STI Evolution Foam sole with G2 Gel cushioning
ThirtyTwo pushes progression with innovative boot technologies
Great boot.
Familiarity:

I've used it once or twice and have initial impressions
Good all mountain boot. Runs true to size. Go up half-size for comfort. If you have slight wide feet, try these out.
Leonel A.
New Boot Goofin'
Familiarity:

I gave it as a gift but have feedback to share
I bought these for my boyfriend to replace his old TM-Twos. Here is his review:

These days, finding the right boot is extremely difficult as there are so many variables that go into what a boot is. Do you want a boa system that is almost guaranteed to break? Do you want a pulley system that odds are you'll pull out the strings from the boot entirely? We didn't have any of this fancy stuff back in the day and there is no need to fix what ain't broke. So I say, go back to traditional lace. This cuts down the boots to look for by about half… Now let's look at some of the other variables. How stiff do you want a boot? How comfortable do you want the boot? I'll go ahead and say that if you're looking for a softer boot, this isn't for you. Comfort? Who needs it when you have the responsiveness in a boot such as these? So I say the TM-Two's are some of the greatest boots you will ever ride as long as you can fight the discomfort you will experience for the first couple days of breaking them in. Once broken in, you will never want another pair of boots besides these. I wear a size 9.5 shoe but ride a size 10 boot.
Timi Earl
Love em'
Familiarity:

I've put it through the wringer
This is my first pair of TM-twos and don't plan on riding anything but 32 from here on out. Only took a few days out to get them feeling nice and broke in. Coming off an ankle injury I was nervous for too much wiggle room in a boot, but these put those worries aside. Love them and would recommend for any rider out there.
Chad Mingie
Nice Upgrade from the "Lashed"
Familiarity:

I've put it through the wringer
When I find something I like, I hold on to it. I have held onto the 32 Brand boots for about the last 10 years. I used to cycle through the "Lashed" model about every 45-60 days of riding. They are relatively inexpensive, comfortable out of the box, and provide the ideal balance of support and response for my taste. I always wondered what the higher-end options in the line could offer, but just kept "going back to the same well" in the Lashed. 2 seasons ago I decided to take the leap and try the TM-Two's. I hadn't been riding as much(making babies), and know from experience that the best time to make a change in equipment is during these periodic "lulls" in repetition that we all experience from time to time. I will say this about the TM-Two's; There was no adjustment period coming over from the Lashed. The fit is identical. Comfortable out of the box. Slightly more supportive, possibly due to a taller cuff height? The boots clearly get their support from their fit. It's common for boot manufacturers to "beef up" or "stiffen" certain areas of their boots to satisfy our "first impression mechanism", but these are the same areas of the boot that wear against each other and break-down causing inevitable dissatisfaction. My experience with 32 boots is that they blend their materials in a way that would leave one to believe that their foot is encapsulated in a homogeneous material. This is ideal because every binding and foot will fit together differently.
In summary: My feet are tough to please. Narrow heels, high insteps, wide forefeet. My feet measure Men's 8.5. I buy Men's 8.5 32's. I don't like thick socks. I used to ride the "Lashed". My first pair of TM-Two's have already outlasted(and slightly outperformed) any pair of Lashed I ever had.



Darin
Killer Boots, Man!!
Familiarity:

I've used it once or twice and have initial impressions
I've only ridden 2 days in these boots so far, but I love em! Comfortable, lightweight, stiff but not too stiff, and very responsive. For a good all-mountain boot I can't recommend these enough. I read a few reviews that say to go up a half-size, but I found them true to size. I also recommend having the liners heat-molded before taking them up to the mountain.
Paul C.
Try a pair and you will be sold on em!
Familiarity:

I've put it through the wringer
If you don't know about Thirty-Two, you should! The guys and gals over there are busting their tails to keep up with the progression of snowboarders and what they want out of their snowboard boots. Familiar with Jeremy Jones, JP Walker, Chris Bradshaw, Chris Grenier, Scott Stevens, Dylan Alito, Desiree Melancon or Toni Kerkela? They ride for Thirty-Two. Why? Because Thirty-Two makes boots that can take a beating that a pro can dish out and still be ready for the next shred! Just give a pair a shot! One day riding in them and you'll know why everyone is switching to Thirty-Two for Snowboard boots. I wear a size 11.5 street shoe, I wear size 12 Thirty-Two TM-Twos
William O
The only boot you will ever need
Familiarity:

I've put it through the wringer
Do you need a boot that is comfy and wears like a sneaker? (check) Do you need a boot that will last multiple seasons and not breakdown or become too loose? (check) Do you need a boot that will survive urban shred sessions? (check) Do you need a boot that performs as good as it looks? (check) Are you human and have feet? (check? otherwise please don't blow up our planet)

5 checks = 5 stars
5 stars = power rangers
red, blue, pink, green, yellow = types of skittles
skittles = sugar

AKA these boots are super sweet
George Pointon
2 rides and there super comfy. A must have. I will always ride 32s
shane teano
Well performing stiff flexing boot.
For a stiff flexing boot these were comfortable while responsive all day long. Other pairs of stiff boots can be rough wearing them for a long time. With the level 3 foam, They were comfortable all day long.

Most of the Shock felt with a softer boot is absorbed by these. Would Recommend these if you are a fan of traditional lacing and a stiff riding pair. As with other 32 boots i size up 1/2 to 1 size up.
Jordan C.
Not for narrow Feet
Familiarity:

I returned this product before using it
First off these boots are super comfortable and pretty light. My gripe with them is the part that tightens up over your instep was almost touching each other from me tightening them up right out of the box. There is not way once these were broken in I'd ever be able to get the tight enough.
Ben B.
I had my previous pair of TM-Two's for nearly 4 full seasons and knew from the get-go that my next pair of boots would be TM-Two's as well. The support and bit of added stiffness really makes for a responsive boot that doesn't sacrifice comfort, and this models seems to have shaved some weight in comparison to older TM-Two's. Traditional laces will save you from the quick-lacing systems that cause more trouble than they solve. Buy these boots, you won't regret it.
Kyle Kaseta
TM-Two to get you through
Familiarity:

I've put it through the wringer
You want these. The TM-Two's from ThirtyTwo are a team favorite as well as my personal favorite, and are given to park crews at some major resorts such as Brighton Resort, Bear Mountain, and Loon Mountain. Your snowboard boots are the first connection to your board, and these are a Medium-Stiff/Stiff flex which transfer the majority of your energy to the board, making it much more responsive. There is a ton of padding in the footbed, making you stomp big landings and help your knees and ankles take less impact. The anti-lift kit is an awesome feature, just stack the amount of disks that you need in the boot liner to prevent your heel from lifting out of the boot. The heat moldable Intuition liners are an awesome touch, and makes break in comfort much easier so you aren't hurting on opening day. I have about 100 days of hard charging on these and there's still some fight in them.

These fit true to size, my toes were a tad bit crunched with my street shoe size but the toebox will pack out one you heat mold them and start riding in them.

Contact me directly at 801-204-4578 or gboogert@backcountry.com if you have any additional questions or need help with sizing
Gabe Boogert