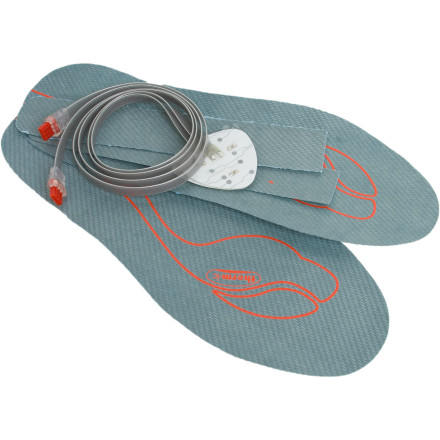 Colors
Power up your insoles.
You don't need to take out your custom orthotics to enjoy warm feet; simply use the Therm-ic ThermicSole TrimFit kit to turn into heated insoles. The kit comes with a pair of heating elements that go under your insoles, and a pair of thin, self-adhesive Cambrelle fabric covers that go over the top. Plug them into a Therm-ic powerpack (sold separately), and enjoy toasty feet, as well as the support that you need, on the ski slopes.
Toasty Toes
Familiarity:

I've put it through the wringer
The Thermic Soles work seamlessly with the Therm-ic power packs. They only warm your toes so the rest of your feet are on their own to stay warm. These are super nice for the frosty days on the slopes to keep your toes comfortable.
Greg E.
Keeps the cold tolerable
Familiarity:

I've put it through the wringer
These have made skiing much more pleasant than before, as now my toes don't go through the painful thawing process at the end of the day. Only complaint is that it's hard to get it perfect, and since there's only three settings, you don't have much choice. And on a very cold day (single digits) I had them on the highest setting (I usually only use the lowest), and my toes were still pretty cold.
Andy F
IC 1200
Familiarity:

I've used it several times
Easy to install. Great product.
Dudley Campbell
Cold Feet? No problem
Familiarity:

I've put it through the wringer
Bought as a gift for a friend this is what they had to say about it:
The ThermicSole Trim fit is the self adhesive material used in conjuction with Thermic boot heating batteries. She had it cut and constructed to attach to their own custom footbed. Works great and keeps their feet warm on the cold days!
Thomas Hamilton
They work as described. I wish they were a little flatter.
TBDickerson
Soldering bumps on the circuit board
The circuit board that connects the batteries to the soles have soldering bumps about 2mm tall and 4mm x 2mm in area. The instructions recommend cutting into the insoles of your ski boot to accommodate them, which, in my opinion, defeats the purpose of having a trim-fit sole and risks damaging any custom orthotics you might have.
Jason L.
donna jousset
You need to buy the Thermic battery packs separately. These units then plug in to the batteries.