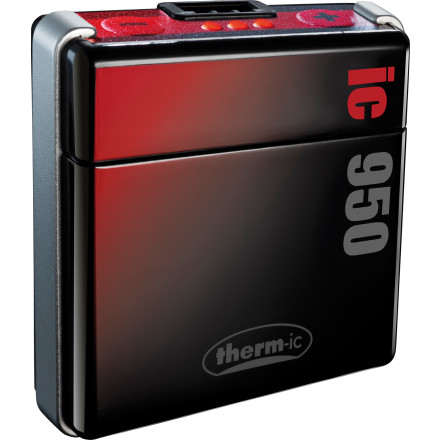 Colors
No more numb feet.
When temperatures drop past your toes' liking, use the Therm-ic SmartPack ic 950 battery pack to power the ThermicSoles in your ski or snowboard boots and keep on skiing or riding with toasty toes. These packs clip to the tongues of your ski boots and power the insoles for up to eighteen hours (on the lowest heat setting). Three heat levels accommodate frigid nights in winter as well as warmer days in the spring, and its Impulse Control system helps stimulate your blood circulation to keep your feet energized. This pack also includes a global charger that powers the Smartpacks' lightweight lithium ion batteries quickly no matter what country you're in. Some ski boots by Atomic, Burton, Dalbello, Head, and Salomon have ThermicSoles in them already. Some have ThermicInside compatibility. Some have neither. If your boots already have ThermicSoles in them, all you need is this pack. If your boots don't have the soles, you need to grab a pair of ThermicSoles to go with this pack. ThermicInside compatibility will make it a bit easier to set up the system, but if your boots don't have that either, with a bit of craftsmanship, a pair of scissors, and some duct tape, you'll be set to integrate the system with your boots.
Includes two SmartPacks ic 950 for each boot
Lithium ion batteries
One SmartPack global charger
Three heat levels
Impulse Control system
ThermicSoles not included
Love these so much-batteries don't last
Familiarity:

I've put it through the wringer
I love these little suckers - I have gotten severe frost bite on my toes and have to keep my toes warm even in 30+ degrees! These do the trick - but the batteries hardly last a season and replacements are $200+!!!! Ridiculous.
Monica Purington
These kept my feet nice and warm all season, easy install and battery lasts a full day for the most part. The price tag is worth it when you can keep skiing when the conditions are good and others will be going in from cold toes.
Evan Grott
Bad batteries
Familiarity:

I've put it through the wringer
Bought and used 3x first season and they did well with good heat and relatively long as advertised battery lifr
Now the second season one battery pack is dead and despite putting it through several charge cycles it works for a few minutes then dies
Very expensive to deal with this failure after really only a low number of charge discharge cycles
Advertised to go 1000 cycles
Not
Joseph Rowe III
Warm feet
Familiarity:

I've put it through the wringer
These keep my feet warm and comfy in the coldest ski conditions I have skied. I think the price is worth the comfort and ability to enjoy the slopes all day.

Cons: They are pricey. I had one crack a little at the plug in point as well. I am not really sure how this happened
rebekah
One works and one doesn't
Familiarity:

I've put it through the wringer
After less than a year of use, one of these packs holds a charge for less than half the stated battery life. The other one works great but it is a bummer when your other foot is frozen. You shouldn't have to swap the packs back and forth during the day considering the price on these.
Matt A
No more cold feet!
Familiarity:

I've put it through the wringer
Update: 12/16/2016
I ride almost every weekend and I don't ride without these when temp drops below 25F. I usually ride with medium setting and it would last me all day (5-6 hours day). It's been two years and still holding up, I'm definitely replacing these with a more powerful Therm-ic once these guys give out on me. I have poor circulation and my feet would go numb from the cold in anything less than 25F, these help me ride non-stop.
------------------------------------------------------------------
My toes get cold very easily when temperatures drop below 0F, I don't last very long because it would be too painful to ride. I used to have Burton Therm-IC Max for my Burton Supreme and the Therm-IC Max would only last a couple of hours at most on a cold day and they would take 12+ hours to charge up! Plus the Therm-IC MAX were rather heavy and bulky, only plus side was the price.

I decided to give SmartPack IC 950 a shot. I went to Keystone this weekend (11/15/2014), they got some serious snow though the temps were not that cold; in the low 20's. The first day I rode about 5 hours on low setting, my toes were not cold but were not super warm either; felt pretty comfortable however. The battery lasted all day eventhough I forgot to turn them off during lunch. The second day temps were in the mid teens. Because of the insanely long lift lines, I rode about 4 hours on medium setting and my toes were warm and toasty. The battery lasted the entire time and then some.

Pros:
-very small/compact size compared to the Therm-IC MAX or Basix
-can be fully charged in about 2.5 hours
-great battery life at full charge cycle
-keep toes warm

Cons:
-Price, holy moly! They cost just as much as a nice new pair of boots. Though I feel they worth every penny from a weekend of testing. No regrets!
Catheriya