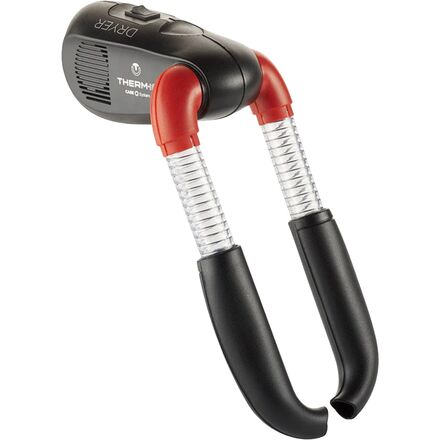 Low-risk, highly effective boot drying.
The last time you tried drying your sweat- and snow-soaked boots by propping them on a radiator overnight, you ended up ruining them. Treat your new boots better by using the Therm-ic 120v Boot Dryer instead. Set your boots side by side, stick the Therm-ic Boot Dryer inside, and wake up tomorrow to dry, warm boots that don't have odd little melted spots on them. Over time, you'll also notice another benefit—none of that nasty stench your boots are prone to developing.
Portable
Familiarity:

I've used it several times
Easy to use, works right out of the box. Just plug in. Not too loud either, which was a concern. I'm able to sleep just fine with it in the same room
Christian Braathen
Great Dryer
Familiarity:

I've put it through the wringer
I am on my second one of these dryers and I like it a lot. My first one got destroyed this last year in France, mainly because I did not think about the power difference. I had a European power adapter but I did not realize that they run on 220 instead of 120 here and it killed the motor. But other than that I have not had any issues with it!
Michael G
Great product. Easy to use. Does the job
Familiarity:

I've used it several times
Excellent for travel or home use. Dries everything from shoes to ski boots. Great for use in wet climates where it rains a lot. I've used it several times and it works great. It is light enough to manage easily but sturdy and well made.
Jason Wanlass
Nice and compact, good for travel. Always nice to have warm dry boots
brett wanek
Great - could be smaller
Familiarity:

I've used it several times
I recently traveled with this dryer to Argentina for a week and it was awesome, but a bit bulky for traveling.

Aside from that it's super quiet and does a great job of drying and warming boots!

Sidenote: it doesn't appear to support multiple voltages, so I needed a power converter when traveling.
Jonathan R.
great
Familiarity:

I've put it through the wringer
Does a great job drying out boots. Ive used it for 2 years with no issues
johngchrist
John Smith
Great Dryer
Familiarity:

I've put it through the wringer
I have used this boot dryer for my ski boots and I love them. I get done with a long day of skiing and plug them in and by the morning my boots are nice and dry and ready for another day of shredding. This unit is super easy to set up and directs the air right at the toes of the boot. It will pack up and fit nicely in your gear bag and does not take up really any room. If you are looking for a great cheaper option for a boot dryer I would check these out for sure.
Michael G
Warm and dry
Familiarity:

I've put it through the wringer
Bought two of these to keep our boots and gloves dry and clean and have been really pleased. Motors are quiet, they're light enough to travel with, and most importantly they'll quickly dry your boots and gloves. I'd give them a 5 star rating if they had a built in auto-off timer, and could point the nozzles straight for better use in gloves.
Miles Dickson
No more stinky boots
Familiarity:

I've used it several times
Bought this dryer for my husband's snake-proof boots which are thick, heavy and constantly in swamp water, eewww! This little dryer is light-weight and super quiet. Boots dry in about an hour and no longer smell bad.
Becky J.
... works!
Familiarity:

I've put it through the wringer
Everyone here pretty much highlights what's right about this bit of kit, I'm just throwing in another +1.

Worth noting it has a bit of an odd smell for the first hour of operation - that totally fades away.
Sam Y.
Good purchase!
Familiarity:

I gave it as a gift but have feedback to share
I got this last winter as a small extra Xmas gift for my husband. Little did I know it'd dry things fast enough for both of us! We're ice climbers, snowboarders, skiers etc...when we're willing to time it right to swap everything out, this little gadget dries 2 pairs of boots (or rather, liners) and 2 pairs of gloves, even soaking wet, overnight. It doesn't make much noise, so it's fine to leave on in the same room where you're eating, sleeping, socializing or whatever. It's also small enough that it doesn't feel like you're adding much to the packing list, especially after all the gear for whatever sport will get your boots wet!
Mickey
Functional and small
Familiarity:

I've used it once or twice and have initial impressions
Picked these up for the hunting season and so far have been pretty impressed. Tested it twice and works great. If your looking for something functional and that will pack small its the best bang for your buck.
Freddie A.
Unanswered Question
Will these fit into a ski boot to protect them from overzealous baggage handlers?
Ed C
Swamp Boot No More!
Familiarity:

I've put it through the wringer
A good boot dryer is a must have for anyone who wants to be able to use a pair of socks more than twice before they melt into sludge from being so damp/smelly/gross. This one is small, powerful and very pack-able.
Blake Wilson
Toasty Toes
Familiarity:

I've put it through the wringer
I have the warmest, wettest, stinkyest feet ever.....and this boot dryer saves me. I wear boots all the time, not really a sneaker kinda guy, and my boots stink and get manky. Every day after work or skiing I toss these babies in for a couple of hours and now have a dry and toasty pair of boots to put on. I am buying a second pair to keep in my locker at the resort.
Sean Muschamp
Perfect for shoes/boots/gloves!
This boot dryer works great in anything that gets wet. The tubes are extendable and rotatable. They easily fit in any kind of shoe whether they're your typical shoes, hiking boots or even taller boots such as ski/snowboarding boots. I have used this for my gloves and mittens too. The device isn't too loud and works quickly. It also blows out air at a warmer temperature, so the boots and gloves are not only dry but also warm!
Jaclyn Richards
a must have for anyone who hates cold, wet boots
Spending a season working in a ski lodge allows me to ski everyday, this also means that drying my boots can be a bit of a pain in the ass. After getting tired of waking up to finding my boots still wet and cold from the day before I got the Therm-ic Boot Dryer and it does just what it's supposed to. It usually takes about an hour or two to fully dry my boots and I don't even have to take my liners out. Throw in some dryer sheets to the toe box and I don't have to deal with smelly boots either. Another advantage to this is its size and weight which makes travel very easy. Bottom line for $40 you can't go wrong, so far I've been very pleased with this product
Derek
Unanswered Question
Are these safe for use on gloves too? Or...
Are these safe for use on gloves too? Or should I go with the Thermic boot 'warmer'? Does the warmer dry?
Thanks
ktimmmtb