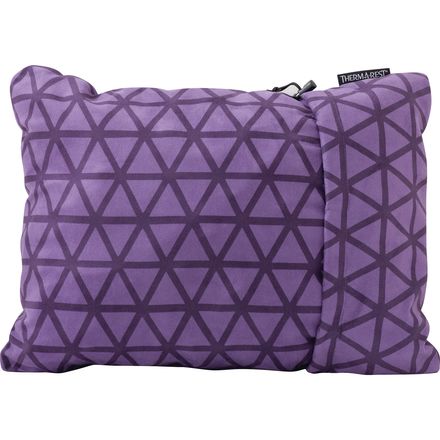 Colors
Save yourself the zipper imprint.
Using your jacket as a pillow isn't too comfortable, and a zipper to the eye never feels all that great. Sleep comfortably, even when you're on the move, with Therm-a-Rest's Compressible Pillow. Whip the portable Compressible Pillow out on road trips, during airplane travel, or on car-camping adventures to give your melon the comfort it deserves when you're far away from home.
A packable pillow for camping and travel
Brushed material is soft and comfortable
Soft foam filling packs down small and expands big
Had one for awhile and picked up another
Only because my girlfriend kept stealing mine when we went camping. Great pillow for travel, car camping or even if you need that extra comfort for backpacking, it's light and compresses to half the size and enough to be strapped on the top of your pack. A great pillow 10/10.
LB Edwards
So far so good
Familiarity:

I've used it once or twice and have initial impressions
My initial impressions are awesome. Packs small, obviously not as small as using a pillowcase with clothes you're bringing anyway stuffed in it, but this is an extra piece of gear so expect it take up SOME amount of space. That being said it's about the size of a Nalgene bottle so if you can fit it then it's well worth the extra cubic inches. Seems comfy, Even the small size is substantial.
Pam Strickland
A camping,car,travel pillow
Familiarity:

I've put it through the wringer
It's better than the floor or a rolled up shirt, good for people who need pillows Ina tent. Compresses to afairly small size, Nalgene bottlish. Used in a car for a few hour trip and multiple camping trips.
Josh W.
I had high hopes for this pillow based on these reviews but was not impressed with its filling. It just wan't very comfortable. I would just assume using my jacket instead, settled for an air pillow instead.
Than Volk
Comfy
Familiarity:

I've put it through the wringer
Super comfy pillow but I wouldn't exactly call it packable. Great for camping trips where you're only mildly concerned about space.
Kate Cronin
Awesome PIllow
Familiarity:

I've used it once or twice and have initial impressions
These pillows are great. It always sucks when you are camping and realize you forgot your pillow. Luckily with this, it is so small you can just keep it in your camping stuff at all times.
Taylor Wojick
Great pillow
Familiarity:

I've used it several times
These pillows are awesome. I have now bought them for my entire family! They are super plush but pack down to almost nothing. These pillows are great for car camping and airplane trips.
Courtney Less
Great for the price
Familiarity:

I've put it through the wringer
Pillow took a long time to fully expand. By day three it was still pretty flat so I tossed it in the dryer on low heat for a few minutes and it expanded completely into a nice, fairly firm pillow. Also washed up well after a week of use. Felt almost too firm for my preferences but nothing uncomfortable.
Angelic S.
This is fun to have, It's not too big or too small. It is very comfortable and it can protect yourself from the wind and wild animals. It can be compressed easily and it is easy to carry around when you are eating or drinking.
Eric Cheng
Perfect camping pillow!
Familiarity:

I've used it several times
We bought 3 of these to bring with us when we embarked on a VW campervan vacation. The size was perfect for us to transport on the plane to our destination and performed flawlessly as our pillows in the van. No complaints from this middle-aged woman (meaning, didn't wake up with neck pain on any of the 4 nights I slept on this pillow in a campervan!). Recommend!
Patty M.
I have 3 of them
Love it !
Steve L.
Don't worry- it inflates more!
Familiarity:

I've used it several times
Ok, so I ordered the medium pillow for travel to India. When it arrived I was initially disappointed by it's lack of fluff. However, I discovered that the longer it is unrolled the more the pillow inflates! It's a little bulky for international travel but I thought it was worth making a little more room for it in my pack. It doesn't really fold down all that small. Either way, I dig it!
Rachel W.
Pretty nice
Familiarity:

I've used it once or twice and have initial impressions
I used this pillow on a three day camping trip and found it to be a very nice thing to have. I found it most helpful for the long drive back home.
Ethan Archibald
Came back for more.
Familiarity:

I gave it as a gift but have feedback to share
I bought this for my brother for camping and he loved it. Ended up asking for two more later on. He loves these.
Spencer Oliphant
Looked promising, and it totally was
Familiarity:

I've used it once or twice and have initial impressions
I just got this today. It came packed and I opened it up to let it air and fluff. It's™ been about 3 hours now, and I can't tell if it will fluff more. It is equivalent to a soft pillow, and I like mine with a more firm support. Overall, I think it will work. I wanted something light, compact and comfy, so I wouldn't need to pack our pillows. It says for better lifting to throw in the wash and tumble dry-that true? I will try that out. I'll follow up my review once I've used it in the wild.



UPDATE:

We used these in an Air BNB over the weekend and they were great. They fluff up amazingly, and were very comfy. I love that they are compact and provide a good support. There are 3 of us, so I didn't want to bring 3 pillows from home when camping. These are perfect. We got the Large and although smaller than our reg pillows, they are a good size for camping. I highly recommend this pillow.



UPDATE 2:

We finally took these camping and they were AWESOME. I love that they compress down so well. We took 4 with us, and they were about the size of one regular pillow. They were so comfy and very soft and cushy. It was chilly out, so these were cozy (as opposed to blow-up pillows). I'm really happy with this purchase, and totally recommend these pillows for your comfy car camp set up. Totally worth it.
Isabelle
Great for car camping
Familiarity:

I've used it several times
Very comfortable, but doesn't pack very small. Great for comfortable car camping.
Louis G.
Bought one previously before but I small it too small as my husband was right- when you want to sleep camping you want to feel like home. So I bought this bigger size which is still packable bit bigger. They puff up so big and become so comfortable, sleeping with these make all the difference. You have to open these up first thing and shake them up frist- the longer they are unfolded the more the puff up. Bought the grey one for my husband and he loved them too! Now I dont have to deal with him bringing the pillows from home taking up space in the Subaru with all the other camping gear.
wly106019339-0
Meh.
Familiarity:

I've used it several times
Not my favorite, but it does the trick I guess. I bought as a dual purpose big backpacking pillow and small car camping, and I realize my mistake in trying to do two in one--it sucks at both! Too big to pack in a backpack, but too small and lumpy to want to use if I'm just car camping and can take something better.
I'll probably keep using it for a bit until I feel like I've used it enough to justify the purchase, and then will try something else.
Tania
I purchased the large size, it comes fairly compressed but once you unfold it, it's impossible to get back to the original packing size. The large is definitely more suited for car camping than backpacking due to the amount of space it takes up but it's surprisingly comfortable and I would highly recommend it.
Katie Harker
Wonderful pillow!
Familiarity:

I've used it several times
My wife and I love this pillow. We have an XL and M that we use when we camp. It is by far one of the most superior camping pillows that we have owned. There may be a small trade off in size for backpackers but it is well worth it if you have been looking for more comfort. I would suggest a dry bag and attach it to the outside of your pack if you were trying to maximize space. No complaints.
Andrew F.