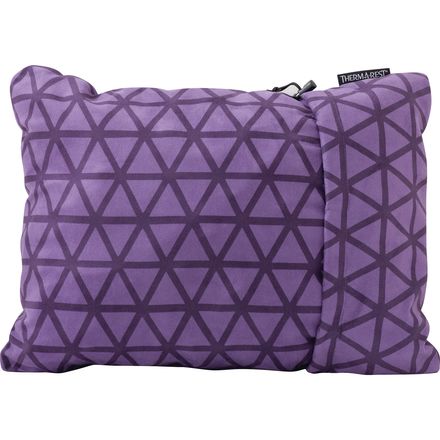 Colors

Detail Images
Save yourself the zipper imprint.
Using your jacket as a pillow isn't too comfortable, and a zipper to the eye never feels all that great. Sleep comfortably, even when you're on the move, with Therm-a-Rest's Compressible Pillow. Whip the portable Compressible Pillow out on road trips, during airplane travel, or on car-camping adventures to give your melon the comfort it deserves when you're far away from home.
A packable pillow for camping and travel
Brushed material is soft and comfortable
Soft foam filling packs down small and expands big
Great for car camping
Familiarity:

I've used it several times
Very comfortable, but doesn't pack very small. Great for comfortable car camping.
Louis G.
Bought one previously before but I small it too small as my husband was right- when you want to sleep camping you want to feel like home. So I bought this bigger size which is still packable bit bigger. They puff up so big and become so comfortable, sleeping with these make all the difference. You have to open these up first thing and shake them up frist- the longer they are unfolded the more the puff up. Bought the grey one for my husband and he loved them too! Now I dont have to deal with him bringing the pillows from home taking up space in the Subaru with all the other camping gear.
wly106019339-0
Meh.
Familiarity:

I've used it several times
Not my favorite, but it does the trick I guess. I bought as a dual purpose big backpacking pillow and small car camping, and I realize my mistake in trying to do two in one--it sucks at both! Too big to pack in a backpack, but too small and lumpy to want to use if I'm just car camping and can take something better.
I'll probably keep using it for a bit until I feel like I've used it enough to justify the purchase, and then will try something else.
Tania
I purchased the large size, it comes fairly compressed but once you unfold it, it's impossible to get back to the original packing size. The large is definitely more suited for car camping than backpacking due to the amount of space it takes up but it's surprisingly comfortable and I would highly recommend it.
Katie Harker
Wonderful pillow!
Familiarity:

I've used it several times
My wife and I love this pillow. We have an XL and M that we use when we camp. It is by far one of the most superior camping pillows that we have owned. There may be a small trade off in size for backpackers but it is well worth it if you have been looking for more comfort. I would suggest a dry bag and attach it to the outside of your pack if you were trying to maximize space. No complaints.
Andrew F.
Great for camping
Familiarity:

I've used it several times
Pros: Big and soft when opened. Really comfortable. Simple cinch design. Great for camping. Really lightweight.

Cons: Not very compressible, maybe around 7"x7"x16" when compressed. Kind of an awkward shape when compressed.

Some people say it is "lumpy". It feels like there are hundreds of little spherical 1/2" beads in it. For me, I don't mind the texture of it.
Dave Vance
Great for short trips!
Familiarity:

I've put it through the wringer
Super comfortable pillow . It's slightly compressible and very soft. If you're looking for something to use on more than an overnight backpacking trip, I'd recommend going with a down pillow for the reduced weight and extra pack room.
Jack Fullmer
I feel like I have tried every pillow in the market, in search of the perfect pillow. Trying to find the balance between comfort and pack ability. The Therm-a-Rest Compressible pillow is it! By far the most comfortable pillow I've ever taken backpacking. I love it so much I even take it to the park with me wen lounging in my hammock or on a blanked reading a book. It packs down super small and the memory foam resizes really quickly after unpacking. One of my favorite things, I will use it as a packing barrier around my DLSR camera while camping, I rest easy knowing my camera has some cushioning packed around it while on the trail.
Teresa Nguyen
So awesome, I bought two!
Familiarity:

I've used it several times
Comfortable to lay on even though you feel the bits of foam. You get used to it when it's decompressed. When you unroll it, I'd say fluff it up to separate the foam bits from each other and let it decompress for 2-3 minutes before using it (thought it says 1 minute) It has proper support, and sleeps fine. Perfect for camping!
Jennifer Luu
Perfect for me
Familiarity:

I've used it several times
I originally bought this pillow for my daughter in small. I bought myself a larger pillow in another brand. Mine was too soft and mushy for me while this pillow was too firm for my daughter. We made a trade and are both quite pleased now. So if you like a firm pillow this might be one of your better options. Small is definitely too small for my big head though.

This reminds me of the night we made our pillow trade. I did not notice the fire ants that I set my tent up 6 inches from on the second night hiking Eagle Rock Loop in Arkansas (the first night we set camp in a copperhead den). They engulfed my tent, but somehow only about a dozen made it inside. Fire ants bad. This has nothing to do with pillows, but is a better tid-bit than you might find in a fortune cookie.
chad prudhomme
I let my friend borrow it for a trek.
Familiarity:

I've used it several times
My friend borrowed this when he backpacked in the Canyonlands NP. Here is what he had to say after a 3 day, two-night trip: For most of my camping career, I used an extra sweater as a pillow. It was easy and if the night turned out colder than expected, I could just wear it instead. Backpacking pillows seemed unnecessary luxuries that I didn't have room in my pack for. And although this pillow is a bit more voluminous than I had hoped, it's light and - given a while to fluff up rolled out - it rivals most conventional bedroom pillow I've encountered. this will give you the night's sleep you're hoping for, even if you've switched a bed for a sleeping bag and your bedroom for a tent.
Eric Smith
Good Camp Pillow
Familiarity:

I've used it once or twice and have initial impressions
Good pillow for the price. It's light and decently comfortable.
Hailey White
Could be a lot better
Familiarity:

I've used it once or twice and have initial impressions
Tried this pillow because it was on super good price. But, I don't even come close to digging it. I think the filling is lumpy and the pillow won't offer good support (even though back country hiking pillows aren't great in the first place). Even packed, this pillow takes up a lot of volume. Doesn't compress well. Might work well enough on an airplane trip or car trip. Not for backpacking.
Tim.Wallace
Love it
Familiarity:

I've used it several times
Lightweight, compact, and comfortable. Great for camping or travel.
Eric Olofson
Awesome!
Familiarity:

I've used it several times
These pillows are amazing! The large is about average size a pillow should be. I used it backpacking with a 8L lightweight compression sack and it made it very small! So awesome I bought 2 more of them! I personally can't stand an air pillow. This is as close to a normal pillow I have found.
James Rackl
Just bought a second one. I've had my first one for eight years, still fluffs like a champ. Pro tip: when you are camping, put this baby in the sun to fluff it when you first get to camp.
Christy J
Did it's job
Familiarity:

I've used it several times
Pro Tip: Before first use unroll it and stick it in the dryer to fluff it up before bringing it on a trip, it's super compressed from the factory. Otherwise great pillow!
Emily Winn
So comfy, packs so small
Familiarity:

I've used it several times
It's a damn fine pillow.
Tyler M.
Med pillow is nice for travelling
Familiarity:

I've used it once or twice and have initial impressions
This medium size pillow is pretty comfy. It can be bunched up to hold a firm rest. Skinny football sized when compressed. Takes a bit to un- compress. Soft material. We bought 2 for travelling/airline camping. Car camping yes. Backpacking? Depends on your tolerance and comfort level, but required space and weight is not ideal imo. Keep your gf happy while backpacking type of comfort. I dont like the compression cinch much. Its hard to use one handed while holding an exploding burrito!
John H.