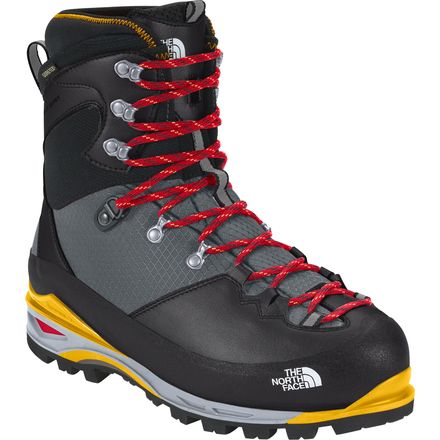 Colors
To the roof of the world!
The North Face held nothing back when it designed the Verto S6K Glacier GTX Boot. This is a serious mountaineering boot built for the harshest environments on Earth. With that in mind, The North Face gave the Glacier S6K GTX the best of its extreme climate technology.
Guaranteed waterproof breathable Gore-Tex membrane protects your feet from the elements in any weather condition
Primaloft synthetic insulation locks in heat
Cradle technology offers maximum support without hindering foot or ankle flexibility
Smartlite polyurethane mudguard adds durability to extend boot life
Northotic Pro+ premium EVA footbed with gel insert absorbs shock and vibration to reduce fatigue
Internal crampon spoiler adds power and stability when using crampons
Four part midsole specifically designed to reduce fatigue on long treks without sacrificing feel, support, or control
BASF Agile polyurethane and EVA heel cushioning reduces shock
TPU shank for added protection
Vibram Mulaz outsole for unparalleled traction on soil, rock, and ice
High Altitude and Happy Feet!
Familiarity:

I've used it several times

Fit:

True to size

Size Bought:

10.5
This is one of the best boots I've used in years. The Verto's come with a grippy Vibram Mulaz sole and very stiff shin support, as most climbers demand from their boots. Every step feels supported and locked in place, whether they're on snow or rock. My feet aren't overly beat up when I take them off after a day on the mountain, which isn't easy for a lot of mountaineer boots to live up to. The foot funk isn't horrible either, I think we can thank Gore Tex for that delightful bonus. My favorite attention to detail on these boots are the lacing. They're super easy to work with, even with burly gloves on. Readjusting them during a break takes minimal energy and almost no time at all. North Face set a high standard for comfort and stability with these boots. Time and time again, you'll feel it pay off.
Cody Dennis
Awesome Boot!
Fit:

True to size

Size Bought:

12.5
Very comfortable, fits perfectly and offers excellent support.

Luke W.
Height:
5'10"
Weight:
145lbs
Very Nice Boot
Familiarity:

I've used it several times

Fit:

True to size

Size Bought:

13
I bought these boots after trying to break in my other mountaineering 6k boots (double boot) with moderate success over many months. These boots are different and the only adjustment I just needed was to replace the foot liner with one that took up more volume in the heel area (Orange SuperFeet). I consider them dialed-in after just two outings. All in all an excellent boot, well constructed and warm, up or down the mountain-well done!
Bradley Bell
Height:
6'0"
Weight:
195lbs
Unanswered Question
I'm curious if these boots would be ok with an overboot for Aconcagua/Denali? I don't forsee myself doing anything bigger than these mountains and don't want to invest more than I need to knowing that I could certainly use these boots a lot in the rockies without an overboot. Thoughts?
steve__r
Very light, very comfortable
Familiarity:

I've used it several times

Fit:

True to size

Size Bought:

11.5
I bought these a couple of weeks ahead of a trip up Mt. Daniel in Washington, about 5,000' gain and 17 mile round-trip. I had great plans to break them in a with a couple of short hikes but work got in the way and I arrived at the trailhead having put about a mile on them walking around the office (your co-workers will judge you). Despite that, I made the two day trip with only one very small hot spot forming and they were comfortable in everything from the 80 degree approach to the snow field traverse in crampons to the fairly technical rock scramble.

I bought them a full size bigger than my regular show size and with liner socks and regular socks they were a perfect fit. Extremely light too, essentially weighing no significant amount more than my standard hiking boots. The only downside is they don't breathe quite as well as my summer hiking boots, however they are EXTREMELY warm so this is to be expected.

Essentially these restored my faith in The North Face that they can make more than a t-shirt.
Travis R.
Height:
6'0"
Weight:
190lbs
My hiking shoes are US size 14, are those boots going to fit me? Are they good for Aconcagua?
J.W. Wescott C.
Best Answer
Mountaineering in high altitude in the Andes require double boots or 1,5 boots (above 5500m)

These are too lightweight for Aconcagua, your feet will get cold once you stop moving above that altitude...

I have a similar model from La Sportiva and use it for glacier approaches of rock routes in good weather conditions in Patagonia in the summer...
Adriana M.
Adriana - which model of double boots do you recommend as a replacement for the Verto S6K for Aconcagua?
Sylvain B.
what crampon's should I buy with these?? need to know ASAP!

Thanks,
noa105779131-0
Grant Kates
Have tried these boots out and they fit my feet better than any other boot! However I am after a stiff B3 boot for good support, but noticed a bit of flex in the sole (as much as my previous B2 boots). This is a bit weird seeing as it is fitted with the front and back welts like a B3 boot. It's not loads but it is there - was wondering if anyone else had had issues with crampons popping off the boots or indeed if they are suitable to use with C3 crampons (i.e. I want to use the with my grivel g14s).



Cheers!
jon105422649-0
I have them with g14s without any issue. .
Olivier P.
I have them with BD Sabretooths with the Pro attachment, and have a bit of an issue with the toe welt due to how narrow it is in comparison to say the La Sportiva Nepal Evo. There is a bit of pivot of the toe welt in the crampon, but I haven't released. Still, I would prefer a more secure fit.
AKdilly
I recently purchased a pair of these for a Rainier climb (August) and thought they were incredibly comfortable and required minimal break in time. To me they fit small; I usually wear a size 9 shoe and wore a 10 in these boots but would have been better off with a 10.5 as I experienced a lot of discomfort on the descent. (Not the fault of the boots).

I wore a thin wool sock as I usually do but found my feet a bit chilled. I was disappointed by this as the temperatures were in the 30s and 40s during the climb. I think my feet would have been warmer in a larger boot.

I've experienced many problems with LaSportiva (both hard shell and Evos) with the design of the boot's tongue. There is a break between the area of the foot and the shin and I have had horrible abrasion problems because of that. The North Face boots have a very comfortable tongue that is a continuous piece.

Overall, I think it is an excellent boot...just not sure about the temperature issue--how much was me and how much was the boot's insulation.
Mats S.
Light and solid
Familiarity:

I've used it once or twice and have initial impressions

Fit:

True to size
I did what you should never do - bought these a couple of hours before a climb into pretty difficult conditions. I'm really glad I did though.



We climbed up into knee to hip high fresh powder snow. Breaking trail and kicking steps was not a problem. Due to the worse than expected conditions we never made it to the peak but my feet were never a concern. I had solid footing and could manoeuvre well, and the S6K's never gave me any blisters or painful spots around the ankles or shins.



I have narrow feet. They have a tight locking heel and a little bit wider toe box that I think works well for narrow to normal feet. I think if you have wide feet these will not work for you.



I hopefully get to test these more this winter but my initial impression is that I'm very very glad I bought these. Light, and comfortable, but solid boots with a full shank that take any crampons if needed.



Update - climbing a mix of stomped down/icy snow and fresh powder yesterday confirmed my previous impressions.



I had packed but left my crampons and was debating climbing up as the trail started steep and icy. The hard sole, front crampon well and relatively sharp side edge of the Verto S6K, allowed me to kick hard enough to get just that little edge I needed. Performed very well and although it was a long hard climb, these were really comfortable till the end.
Ito Jakuchu
Great Boot!
Familiarity:

I've used it once or twice and have initial impressions
This is my first glacier boot so I don't have a lot to compare it to. However, from what I know this seems far too comfortable to be real. I spent the last weekend exploring Mt. Shasta and practicing various mountaineering techniques in them without even breaking them in first.

Decided to do the approach to base camp in them and had no problems whatsoever, I think they're even more comfortable than my hiking boots. They performed flawlessly with crampons on snowy slopes and kept my feet nice and warm in the high winds and sleet we had.
Jason O
The North Face Verto S6K Glacier GTX
Backcountry Video
Yes, I'm a dork.

Yes, that is a Christmas tree in the background.

That said, I hope this video helps.



Pros: COMFORT, warmth, light weight, hikeability, comfort with crampons on



Cons: Needs harder PVC up front, need a kick-plate type of material on the inside of the ankles.



These boots can handle anything in the lower 48 and I wouldn't hesitate at all to use them on mountains like Orizaba or Aconcagua.
Brett Clatt
15 miles in two days right out of the box! Love'n them! 7 mile round trip to Chasm Lake Trail by Longs Peak, CO.
Brett Clatt
Out of the box impression.
Familiarity:

I've used it once or twice and have initial impressions
Dam light comparitively speaking to other brands. The heel is a perfect fit for my foot. Construction is as good as any other $475+ boot on the market.

I did buy these in a 1/2 size bigger. They are true to size when wearing a normal athletic sock. I wear thick smartwool mountaineering socks and in order to have a comfortable amount of room without being too tight I went bigger. I'll do the best I can to test these here in Colorado and write an update in late March.
Brett Clatt