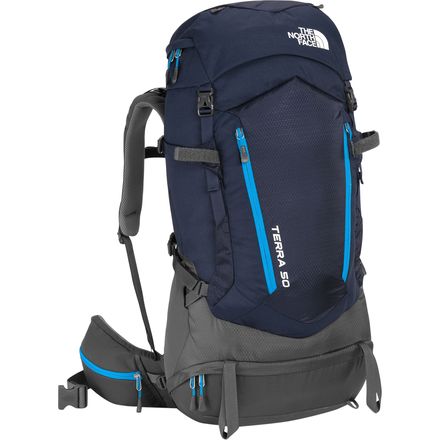 Colors

Detail Images
Slimmed-down performance, strong and sturdy backbone.
Completely redesigned, The North Face Terra 50 Backpack is slimmer and less bulky than ever. However, this weekend-specific pack is still capable of carrying heavy loads. It comfortably supports up to 45 pounds, courtesy of an anatomically correct shoulder harness and load-spreading hip belt. Promoting air circulation, a vertical channel cools your back on humid summer trips and stifling, sub-tropic excursions.

Seven total pockets easily hold a weekend's worth of camping gear, and two easy-access hip pockets store tools and accessories within easy reach. Six lash points clip tools for greater versatility. The pack's sternum clip doubles as a safety whistle to alert your party of danger or assist with finding you, should you be hopelessly lost. Additionally, this pack is hydration compatible (bladder sold separately) for on-trail refreshment.
Backpack supports loads up to 45 pounds
Anatomically correct shoulder harness
Vertical channel promotes air circulation
Anatomically correct, load-spreading hip belt
Seven total pockets, including two easy-access hip belt pockets
Six total lash points for clipping tools and accessories
Sternum clip doubles as safety whistle
Hydration compatible (bladder sold separately)
Unanswered Question
Can you secure ski's to this pack?
Thanks
Brian
Brian Salmon
Unanswered Question
I am a 5"1 woman, will a small fit me? I am also wondering if I can fit 2 waterbottles on the side pockets on the outside of the backpack?
emy takinami
Solid backpack for climbing
Familiarity:

I've used it several times
I bought this pack in order to fill a need for a versatile pack that could support long hikes, backpacking, technical climbing and short alpining trips. So far I haven't gone on snow with it yet but it has served well and been comfortable for short trips supporting my sleeping system and climbing gear. There are more comfortable packs on the market but they can be costly.

I am 5'7" 165lbs and bought the small/medium. The hip placement is excellent however I found that the chest strap was slightly too high for me but not a real issue. I think if I were to be fully packed with a puffy this might be a close call.

No regrets
Jeremy V.
Given as a gift, they absolutely love it
Familiarity:

I gave it as a gift but have feedback to share
Given as a gift, they absolutely love it. My sister is going to use this for parts of the Appalachian trail in the spring. should work perfectly for that trip for her
Eric Nelson
LOVE, LOVE, LOVE
Familiarity:

I've used it several times
Bought this for weekend and overnight trips. It fits my extra-large sleeping bag and all of my other gear. I've also been using it for some climbing trips, my rope fits in the sleeping bag compartment. Many pockets and extra loops to attach gear to.

Surprisingly the size (S/M) works well for me (I'm 4'11").
Amazing bag!
Lauren B.
Love this thing!
Familiarity:

I've used it several times
What a great bag, I cant say enough about it. Its the perfect capacity for the overnights I usually do out in Arizona. The size is great (im 6'3") and its super well made. The pockets are smartly done, almost like they read my mind when making it. and the sleeping bag pocket at the bottom is awesome when packing. I'm pretty sure that itll work well for a 2 night trip as well, as I still have a bit of room in it when I do my overnights. You wont be disappointed with this one!
James F.
Would this backpack be suitable for a 10 day trip across ireland? I will not be hiking and will not need to bring the associated gear.
CaseyL
Casey,



This backpack should suffice for your 10 day trip across Ireland as long as you aren't packing a change of shoes for everyday that you'll be on your trip.



If you have any other questions feel free to hit me up -



800.409.4502 ext 4789
Mark Burnett
it's a good backpack ,I love it
Familiarity:

I've used it several times
I come from China, I bought this backpack through the Internet, took a month to send to my house. When I opened the parcel, I felt very excited, this backpack is too beautiful, it is what I want. In China, this backpack is very expensive, but it is quite cost-effective to buy here. I'll buy more of backcountry in the future.I love this backpack.
ShawnNicky
is it men's or women's backpack?
mam
Jacob Wilbanks
Do you know if a bear canister will fit in this pack?

Thank you!
Randy G.
Best Answer
Hey Randy,



This pack has a 50L capacity, so it most definitely should, unless it is the biggest bear canister known to man. Hope this helps.
Jacob Wilbanks
I've got a much larger 75L pack from TNF and bought this in Conquer Blue/Fiery Red as a smaller weekend pack. It's thoughtfully constructed with plenty of pockets and space. Love the sleeping bag compartment with its own zipper and the hydration pocket in particular. It fits comfortably and seemed reasonably priced. I'm definitely pleased with it so far.
Than Volk
Tried on a lot of others.
Familiarity:

I've used it once or twice and have initial impressions
Ill admit I have not yet taken this for the real test. BUT.. In looking for a 50L pack I tried on a bunch of them at various stores including: Thule capstone 50; Osprey Kestral 48; Deuter 50+15; REI Flash 45 and 62; and probably others.

I expect to be using this on some long hikes and on some walk in camping where Ill stay several days. I was looking at 50 L packs sizes since my sleeping pad is a thermarest-z.. which will ride on my pack rather than in my pack, leaving me enough room for everything else I need at 50L.

The potential exists for me to be carrying quite a load however.
I wanted the pack to be able to handle 35+ lbs. For each pack I tried on in the stores I used their weighted pillows to test out each pack. My tests were all specific to me but included: how well it felt handling that weight for a walk around the store; if it felt stable when I twisted from side to side; if it stayed in place when I bent down to tie my shoes or reach something on the ground; if it felt balanced while standing straight up.

Nothing I could try on in the store quite fit correctly, nor was passing each test to my satisfaction with that much weight. I could see on line a couple of contenders but searched in vain to locate them in a store. Particularly this one. North Face Terra 50. I found a Terra 65 in a store to check how well it fit - and it was good but not the right size for what I wanted.

Of the packs I tried on in the stores the Thule capstone 50 was the best at handling the load and twisting and bending down tests. It was snug and had the mesh back and easy side and bottom access..I really wanted to get it but.. when standing up straight it touched the back of my neck and actually made my posture a bit off if I tried standing up straight. No matter what setting or straps I adjusted could make it feel right. It just didnt fit me up there. My torso is right at 20.5.

I was reluctant to get something online because I hate the idea of having to do returns. I chatted with the customer service persons online at Backcountry to make sure there would be no problems if I wanted to make a return and asked a ton of specific details about the pack that were unclear from online info [this one does not have adjustable torso length, but the Terra 65 does, the waist sizes in the tables from Northface are incorrect for the Terra 50]. I settled on trying the North Face 50 and had it shipped. Shipping and customer service have been great.

The Terra 50 fits me just right, has several adjustments that can be used while moving to loosen up the load on your shoulders, but the load stays balanced correctly on my hips. at home I weighed it down with regular camping stuff, extra liters of water and my cast iron griddle.

This pack handles the load excellently. As good or better than any of the other 50 L packs I tried in the stores. The balance was very good and tying my shoes was not any different than most of the other packs I tried.

I am looking forward to taking it out very soon, and can give more info then. It did not cradle my back and hold on as stable while bending over and moving as the Thule Capstone 50 which performed best in almost all of my categories - - the Thule just did not fit me right when standing up straight, and the other packs could really not handle the load I wanted.

If you are in the market for a 50 L I would highly suggest trying them on in the stores, but consider this pack and consider Backcountry if you need to try on something you can't find, or if nothing seems to fit just right. Finally - this was the cheapest pack I tried by almost 50$. For backpacks - like shoes - find something that fits you. - very happy with this purchase and my experience with Backcountry . Cheers


Jonathan J.
So, I want to get this pack. the thing is i live in central MN and i only know of about 4 backpacking trails near me, but this summer i am going on a trip to Montana for a 9 day- 8 night trip with some friends. Just wondering if i could possibly use this pack for that trip?
Tyler V.
You definitely can, but pack light and small. 9 days' worth of food will take up a LOT of space. If you don't have backpacking-oriented sleeping and camping gear, you might need a 60+ liter pack to hold everything.
Angus Bohanon
Best Answer
If you're a beginner, I think you'll find this pack too small. I'd look for something in the 65-75L range. Also, your trip seems long for a 50L pack... even for a relatively experienced backpacker.



I say this because beginners often have equipment that takes up higher packing volumes.
David Thiel
Excellent
Familiarity:

I've used it several times
This is an excellent backpack. It fits all of my backpacking stuff and is perfect for a 1-3 day hike. I've only used it a couple of times but I love it!
Corey Foster
what are the approx. dimensions of the...
what are the approx. dimensions of the bag? Im concerned about using it as carry on in a plane
Saa
Hey Saa,



This pack is about 30 x 16 x 11. Most airlines follow the restriction of 45 linear inches for carry on packs so you might need to check this pack instead.
Wayne Christoffersen
I have a 20-21" torso (depending on who's...
I have a 20-21" torso (depending on who's measuring), but only a 34" waist. Which size should I get?
Alex Snyder
Best Answer
You have a long torso, I suggest the L/XL. The waist belt that comes with that should fit you just fine.
Travis Tzioumis
This post is a bit after the initial question was asked. However, customer service was able to clear it up for me before I ordered. And I now have it and tried it on and can verify that it fits a smaller waist just fine. My torso is 20.5 and waist of 32. The L/XL does fit my waist with no problems whatsoever, and could go quite a bit smaller. The online sizing table for North Face backpacks is not correct for the L/XL of the North Face Terra 50. The customer service folks at Backcountry know their stuff.
Jonathan J.
Yeah, I've owned this pack (L/XL) for about a year now and it has been fine for my needs. I actually just got back from backpacking through Costa Rica and Nicaragua, and this pack worked fine. My only real disappointment was that some of the stitching in the lid came apart. But a little needle and thread fixed the problem.
Alex Snyder
Where does the tent go? I'm relatively...
Where does the tent go? I'm relatively minimalist. Wondering if this pack could be used for 6 days canoeing (where would I put the tent? Is my biggest concern). Thanks!
Anthony Leutenegger
Best Answer
Hey Anthony,



Depending on how much room your sleeping bag and tent take up I typically like putting the tent body and fly in the sleeping bag compartment at the bottom for easy access and the poles secured down by the external compression straps. As far as using this on a 6 day canoe trip, I think the pack should be fine so long as you get yourself some drysacks to protect your gear.
Wayne Christoffersen
The North Face Terra 50 Backpack
Backcountry Video
Does this pack come with a rain cover?
Does this pack come with a rain cover?
Matthew G.
Best Answer
Hey Matthew,



This pack does not include a rain cover.



Let us know if you have any additional questions!
Trevor K