The North Face

Class V Skort - Women's
Item #TNF030Z
The North Face
Women's Apparel
Jackets
XS
S
M
L
XL
XXL
Chest

31 - 32in

(78 - 81cm)

33 - 35in

(83 - 88cm)

36 - 38in

(91 - 96cm)

39 - 41in

(96 - 104cm)

42 - 44in

(106 - 111cm)

45 - 48in

(114 - 121cm)

Waist

24 - 25in

(60 - 63cm)

26 - 28in

(66 - 71cm)

29 - 31in

(73 - 78cm)

32 - 34in

(81 - 86cm)

35 - 38in

(88 - 96cm)

39 - 42in

(99 - 106cm)

Hip

33 - 35in

(83 - 88cm)

36 - 37in

(91 - 93cm)

38 - 40in

(96 - 101cm)

41 - 43in

(104 - 109cm)

44 - 47in

(111 - 119cm)

48 - 51in

(121 - 129cm)

Sleeve Length

31.5in

(85cm)

32in

(86cm)

32.5in

(88cm)

33.3in

(90cm)

34in

(92cm)

34.8in

(94cm)

Pants & Shorts
XS
S
M
L
XL
US Size
(0)
(2)
(4)
(6)
(8)
(10)
(12)
(14)
(16)
(18)
Waist

25 - 26in

(63 - 66cm)

26 - 27in

(65 - 68cm)

27 - 28in

(68 - 71cm)

28 - 29in

(71 - 73cm)

29 - 30in

(73 - 76cm)

30 - 31in

(76 - 78cm)

31 - 33in

(78 - 83cm)

33 - 35in

(83 - 88cm)

35 - 37in

(88 - 93cm)

37 - 39in

(93 - 99cm)

Hip

34 - 35in

(86 - 89cm)

35 - 36in

(88 - 91cm)

36 - 37in

(91 - 94cm)

37 - 38in

(94 - 96cm)

38 - 39in

(96 - 99cm)

39 - 40in

(99 - 102cm)

40 - 42in

(102 - 107cm)

42 - 44in

(107 - 112cm)

44 - 46in

(112 - 116cm)

46 - 48in

(116 - 122cm)

Short Inseam

28.5in

(72cm)

29in

(74cm)

29.5in

(75cm)

Regular Inseam

30.5in

(77cm)

31in

(79cm)

31.5in

(80cm)

Long Inseam

32.5in

(83cm)

33in

(84cm)

33.5in

(85cm)
How to Measure:

For best results, take measurements over your underwear.

Chest:

Measure under your arms, around the fullest part of your chest.

Waist:

Measure around your natural waistline, keeping the tape a bit loose.

Hip:

Measure around the fullest part of your body at the top of your legs.

Inseam:

Using pants that fit well, measure the crotch seam to the bottom of the leg.

Sleeve Length:

Measure from the center of your back to your wrist with arms held out.
Select style & size:
Select options
Select options

Graphite Grey, XS

Sale:$24.72

Tnf Black, M

Sale:$24.72
Tech Specs
Material:
[body] 90% polyester, 10% elastane, [waistband] 88% polyester, 12% elastane, [internal short] 93% polyester, 7% elastane
Skirt Length:
[front] 16in, [back] 17in
Waist:
elastic with drawcord
Manufacturer Warranty:
lifetime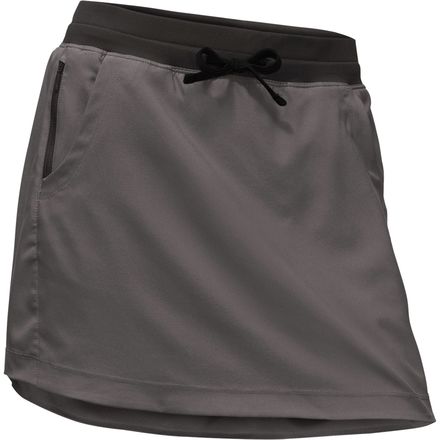 Colors
The North Face Class V Skort gives you the style of an athletic skirt and the practicality of shorts. Now you can enjoy the look you want without worrying about exposure as you climb into your kayak or leap from rock to rock at the lake.
Frequently purchased together