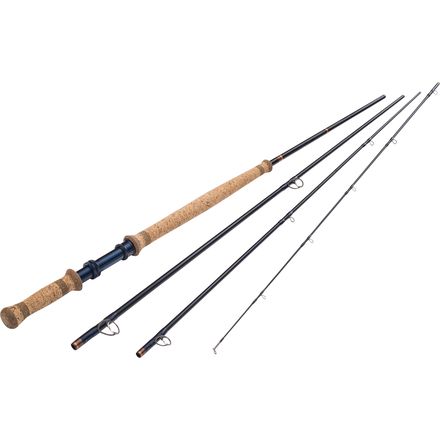 Colors

Detail Images
Your efficient delivery tool.
Temple Fork Outfitters have teamed up with two Pacific Northwest spey casters, Mike Kinney and Bob Meiser, to design the Deer Creek Series Switch 4-Piece Rod. This two-handed rod has a unique progressive-regressive traditional action which makes it ideal for executing both Spey and Skagit casts.
TFO proprietary design (KEVLAR® is applied within the carbon fiber pre-preg) reduces the ovaling effect a blank experiences under load, therefore creating an exceptionally smooth and powerful rod with remarkable damping qualities
Switch rod design lends you a variety of both single and two-handed casting options
Unique design allows you to achieve maximum targeted forward distance with the least amount of expended energy
Full wells handle ensures hand support at the rear and front of the rod, gives you more leverage, and allows you to cast longer and fight larger fish
Cordura covered hard case and sock provide protection during storage or transport
Plenty of bang for the buck.
Familiarity:

I've used it several times
First of all, I'm a total newbie to the world of spey and switch rods, so take this review for what it's worth. If you're looking for your first switch rod, then I'd say this is a safe bet. I bought the 8wt and paired it with the SA Adapt Mastery Switch line (440gr). This combination overhead casts easily and single and double spey casts well (even with my sub-par skills) I was able to cast Rio Versitips and larger intruder patterns alright with this setup, and I was really impressed with the line control I had when fishing with an indicator setup. If you're like me and fish for salmon or steelhead only a once or twice a year, you really can't go wrong with this rod.
Jeff Sorenson
Deer Creek Rod Description
Dan Gates
Temple Fork Outfitters -Deer Creek
Dan Gates