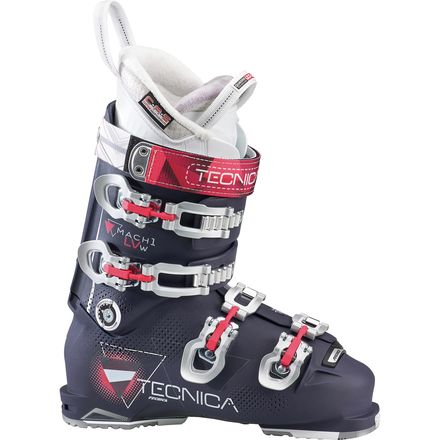 Colors
Dreams do come true.
It took Cinderella years of abuse, a terrible family, and fairy godmother to finally find the perfect slipper, but it's so much easier to find the perfect shoe for narrow-footed all-mountain skiers—just slip your dainty paw into the Tecnica Mach1 105 LV Women's Ski Boot. Getting the Mach1 on in time to chase down your pow prince is a breeze, because Tecnica designed it with a Quick Instep panel, a flexible piece of plastic right at the overlap to take the pain and struggle out of parking-lot donning and doffing.

The fit is a fairy tale, too, because the Mach1 features C.A.S. (Custom Adaptive Shape) technology in the shell, liner, and bootboard. Basically, they've all been constructed to allow maximum customization, so you (or better yet, a qualified booter) can grind out problem areas in the shell, shave the bootboard down to improve alignment, and heat-mold the Women's Ultrafit liner in a snap. Improved fit means improved comfort and performance, so you can make the most of the narrow 98mm last and low-volume (hence the"LV" moniker) fit. The Mach1 locks down via four micro-adjustable aluminum buckles and a 35mm power strap, and handles treacherous parking lots and staircases with a grippy bi-material sole, so getting to the lift isn't the sketchiest part of your day.

C.A.S. shell
C.A.S. Women's Ultrafit heat-moldable liner
Quick Instep design
Four aluminum buckles
C.A.S bootboard
Bi-material sole
35mm power strap