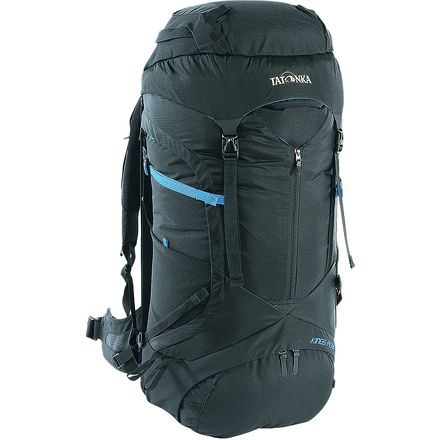 Colors

Detail Images
Elevate your wilderness experience.
Named after Utah's loftiest peak, the Tatonka Kings Peak 45 Backpack carries your camping gear to lofty mountains and remote backcountry outposts. Rugged materials stand up to rigorous use, resisting abrasion when you set it down on rocky outcroppings. The X Vent Zero carrying system elevates the pack off your back, preventing sweat build-up while you're slogging uphill and trekking through hot, sticky conditions. For quick adjustments, the padded waist belt allows for one-handed tightening.
The Kings Peak 45 Backpack graciously carries everything on overnight camp-outs and weekend backpacking trips. Its roomy top-loading design has a separate bottom-zip compartment for your sleeping bag or wet gear. There's a handy front-zip pocket for stuffing a rain jacket or fleece without endlessly digging through the pack. Side mesh pockets clutch water bottles while the hydration-compatible design facilitates on-the-move drinking.
Robust pack for overnights and multi-day backpacking trips
Classic top-loading design with separate bottom compartment
X Vent Zero Plus Carrying System prevents sweat build-up
Airmesh straps and padded hip belt support hefty loads
Integrated waterproof sack with roll-up closure
Zippered front pocket for grab-and-stash convenience
Mesh pockets at sides for carrying water bottles
Hydration-compatible design for on-the-move drinking
I love this pack
Familiarity:

I've used it several times
I am liking this brand in general. I purchased this as a replacement to my Kelty Redwing 50, which I think is too compartmentalized. It was ultimately the backpanel design that pushed me over the edge. I also have a Tatonka Skill 29, which I love. After hiking with that, which also features the Xvent Zero back panel, I just can't go back to the Kelty. The Back panel on these packs are fantastic. I hike in the Arkansas Summers, through the hills of the Ozarks. With the heat and humidity, that back panel makes a difference.

The Tatonka bags seem to illustrate a good degree of thought in their design, with a good mix of the tried and true. I notice that they selectively pick materials based on bag sizes and their intended uses. The Skill 29L, for instance, is a smaller bag which uses a lighter weight material for the bulk of the bag. Still, they seem to reinforce where it's necessary to do so. This Kings Peak 45 uses a heavier weight material, and it shows in the item weight. At over 4lbs, it isn't a light weight bag for the size. Having said that, the construction and quality seem to be on par with a number of the Osprey packs I have seen, and it seems to share certain features, like lid design. There are abrasion points on the bottom of the waist strap, being that it's very rigid. While my bag is showing a little bit of wear there, I have little concern for it.

The pack carries very well, much better than what you would expect from looking at the photos. The back panel and suspension system is minimalist, but there is padding where it needs to be, like the shoulder straps. The pack does feature a limited spine adjustment via velcro anchor points and a ladder hook and loop system on the shoulder straps. The back panel looks as though it might be uncomfortable, but don't let that fool you. Even when the bag as cinched up tight with the load lifters, you simply cannot feel it on your back. You feel every breeze. The only downside is that under load, the fiberglass rods can reverse if they aren't under enough tension, but that is adjustable, and easily fixed.

The integrated roll top dry pocket is a good idea, but less so in practice. It would have been best left off of this bag, and is so on the newer model. The roll top doesn't really roll shut with confidence, and the pocket only really serves to take up space from the main compartment. Still, I do use it for spare clothes.

In short, I think these bags are a real gem, and for what they go for, they are a steal. I am way happy with the two I have.

I also have a Marmot Graviton 34 to fill the gap between my Tatonka Skill 29 and the Tatonka Kings Peak 45. After taking the Marmot out, I am thinking that I am favoring the Tatonka bags, though time will tell. It is worth keeping in mind that that Marmot 34L weighs less than that Tatonka 29L. Even still, the Tatonka surely has a more comfortable back panel. That says a lot, considering that the Graviton back panel is pretty good. I have much more confidence in the construction of my Tatonka bags though. They don't seem to compromise too much to weight.

David Cupan