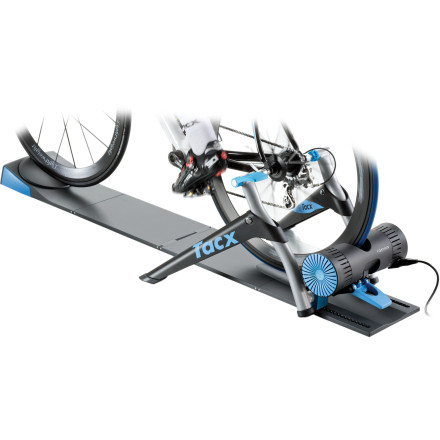 Colors

Detail Images
Out of this world training.
The Tacx i-Flow was one of the first trainers to pair sophisticated virtual reality training software with a professional-level indoor trainer. Now, its i-Genius Multiplayer trainer and accompanying software take indoor training to an unprecedented level — the only thing that you'll miss is actually brushing elbows with the pros.
Just to touch on the construction of the trainer itself, it's built from sturdy and lightweight aluminum. It comes with the Black Track steering frame. The trainer features Motor Brake technology, which means all the forces encountered by a rider on the road — air and rolling resistance, gradient, weight, air pressure, wind speed, temperature, altitude, inertia, and brake properties are all integrated and recalculated hundreds of times per second to create a realistic road feel. Unlike other trainers that simply rely on a flywheel, Tacx uses dynamic control of the braking force. This means that virtual climbs are no longer "just in your head," and on the downhills you'll feel like you have wings. As in real-life riding, you won't even have to pedal. And if you think that's cool, the i-Genius also features PowerBack, which converts the heat that is generated in the brake and released while cycling into electricity. It is then fed back into the power grid. While the trainer and software communicate wirelessly, the trainer itself will need to be plugged into an outlet.
This advanced technology perfectly syncs with Tacx's revolutionary virtual reality software. The Tacx Trainer Software4 is completely new — from courses, to gradients, to buildings, trees, and even sounds. It has options for road, mountain bike, or track cycling. You are even able to customize kits and bicycles on the riders. And these are not silhouetted, flat riders; it is truly 3D video game quality imaging. Even more impressive is that you will not just be riding alongside other riders — the software is actively engaging. Riders attack and break away and react to what you do. When you steer your front wheel in the Black Track frame, every movement is immediately transmitted into virtual reality. The integration of the software with the trainer itself is so flawless that you'll even feel the watt savings when you are drafting.
The i-Genius Multiplayer is, of course, ANT+ compatible so that you are able to download all of your metrics after your ride. Its max resistance is 1500 watts, with climbing grades available up to 20 percent. It includes a one-year Multiplayer license. The Tacx i-Genius Multiplayer Trainer is adjustable in order to accommodate various wheel sizes, from 600 to 640mm, and 690 to 710mm.