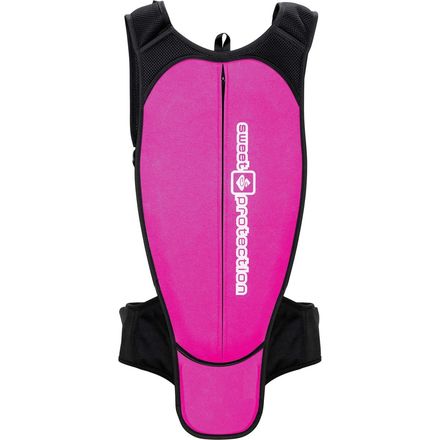 Colors
It has their back, literally.
Easily worn under jackets on the mountain, the Sweet Protection Kids' Bearsuit Back Protector cushions the blow of high-speed accidents with its impact-dampening, back-saving design. This low-profile back protector attaches with its hook-and-loop waist strap, adjustable shoulder straps, and buckled chest strap to ensure a secure fit in the event of a crash.
The protector's SAS-Tec visco-elastic foam cushions the blow of high-speed crashes to absorb heavy impacts along the back and spine. An outer layer of Aramid-reinforced fabric strengthens the pad's impact-absorbing foam. In case you're not aware, Aramid is an ultra-strong fiber used in ballistic vests, so you know it's up to the task of protecting your little ripper. Additionally, this back protector features breathable 3D mesh along the upper back and shoulder straps to promote maximum air flow.
Impact panel: SAS-TEC visco-elastic foam
Impact panel overlay: Aramid-reinforced stretch fabric
Breathable 3D mesh at upper back & shoulder straps
Hook-and-loop waistband
Adjustable shoulder straps
Buckle-closure chest strap