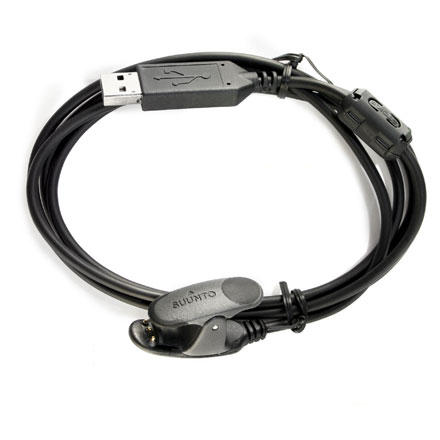 Colors
Replace your missing Datasnake with the Suunto t6 USB Datasnake.
The Suunto t6 USB Datasnake replaces the one you lost during your last workout session. Now you can once again hook your Suunto t6 watch to your computer for accurate post-training results.
Can I use this USB Data Snake on my G6...
Can I use this USB Data Snake on my G6 Golf Watch by Suunto? It has the same three USB connection points in the back of my watch which appear to match the three contact points on the USB Data snake. Thanks for any help!
Joe
Hi Joe,

Yes, this is the same USB for the G6 Golf.
Patrick "Packy" Hoyt
Hi, can this also work with an X6-HR? if...
Hi, can this also work with an X6-HR? if not, would anyone know the exact model number or code?

I'm into collecting watches (mostly dress) and got enticed to buy my first sports watch (X6HR) which I found on sale during a recent trip to Japan. Since I am not very familiar with the models and didn't also plan to buy one, I didn't have an idea as to the different accessories that came with each model. Unfortunately, I've just discovered that the cable given to me was that for the T6 unit I also tried checking out. and as much as I would want to get the original accessory now, I doubt that I'd still be able to contact the dealer which was just a small electronics store i happened to pass by in osaka.

Will greatly appreciate a response..Thanks!
abbe
Best Answer
The X6HR and the T6 use the same data cable; this one. It should work just fine. The thing you'll need that is specific to the X6HR is the CD-ROM to load the correct software on to your PC to analyze your logs.
Brandon Carlile
No, the two cables are not interchangeable. I have both watches, and the X6HR uses a serial interface with the PC (which is a strange interface to use in this day and age), and the T6 uses a USB cable (which actually makes sense, in this day and age). As much as I like both watches, I have tried to mix and match cables, and neither one of them will communicate with the PC correctly...even with the correct software installed.
JakeB
Unanswered Question
Will this one work with the X6hr?
Will this one work with the X6hr?
Dave
Does it work with G6 / Golf watch?...
Does it work with G6 / Golf watch? thanks
sternh2318502-0
Not quite. You'll need a funky cable, and sadly Backcountry doesn't stock it. On the better side of things, Suunto ships out of Ogden, UT, which means you should get your gear about as fast as getting gear from Backcountry.http://shop.suunto.com/PublishedService?file=page&pageID=9&itemcode=SS012209000
Matt Fuller
The datasnake is easy to use for the average computer user. If you can upload the pics from your digital camera of choice you can nail this. I did have to download a patch for windows XP from MSFT to get this to work (http://support.microsoft.com/kb/935448). Suunto has a good FAQ and BBS at www.suunto.com if you have problems.

My only issue lies with the software rather than the datasnake. I'd much rather have a web interface for my workout data rather than having to install software locally.
Joel Brazle