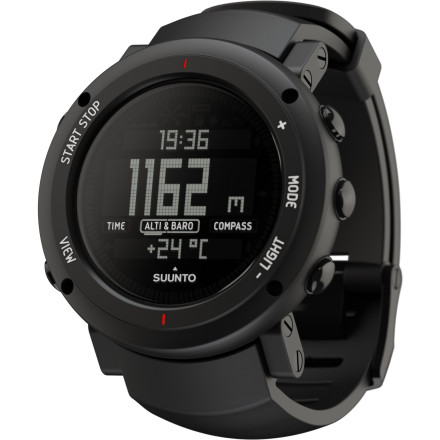 Colors
Every navigation instrument you'll ever need.
From high-altitude climbing expeditions to epic desert treks, count on the Suunto Core Aluminum Altimeter Watch to provide the information you need to navigate unforgiving landscapes. Whether you're recording gains in elevation, using the compass to follow a specific bearing, or reading the barometer's Weather Trend Indicator to make your own forecast, the Core will help ensure you're on the right track and on time. Incredibly, all of this and much more is contained in a sleek 2.8-ounce design that sits comfortably on your wrist.
Altimeter measures changes in elevation between 1600 and 29500 feet
Altimeter log recorder stores movements in altitude between designated start and stop times, allowing you to know how much you climbed, the duration of each section of the route, and your average ascent and descent speeds
Barometer measures sea-level pressure every 30 minutes and records a 24-hour history
Weather Trend Indicator utilizes seven days of weather history to help determine upcoming weather conditions
Storm Alarm notifies you if there is a sudden drop in pressure, a potential indicator of worsening weather
Watch switches automatically between altimeter and barometer—altimeter when you're climbing and barometer when you stop to take a rest, providing more a more accurate interpretation of changes in pressure
Digital compass can be set to track a certain bearing using the one-touch function
Declination function corrects the difference between magnetic north and true north
Depth meter provides information regarding current and maximum depth while snorkeling (water resistance rated to 30 meters)
Multiple watch, date, and alarm functions with dual time and a countdown timer ensure you're always on time
Sunset/sunrise times for over 400 worldwide destinations are ideal for globe-trotting travelers
Digital thermometer provides accurate temperature readings
Electro-luminescent display allows you to read the watch at night
Menu-based user interface can be changed to read in English, German, French, or Spanish
Button lock prevents accidental setting adjustments
Runs on a CR2032 user-replaceable battery
Created the Look of the Brushed Steel.
Familiarity:

I've put it through the wringer

Fit:

True to size
I originally bought the Brushed Steel Core, but didn't like the negative (black) display. I returned the Brushed Steel and bought the White Alu and replace the strap with the same strap as the Brushed Steel Core - I couldn't be happier! This is an awesome watch and much lighter then the steel version.
John D
Outdoor Gear Lab Top Pick
Outdoor Gear Lab tested five of the best altimeter watches on the market in side-by-side tests over a year. These watches feature the key functions that hikers, backpackers, and climbers use the most: altimeter, barometer, digital compass, and standard time-keeping features.
Leslie Byers
Makes me think, "Batman".
This watch is probably the most stylie, hip watch out of the entire Suunto lineup. The black on black is very stealth and and gives off a classy look that makes me think,"Batman".



As mentioned in other comments, the altitude is based off absolute air pressure so sometimes it is necessary to give a reference altitude after not changing elevation for long periods of time.



It is cool to have the "storm warning" function as it does actually seem fairly accurate as storms roll in. If i was too careless to check the weather before a big hike or something similar the watch would at least give me a warning that I should think about weather approaching.



The contrast could definitely be turned up on the digital display. It can seem fairly dark in certain lighting. There is a backlight feature but that too is fairly faint.



I would say I have a medium sized wrist and you can see how it fits in the attached photo. I think the fish eye lens I used made it seem slightly larger than it is but it does have a big fit…



Overall I would buy this watch with style in mind with an occasional desire to tap into a few cool features.
Leo Ahrens
Initial Impressions After 1 month
I've had the watch for about a month, and here're some initial impressions after having used it during work days and the outdoors:



The Pros:

1. IMHO, this is certainly the best looking Core model; it has a streamlined, simple, and elegant look to it while attaining all of the features of others (except for the rotating bezels for the compass, but I don't think it looses any efficacy from it).

2. Assuming that you understand the limitations of using absolute air pressure readings (and reference values) to determine current altitude and sea level air pressure, it is a reliable performer. The weather trend indicator and the storm alarm functions are useful too (albeit the alarm can be a bit sensitive).

3. The compass is a quick and dirty way to track your bearing.

4. It is lightweight (2.96 oz per my AWS SC-2kg scale), and super comfortable when worn.

5. Easy to operate time alarm and chrono features.



The Cons:

1. Other than the housing of the watch being of different design and material (aluminum vs. plastic/elastomer), there is no difference from the other watches, yet this model is over 100 bucks more expensive.

2. The rubber black strap is a dust magnet. It's nearly impossible to keep it looking clean.

3. The compass tends to drift, so I find myself needing to calibrate daily if I'm using it on a trip.

4. Though the contrast can be adjusted, the negative display can be a bit hard to read especially when the lighting gets dark. It does have a backlight function.

5. Other less prominent features must be taken with a grain of salt (e.g. temperature, sunrise/sunset, etc.).

6. Weighs little more than other core models (e.g. the all black is about 2.3oz).

7. Comes only with a quick guide, full manual must be downloaded separately from their site.



In summary, this watch is still IMHO the best non-GPS ABC watch out there with excellent balance of simple interface and functionality. Give it a go especially if you can get it at a discount.
Yung Lee
Suunto Core Aluminum Altimeter Watch
Backcountry Video