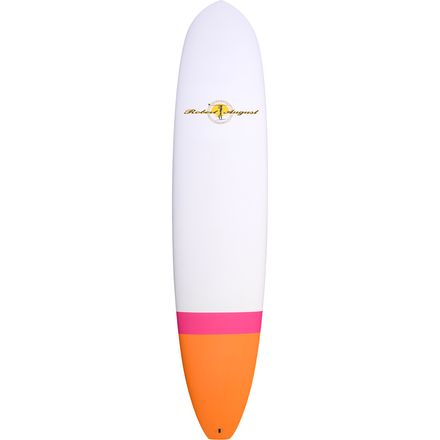 Colors

Detail Images
Always a good time.
No matter what the conditions bring, maximize your fun with the Surftech Robert August What I Ride Surfboard. Its mini mal shape enables the What I Ride to handle well in small-to-medium surf and provides all types of surfers—from beginners and heavier surfers to those wanting to transition over to using a shortboard—wicked-fun rides, regardless of surf conditions.
The What I Ride utilizes a 60/40 rail configuration, which in combination with a nifty teardrop concave design conveniently placed beneath the nose, greatly enhances your noseriding capabilities. With less volume than a longboard but more than a shortboard, this mini mal makes it exceptionally easy for beginners to paddle out into surf and catch waves. Equipped with a squash tail, the What I Ride provides a quick release which makes the board easier for sharper and looser turns. In addition, the squash tail also provides exceptional versatility, as it's designed to provide better control in steeper and bigger waves as well as in softer waves.
Made with Tuflite sandwich epoxy construction, the What I Ride handles day-to-day use while offering the performance advantages of a lightweight, durable board. The Tuflite construction features a water-tight, fused-cell core with layers of epoxy fiberglass, fiberglass lamination, wood veneer laminate, and a hand-finished hot coat. Its wood veneer laminate also supplies the timeless beauty of natural wood for unsurpassed style and class. Surfboard shaper Robert August gave the What I Ride a FCS 2+1 fin setup which provides an excellent combination of stability, drive, and maneuverability in a wide range of surf.
Tuflite construction
Shaped by Robert August
60/40 rail configuration
Quash tail
Tear drop concave profile
2+1 fin configuration