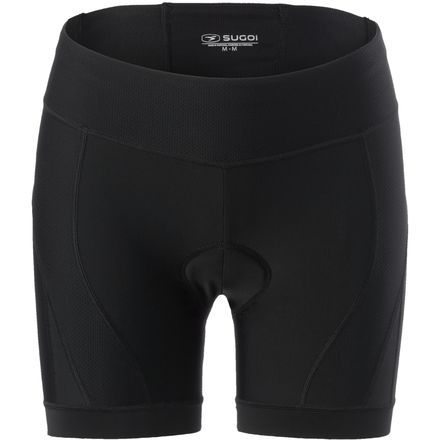 When every second counts.
The Sugoi Women's RS Tri Shortie maximizes aero efficiency when every second is counting against you in competitive race scenarios. The RS Tri Shortie employs Ultra Aero fabric along the outer thighs for a slippery, race-ready profile. This fabric clings tightly to your body for the form-fitting support desired by riders training and competing at high levels. For proper stabilization of the short itself, the flattering, comfort-enhancing waistband bolsters itself across a wider area without the use of pesky bib straps.
Seeing the need for a triathlon-specific chamois, Sugoi developed the Trilite Pro to enhance comfort when you're low-slung over the aerobars. It achieves this by mirroring its design to where your pelvis sits in the forward aero position. Poron high-density foam is strategically placed to alleviate pressure on the sit bones, which is especially helpful when your racing on a stiff frame that's sure to transmit every road imperfection. For a cooler feel, micro-ventilation ports reduce perspiration during high-intensity race efforts.
Maximize your aero efficiency on race day
Trilite Pro chamois relieves pressure in aero position
Ultra Aero fabric for a slippery profile
Widened waistband bolsters support
Integrated waistband pockets for fuel