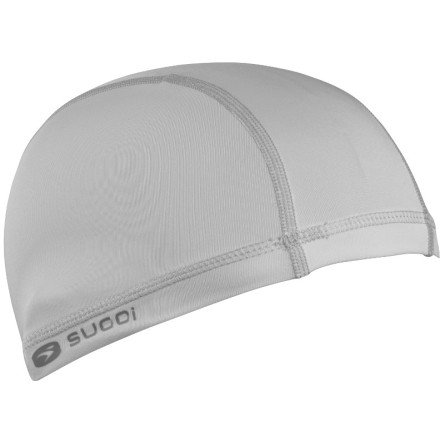 Colors

Detail Images
Keep your noggin cool.
We used to think of only wearing caps when it was cold out. But then the benefits of covering the skin in the blazing sun were realized and companies began to develop material to wear in the summer. The Sugoi Cooler Cap slips under your helmet to keep your head cool, no matter how much hair you do, or don't, have.
The Cooler Cap was sewn from Icefil. Unlike other fabrics that just reflect the sun and keep heat off your skin, Icefil is a reactive fabric. To this end, when you perspire, the material absorbs your sweat and in turn uses it to cool your skin, much like an evaporative cooler. The cap is fitted and slips discretely under your helmet.
The Sugoi Cooler Cap is available in one size and in White.
Great with MIPS
Familiarity:

I've used it several times

Fit:

True to size
Bought a new Giro MIPS helmet this year and with the MIPS it fit a bit tighter than a traditional helmet without MIPS. Because of this, my old cap was a bit too thick making my helmet fit too tight. This cap is nice and thin and works well with my MIPS helmet -- would buy again.
Chris L.
The Best of All Caps
Familiarity:

I've put it through the wringer

Fit:

True to size
I bought one of every cap just to finally decide what caps I like best. I shave my head so I was looking for something very comfortable with minimal to no seams. Of all the caps I tired this one is the most minimalistic, softest and fits non-noticeably under my helmet. It comes down just above my ears so there's no extra material to deal with bunching up around my helmet straps or around the temples on my shades. I've bought a couple of these since I wear and wash one every day. It's well made and so far shows no signs of wear. The label is attached with separate stitching so if you're carful you can take a razor blade or a stitch remover and just remove the stitching that holds the label in and it leaves the other stitching intact, then you don't even have a label inside of it and it feels practically invisible. Of all the brands, at least for someone who shaves his head, this one is the best. If you have lots of lumpy puffy hair maybe the other brands would work for you but I don't like stitches and design elements imprinted into my skull so I stick with Sugoi.
Michael D.
Nice and simple
Familiarity:

I've put it through the wringer
Does exactly what it claims and seems to keep my hairless head cool and free from sunburn. The "one size" means it will fit just a bit big on riders with smaller heads and/or no hair.
If you have any questions or for additional information, please feel free to reach out to me directly.

Ed Kilbourn
Gearhead - Bike
Office: 801–736-6396 x4670
ekilbourn@backcountry.com
Ed Kilbourn
What SPF protection is this?
What SPF protection is this?
Scott
UPF rating 50+ for top level sun protection. ddalton@backcountry.com
Dan Dalton