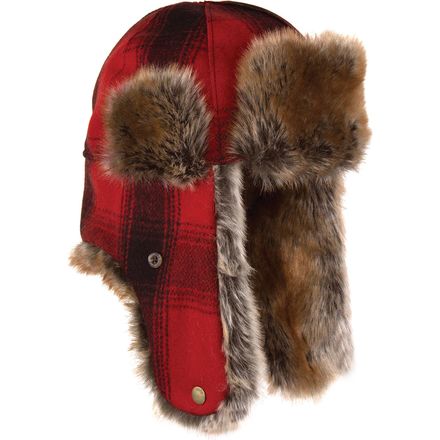 Colors
Get away for a couple of days.
A weekend at the cabin would not be complete without the Northwoods Trapper Hat. This cozy classic is built off of the classic Stormy Kromer 6-panel crown design, and features their premium wool and nylon blend. Lamilite insulation in the crown traps in warmth, and faux rabbit fur feels plush against your skin as you're hauling wood or shoveling snow. The nylon liner in the crown minimizes hair interference with the faux fur, and antique-brass style snaps complete the throwback look.
Trapper-style hat for weekends in the woods
Wool-nylon blend is warm
Synthetic insulation in the crown traps in heat
Faux fur lining is soft and cozy
Unanswered Question
Does the front "bill" come down to shield the eyes and face?
jill S.
I don't see any straps on this hat. Is there a way to fold the sides up and connect at the top like other trapper-style hats?
Graham Grochocinski
Hi Graham,

As discussed on the phone, this hat has buttons for you to fold the side flaps of the hat up!



Contact me directly if you have further questions!



Cheers
Karsyn Ansari