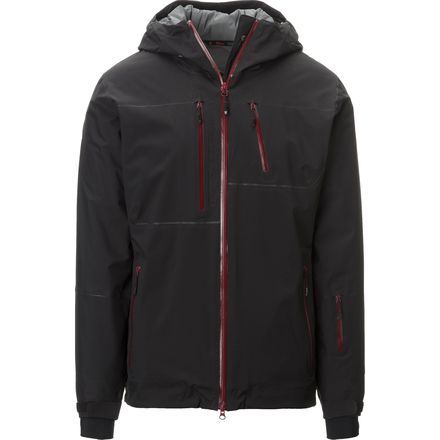 Colors

Detail Images

Videos

Community Images
Better than big guns and models.
To a skier, the word "Bombshell" generally conjures two distinct images: a Lange girl (early '70s, of course), or the thunderous echo of a howitzer pumping rounds into bowls of creamy powder. There's a newcomer to the the bombshell party, though, and it's threatening to relegate Lange girls and artillery to second-fiddle status: that's right, the Stoic Bombshell Men's Insulated Jacket is grabbing all the headlines and intruding on the old-fashioned dreams of ski models and avalanche control.

It's not really a surprise, when you get down to it. Models might be able to keep you warm, but they can't compete with the Bombshell's synthetic Cirrus insulation, nor do they offer 3-layer, mechanical-stretch fabric that stands up to serious abuse without feeling as heavy as a suit of armor. Equally, while howitzers may give you a warm, fuzzy feeling, they don't have the 20K waterproof rating or fully-taped seams of the Bombshell, and, accordingly, will not keep you very dry, unless you hide underneath one all day, which will definitely interfere with your skiing.
Unlike big guns and babes, the Bombshell also has essential features to make in-bounds powder stashes, sidecountry cliff hucks, and burly storms tremble in fear. The wrist gaiters and removable powder skirt seals out snow no matter how big your bombholes are, and mesh underarm vents work with the Bombshell's 15K breathability to keep circulation maxed out when you're seriously shredding or hiking to lines, so you're completely prepared to rip the bejeezus out of them when you get to the top. And, at the end of the day, all the ladies will be impressed, which is why you're up there in the first place, right?

20K waterproof/15K breathable membrane
Cirrus synthetic insulation
3-D ergonomic fit and mechanical stretch
Mesh-lined underarm vents
Fully-taped seams
Removable powder skirt
Wrist gaiters
Recco reflector
Great Jacket
Familiarity:

I've used it several times
This jacket got me through the coldest snap in Northern MN last year (high's in the -20s, although I obviously layered well underneath), as well as a trip around the world, hitting some very windy and cold spots. Great in the wind, the hood works great when you need it and doesn't get in the way when you don't, and the integrated gators are perfect.
Jesse Z
I love my gearhead's recommendation!
Familiarity:

I've used it several times

Fit:

True to size
I was browsing around looking for a snow jacket for Tahoe, and the gearhead that I talked to recommended this jacket.

I absolutely love it and have no regrets. It's stylish and warm.
ANTHONY L.
Love it. Wish they had other colors
Familiarity:

I've put it through the wringer

Fit:

True to size

Size Bought:

XL
Took this jacket with me to Japan in Feb and been riding it in Mammoth. It is such a great jacket for skiing and snowboarding with one small caveat (see below). Warm! Great fabric. Has taken a beating from trees and occasional falls. Like the underarm venting (although the zippers are a bit cumbersome). Tons of pockets including two upper pockets on the outside, one perfect for glasses, the other for a phone. Sleeve pocket for pass and chapstick is an excellent touch. Nice zipper pocket on the inside. And, unlike some jackets, it's very lightweight.

The jacket has taken a beating on piste, on ridge hikes and on a splitboard.

The only complaint I have (shared by many) is the tightness of the hand gaiters. Way too tight.

Been seeing this jacket for sale at around $130. Total absolute bargain.
Paul L.
Height:
5'11"
Weight:
200lbs
Love it
Fit:

True to size

Size Bought:

medium
I've been using the non-insulated version of this jacket for 3 years and it has held up perfectly, so I wanted to get the insulated one too. I can't speak for the warmness of it since I usually use enough layers to not need the insulation, and there probably won't be any more cold enough days for the rest of the year.
willhuff.net
Height:
5'11"
Weight:
165lbs
Resort Jacket
Familiarity:

I've put it through the wringer

Fit:

True to size

Size Bought:

Medium
Nice piece - a big burly resort jacket that isn't excessively heavy or restrictive. The shell fabric is soft and stretchy. It's not quite as durable as a traditional hard shell, but it seems to be just as water/wind proof and not noisy and crinkly in the cold. Nice YKK waterproof zippers throughout.

The insulation is quite ample. For most normal winter temps (15-30 F) I just need a base layer underneath; for very cold days I might add a light fleece to the mix but never more than that. I overheat quite fast with this on traverses and hikes, but hey, it's an insulated jacket - kinda comes with the territory. It does breathe well despite the insulation and I don't seem to get excessively sweaty.

A medium fits as expected with plenty of room for a few layers underneath. I'd describe the overall fit as loose but not baggy, with generous length in the back and sleeves. One of the best helmet-compatible hoods of any jacket I've owned. I can throw it over my XL helmet, zip it all the way up, and still have enough mobility and field of vision to ski comfortably. Great for storm days! Also dig the pocket on the sleeve - perfect for sticking an RFID ski pass in so you don't have to awkwardly thrust your hips at the gate to get a scan.

Only real negative is the hand gaters. They're too tight and just kinda bunch up and get in the way. I might cut them out.
Dana Holmes
Height:
5'10"
Weight:
155lbs
AMAZING jacket, crud zipper + warranty
Familiarity:

I've put it through the wringer

Fit:

True to size

Size Bought:

Large
Bought this jacket for my brother and it seems FANTASTIC. Great value, great fit (nice long arms for those of us with them), warm, and reasonably light. Unfortunately the main zipper stopped working... Being that there is a "Lifetime Warranty" (part of the reason we buy Stoic stuff), we contacted Backcountry and received a frankly snarky response that it wouldn't apply. Apparently "Lifetime" is at the whim of whoever you are unfortunate enough to reach. Really disappointed, as I've had great luck with their Stoic warranty in the past (I've bought a ton of the products).
a.sp340132
Height:
6'2"
Weight:
185lbs
Unanswered Question
I have had this jacket in orange for a few years now and love it. I would really like to get it again. How come you only have in black this year?
yourDisplayName
This jacket is super warm and Im super happy with the removable powder skirt. Im really happy with the waterproofing on it as well. The wrist gaiters are a bit tight though
Jason Zavala
Height:
5'6"
Weight:
195lbs
Really Nice
Familiarity:

I've used it several times

Fit:

True to size

Size Bought:

M
This is probably the most comfortable jacket I've owned to snowboard with, light, fits great, and super warm. It's simply awesome.
Wei Huang
Height:
5'9"
Weight:
160lbs
Great Jacket
Familiarity:

I've put it through the wringer

Fit:

True to size

Size Bought:

Medium
Crazy Warm, even when covered in ice while hiking and skiing along peaks. Also has great mobility for such a warm jacket. Only issue I had was a rip on the shoulder from skiing trees, could be a little tougher but I drilled the branch so I don't know what could have been done about that one. Just buy it, it could easily sell for $550 if it was made by some other name brand companies
Michael W.
Height:
5'7"
Weight:
140lbs
Great for on piste days
Familiarity:

I've used it once or twice and have initial impressions

Fit:

True to size

Size Bought:

XL
I just picked this up as my resort jacket and I really couldn't be much happier. Nice and warm and the 20k waterproof rating is great, I do wish that it was a little more breathable but that is something I can definitely live without while riding chairs. I really like the pocket layout, allows you to stash a fair amount of stuff without a bunch of overlap. Fabric on the inside is very supple and feels great against the skin. Removeable powder skirt is a feature that I really enjoy in a jacket as well as the wrist gaiters, which are fairly tight by the way, they do an excellent job at keeping snow out. Do yourself and pick one of these up at this killer price before they are all gone!
Matthew Pizza
Height:
5'10"
Weight:
215lbs
Bomb Indeed.
Familiarity:

I've put it through the wringer

Fit:

True to size

Size Bought:

Medium
This is my favorite insulated jacket! It is very warm (4.5/5) and breathable (4/5) and has the pit zips for warmer days. This jacket has pockets in all the right places as well as a nice removable powder skirt (zipper system) with button clips that help to attach it to your belt loops etc. Nice hood that is very adjustable so you can keep it on your head even when it is very windy without blocking your vision. If there is anything that I could say I do not like 100% is that the thumbholes are slightly smaller then I would like but other then that it is amazing.
David Ronnow
Height:
6'2"
Weight:
160lbs
Great value & quality
Familiarity:

I've put it through the wringer

Fit:

True to size

Size Bought:

large
I've worn this coat for about 2.5 seasons now, so I'm finally giving it the review it deserves.

This coat has been used in all types of weather & terrain, across various Idaho, Utah & Wyoming ski resorts. This is definitely my "cold-weather" jacket.
So, I like to be on the neutral/cold side typically... with a lightweight shirt, plus a mid-weight fleece and/or vest, I wear this coat comfortably in the 0-15 degree temps. If it's 20 degrees+, I usually just wear a single shirt under it, or just wear my lighter weight shell.

Overall, super reliable, no defects or tears or issues with it at all. I'd recommend this product to anyone.
-JT
JT
Height:
6'0"
Weight:
195lbs
6'5" 215# XL Perfect Fit
Familiarity:

I've used it several times

Fit:

True to size

Size Bought:

XL
Great deal on a great jacket for everyday use.

Fit is long and not baggy, not sure of whether I care for the thumb loop thing, my biggest gripe is getting to my watch and they are slightly but not overly snug.

I see this as possibly a 3 season jacket.

More to come should old man winter decide to make it's presence know here in MI. #westernsnowenvy.

I also want to add that the entire crew at Backcountry has always gone out of their way to be helpful, you have one of if not the best customer service of those I have contact with which is why I regularly purchase and recommend others purchase from Backcountry.com.


Robert B.
Height:
6'5"
Weight:
215lbs
Incredibly Warm
Familiarity:

I've put it through the wringer

Fit:

True to size
The Stoic Bombshell is incredibly warm. I wore it today skiing with nothing but a Capilene base layer and I was cozy. By the way it was -4 F. There is a nice stretch to the fabric as well.
Preborg
Perfect jacket
Familiarity:

I've put it through the wringer

Fit:

True to size
This might be the perfect jacket for winter use. The hood actually works, it's waterproof but breathable, and all the details are great.



Only cons:

The shell is a bit fragile. I snagged it on a tree branch and ripped a huge hole in it today.

The thumb loops are too constricting, and the wrist gaskets would work better without them.

The underarm vent zippers get stuck all the time.
Matthew V.
Simply the Best
Familiarity:

I've put it through the wringer

Fit:

Runs small
This coat is about as good as it gets. Warm, waterproof, and windproof. Not only does it handle the elements but it can take a beating.
Craig Skaar
Great jacket
Familiarity:

I've used it once or twice and have initial impressions

Fit:

True to size
Used once on a heavy storm day at Vail and jacket performed great. For the price (I actually bought on steapandcheap for $109), this is a deal. Some specifics:

- I'm 5'9". 177lbs, athletic/crossfit type build. I was worried the medium would be too tight but it fit perfect with 2 layers underneath (long sleeve and thin hoodie). I also ordered the large and it fit OK, but it was a bit too baggy

- As everyone says, the thumb holes are too tight and kinda hurt

- Great pocket features without being bulky

- Hood was great over the smith variance helmet, snug, but not too snug. did a great job during the 7"+ dump we got

- Powder skirt is good, but could fit a bit tighter, would prefer 2 size options

- Jacket is unreal light, barely weighs anything compared to my bonfire jacket

- Insulation was good, but not too much. With vents open and a t-shirt underneath, this could even work as a spring jacket

- Material doesn't seem to feel the toughest, but until it rips or has an issue, I won't complain

- I bought midnight/agave and color is true to the picture

Happy shopping
Daniel S.