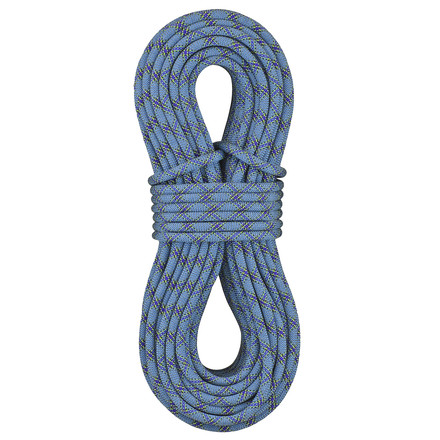 Colors

Videos

Community Images
Start the Evolution.
Every now and then a revolutionary rope comes along. The Sterling Evolution Velocity Dry Rope, however, is an evolutionary rope. What's the difference? Innovative features and intuitive design mean the Evolution won't already be outdated next season. Sharma himself clips with this vertical workhorse, built to be not too stiff but not too soft.
Treated with DryCoat to avoid taking on excess water weight in drizzle or on alpine climbs
Weighs in at a slim 62 grams per meter
ThermoDynamic conditioned yarn yields resilient, reliable performance
Good initially, then too much twisting
Familiarity:

I've put it through the wringer
For the first season I used this rope, I really liked it. However, after another season or so, it started twisting and got bad enough that I can no longer use it even though there's still life left.
natethor
Lasts and Lasts
Familiarity:

I've put it through the wringer
This rope gets a ton of use! This photo is of a very old, retired Sterling rope that we now use to keep a trailer gate up. I thought it was cool to see how the inside and how it's still holding on, for us!



Sterling ropes really hold up. It's my favorite thing about their ropes. It takes me about 2-5 routes, to get them to run straight, but they stay solid and the shealth stays shiny for a very long time. So, worth the break in, for sure. The dry treatment on these is worth it too, if you climb near water, out of stream beds, in humid climates, or chance getting caught in the rain.


Emily Jenson
Great Rope!
Familiarity:

I've used it several times
I love this rope and everything about it. it is nice and supple too.
Cal
Kinky
Familiarity:

I've put it through the wringer
I'm really turned off to Sterling ropes because of my experience with this rope. The kinking and coiling was really bad from day 1.



I emailed them about it after a season of annoyances and they basically said I was SOL and gave me a list of tips to fix it (which I already explained I had done in my initial email to them). I've tried every trick in the book to unkink it.



It's a good rope otherwise -- it's lasted me 2.5 years now. But the kinking makes it hard to lead belay because it gets caught in your belay device as you feed rope. I've had some harrowing experiences as a result.



I went with Mammut for my next rope (Infinity Duodess) and can't be happier. Silky smooth and no kinks.
RJ Ryan
nice...
Familiarity:

I've used it several times
great handling...easy clipping.....seems like it can take a beating and it will...
David H.
Supple Goodness
Familiarity:

I've put it through the wringer
Nice and light rope that feels good in the hand. It's light and handles well during hard or insecure clips. It's a bit noodle-y, which I really like. After several whippers and big adventures, it's held up well. Hard to go wrong with this one!
Nick M
Radical! Ropetastic!
Familiarity:

I've put it through the wringer
Sterling never ceases to impress me with their ropes. Hands down this might be the best rope I've ever owned.

In celebration of Valentine's Day (and mostly looking for an excuse to buy a new rope), my manpanion and I purchased this rope together. We debated between various Sterling ropes, and finally decided on this one.

The length is great for what we use it for, and the rope has held up very well both inside at the climbing gym and outside in the humid, damp New England weather. I find it to be a very versatile rope, catering to whatever I'm in the mood for.

The downside is that this rope does not have a halfway point mark, but I don't really mind it as we are primarily single route sport climbers, and I find that it encourages me to be a more alert belayer and climber. To each their own though!
Monique Seitz-Davis
70 meter inside and out...
As you can see in the pictures below and here, the 70 meter fits well inside the rope bag and is well maintained after many uses-take care of your gear and it takes care of you is what I always say!



And its nice to have peace of mind when you're WAY above your last piece of protection-TRUTH!
Jonathan
Back home inspecting the rope and bag...
Before and after climbing I always inspect my rope and draws, etc.



Safety first people!



We climbed yesterday and when I got home I realized I had no close ups of the rope and its bag-so without further adieu, here they are backcountry.com'ers!



Pic-70 meter sterling velocity with Metolius Rope Master Rope Bag, both of which I HIGHLY recommend!



Great products-as you can see the rope is like new after some moderate use over the course of the first year and is perfect, as is the bag which we have beat up significantly!
Jonathan
Is this rope marked at the midpoint?
Is this rope marked at the midpoint?
yourDisplayName
The rope does not seem to have a center mark.
Wayne Christoffersen
it does not unfortunately.
Brielle Yeaman
Rope in its native habitat
Even carrying it down post-climb isn't too much of a chore, nice light rope!
Susan Rogers
Great rope, great price
Familiarity:

I've put it through the wringer
One of the most compelling reasons to buy this rope is the price - it's hard to beat 210 for a dry, less than 10mm, 60m rope. The second is how little it weighs.



Have been using (abusing) this rope extensively on sport, trad, TR, and in the gym for almost a year - washed it once (I'm a bad rope mommy, it needs a bath) and was pleasantly surprised at how clean the rope stays even after dragging it through New England dust and leaves (and mud once, oops).



I actually really like how little dynamic elongation this rope has - I'm about 115, my climbing partner is 140, I've never had problems with the softness of catches. Have yet to take any massive whippers on it (greater than 20ft).



The sheath is pretty tough - some fuzziness after a year, but nothing that's worrying me yet. Only minor annoyance has been the little rubber ends to the rope that refuse to lay flat (I pulled both of them off).



Haven't had any problems with twisting... I store it flaked and lose - with both ends tied - in my rope bag.



Would probably buy this rope again, but would spring for the bipattern.
Susan Rogers
It works.
Familiarity:

I've put it through the wringer
This rope does it's job but I am a bit disappointed by how it doesn't stretch all that much. I prefer a slightly more forgiving rope for lead falls. But it's appearance is appealing, and it works the way I want it to so I can't complain to much. As said before, it does tend to coil quite a bit in the beginnings as well.



UPDATE (4 months later): Rope stretch has gotten better. Have taken a few good falls on it and it is fairly comfortable to fall on. The coiling stops after a good amount of use, of course it still happens occasionally when using a GriGri. A few people don't enjoy using an original GriGri with this rope, I don't mind. I just treat it more like an ATC. The sheath does show dirtiness extra well! But it may just be because I climb a lot of red rock where sand is inevitable.
Brielle Yeaman
Tends to coil
Familiarity:

I've used it several times
I bought this rope about 3 months ago. I was really excited about it because its my first rope and I immediatly fell in love with it, I loved the color and it seemed to perform fine. I use it every weekend on sports routes. However, I just returned from a weeklong climbing trip and was really disappointed at how much it coiled and twisted. So much so that I had to run it through once or twice before each climb! In the end I decided to use my partners rope instead because it was too much of a hassle to climb with this one. I will not be buying it again
vachgu@hotmail.com
First of all, as other reviewers have noted, this rope has a tendency to be a little twisty. I ran mine through an ATC a few times, and that got rid of most of the problem. Now, the Evolution is a great-clipping, affordable, and reasonable lightweight do-it-all rope. I've had it for one heavy season of use, and it's holding up well--some fraying on the sheath, but with that much use, it is to be expected.



Bottom line: great rope, great price.
Thomas Gappmayer
I bought an 80M Sterling Evolution Velocity and chopped it in two to use as a Gym lead rope. This is my third rope from Sterling (the others being Marathon Pro and Fusion Ion2 ) and I was hoping it would be as awesome as the others (and they are awesome). But, this rope is a little short from greatness...



Pros: reasonable price point. Seems durable. Has good amount of stretch to use as a lead rope.



Cons: Has a tendency to twist, especially when new. Isn't as supple as other Sterling ropes and seems to develop flat spots when used repeatedly in a single day.
Mark Thomas Rivera
Tough light-weight rope!
Familiarity:

I've put it through the wringer
I was impressed at how light this rope is. It has a burly sheath, that preforms great in and out of rain showers due to the drycore. Perfect rope for anytime of climbing weather that is cragging or multipitch. Just wish there was a center mark for convenience. Can't beat this rope for the price!
Joelle Raynes