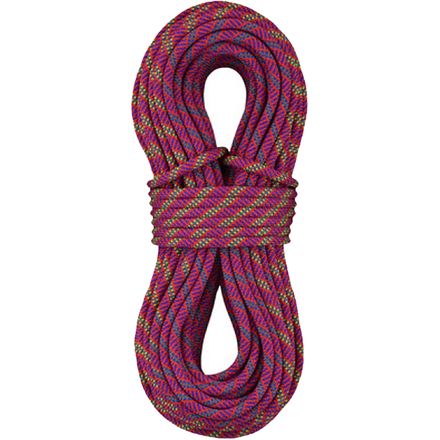 Colors
Take the whipper.
The 9.5mm Evolution Helix Dry Bi-Pattern Climbing Rope is Sterling's skinny workhorse for high-end sport, trad, and mixed climbs. Its durable sheath and bantamweight core ensure durability, a high fall rating, and a low impact force for a soft catch. This Evolution Helix comes with a DryCoat for water-resistance and better handling in moist conditions. A bi-pattern design makes for an easy rappel.
DryCoat water-resistant coating
Bi-Pattern
Durable sheath
Bantamweight core
Low impact force
First time Using a Sterling
Familiarity:

I've used it once or twice and have initial impressions
I've been using Mammut ropes for my entire climbing life and finally ventured out to try a Sterling. I havent had the chance to really put it through the wringer but, initial impressions are good.

The biggest stand out is how soft and supple the rope feels. It has a noticeably better handle than my Mammut ropes. I hope I dont see the fraying that other customers have mentioned in reviews but, havent run into that yet but, only have a few climbs on it.

After I get out and use the rope more Ill update the review to let you all know what I find!
Bill Porreca
Light but frays easily
Familiarity:

I've used it several times
I've only owned this rope for 3 months and used it on 4 alpine climbs (6-8 pitches each) and have already noticed some fraying and decent amount of fuzziness. Same conditions of extended fraying towards the middle noted in the review below is also observed on my rope, just a bit worse on my rope. Have only used the rope for trad climbs and never top rope. Compared to my Mammut ropes with similar weight/diameter, this rope is not holding up as well. I'm a bit disappointed given the advertised new sheath technology that's suppose to make it a bit tougher. Not sure if I can treat it any better and definitely less tough than some of the other brands I've used in the same weight range.
shannonw
First impressions so far so great.
Familiarity:

I've used it several times
From climbing on a Supersafe 10.8 mm rope, this supple 9.5 mm feels amazing in every way. I've used it on a few multipitch trad climbs so far (Devils Tower was the first) and it clips effortlessly. The bi-pattern is also very easy to spot and nice compared to a faded middle mark. I have noticed at the middle of the rope, where the sheath changes, there are some fraying ends of thread for about 3 inches. From what I've heard, they use a "cut and splice" technique to change the colors at the middle. I'm stoked to climb this rope up some long mutlipitch routes!
carl smith
Hello! Wondering if anyone has any experience with this rope, particularly for sport and/or multipitch? Any feedback on how it handles, and how rope control is? I typically use a 10mm or 9.8mm, and am wondering how the transition to this 9.5mm might be. Any feedback about the Sterling Evolution helix dry bi-pattern would be much appreciated!
mse105740377-0
Best Answer
I just received mine. I love it. It is very pliable and feeds very well through the belay device. It feels a little eerie having such a thin single rope, but the action is fantastic. It feels very similar to a fatter rope on a fall. It is very fast on rappel.
Josh M.