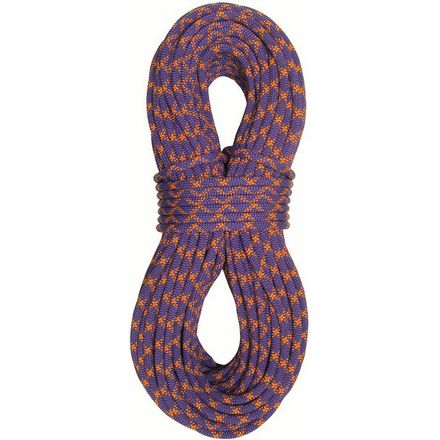 Colors

Detail Images
A worthy cord for the alpine world.
The next step in climbing rope technology, the Sterling Evolution Duetto Dry AT Rope boasts all the right credentials to help you up your alpine project. With a slim 8.4mm profile but just the right amount of stiffness, the Evolution Duetto slides through 'biners like butter and all but eliminates your rope drag concerns. A low impact force rating of 6.5 kN indicates minimal stresses during even your more dicey lead falls.
Useful.
Familiarity:

I've put it through the wringer
I have this rope in a 40m length and it is a great ski-mo or glacier travel rope. It it light weight, bends well, and can handle some abuse. I've stepped on it a few times with crampons and still no mushy spots or any signs of the core being damaged. You definitely cannot miss this rope in the snow with the color selections. Great all around rope for those short rappels, short roping, or ski mo adventures!



Feel free to reach out if you have any questions at all!
Travis Bivins
Some routes require you to carry a 60m or 70m, but for the days you just need to do pit work at the top of a route, do a ski cut, rope up for a ridge traverse, do a short rappel, this rope takes the cake. Light enough that I brought it with me most days ski mountaineering and never regretted having with with me.
Ryan Gibbs
Great Ski-Mtneering Rope
Familiarity:

I've put it through the wringer
I used this rope almost daily all winter and loved it. Ski cuts, rappelling, short-roping, and other minimal-loading techniques are a breeze with this thing. It's very supple and handles great. Durability and waterproofing both in tact after much abuse.
Max Hammer
perhaps you can clear up some confusion for me.

Twin ropes I understand everything goes through the same pro and you need both to protect a fall.

half ropes are made to be used alternating and prevent drag from ropes zigzaging. But it seems that by this each rope in a half rope system has to be able to handle a fall by itself as whichever one is clipped to the closest pro will get the shock.

So why is a half rope not recommended to be used by itself?

My thought is to carry a 30 or 40m half rope for alpine climbing where a short pitch or repel may be necessary, not for a sustained lead climb?
Bob Rech
Best Answer
yeah it works, but you will need to be careful for two reasons: 1, this rope wil strech a LOT compared to a single rope, so hitting ledges could be a potential issue, and 2, it is also not as strong when load over edges and will cut more easily compared to a single. All in, this rope is a good rap line, and good for easy climbing where you feel you need a little something for protection. I personally use this all the time for ridge traversing in the sierra where i am not sure what to expect climbing wise, or need to do a short rap.
Nick B
Some years back, Dave Furman of Mammut was quoted on Steph Davis' blog as saying "Half ropes are tested as a single strand under a 55kg mass—this is because the test assumes that under a fall the first rope will stretch enough that the second strand will absorb some degree of the force of a fall, but it means that the test results do not compare to the test results of any other ropes."



I would also add that the UIAA wanted to be sure that a half rope, used as a single, would be capable of holding at least one UIAA test fall (roughly factor 1.78 with an 80kg mass). Supposedly testing by the German Alpine Club showed that surviving 5 falls with a 55kg mass would meet this requirement, and provide better statistical assurance that doing only a single test fall per rope.



In short, they aren't designed to be led on singly, but you can do it in an emergency.
Jeremy
super rope
Familiarity:

I've used it several times
Great rope for the price, the orange does not get lost easily on the ground.
Good abrasion resistance so far
Mike H.
Can I use the 40 M version as an indoor climbing rope?
John H.
This being a half rope cannot be used by itself and I would not suggest using this as a gym rope (as you would need buy a second rope anyway). However, double check with your gym to see if they allow you to climb using a double rope technique. You should be good on length though if you can get a 40 meter rope as most gyms walls are a lot shorter than 60 ft but double check on their wall height as well just to be safe.
Wayne Christoffersen
Ski mountaineering fun!
Familiarity:

I've used it once or twice and have initial impressions
The Sterling Evolution Duetto Dry AT Rope was the perfect rope to bring on my recent ski mountaineering trip to Greenland. The rope is light enough to throw into the bottom of your pack for the days where you 'may or may not' need to rope up. It is better to be safe than sorry! I highly recommend the lime green color to add a little extra flare to your adventure.
Nat Segal
How would this serve as a gym rope? It has...
How would this serve as a gym rope? It has the fall rating and is a good length.
Caleb Keith
Best Answer
It's not a single rope. You're not supposed to climb on it by itself, you're supposed to use it in tandem with another rope this size. It'd be a bad gym rope.
Angus Bohanon
Great!
Familiarity:

I've used it once or twice and have initial impressions
Only used this rope so far, but it worked! It was shock absorbent, so on one nasty fall I didn't hurt myself too bad and didn't get whiplash. The rope also held up and didn't tear on the sharp rocks it was rubbed over. Great overall.
Leslie Wolford
I got mine in the 40m length. Perfect length for PNW alpine climbs. I can't seem to run out 50m or more without serious rope drag and 30m was just to much work setting up belays. Dual use - I use a pair as twins for steep climbing. On glaciers or simpler snow climbs I bring one for crevasse travel and rescue. Super light! Two 40m ropes weigh in at 8.3 lbs. Good dry coating, feels good in the hand(not insanely skinny), and good color selection. After a season of use they have barely worn - despite being dragged over snow, rock and ice. Good times!
Allan Campbell