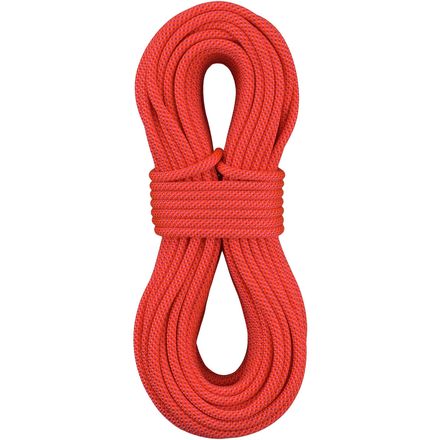 Colors
Reliable strength without the weight.
Send sport projects with Sterling's superlight 9.2mm Evolution Aero Standard Climbing Rope. The Evolution Aero achieves an ultralight weight thanks to Sterling's innovative core construction that also allows for a smoother belay. Pair that core with a durable sheath, and you'll be enjoying this lightweight rope for a good long time.
Durable sheath
Lightweight core construction
I got sick of hauling a 9.8 around, this 9.2 makes a world of difference.
Steve Simpson
What belay device can I use with this rope?


Jared Downs
Hey Folks,



Here is a list of belay devices and the diameter ropes that work with them:



Petzl Reverso 4

Item # PTZ0317

Dia: 8.9-11mm

Comments: The Reverso 4 goes down to an 8.9mm rope but I would not use a worn or seasoned Reverso 4 with this 9.2mm Sterling Evolution Aero Standard rope.



Black Diamond ATC Guide

Item # BLD1265

Dia: 9-11mm (Single ropes) 7-11mm (Half & Twin ropes)

Comments: I'd say this might not be the ideal belay device to pair with this rope since it is on one end of the range. This would be a good device if you plan on using the ropes in a half or twin rope system.



Edelrid Mega Jul Belay Device

Item # ELR000K

Dia: 7.8-10.5mm

Comments: This is more the ideal device to pair with this rope as 9.2mm is more in the middle of the range for rope diameters. And the auto-locking feature is a big plus that the other devices don't have.



Mammut Wall Alpine Belay Device

Item # MAM004D

Dia: 7.5-10.5mm

Comments: This would be a better alternative to the Reverso4 or the BD ATC Guide if you are not a fan of the Edelrid Mega Jul.



Mammut Smart Alpine Belay Device

Item # MAM0490

Dia: 7.5-9.5mm

Comments: Some folks love this device while others find it to a bit of a paradigm shift in belay technique but similar to the Mega Jul. It takes a bit of getting used to.



Shoot me an email anytime you have questions!



Jared D.

Expert Gearhead

801.736.4336

jdowns@backcountry.com
Jared Downs