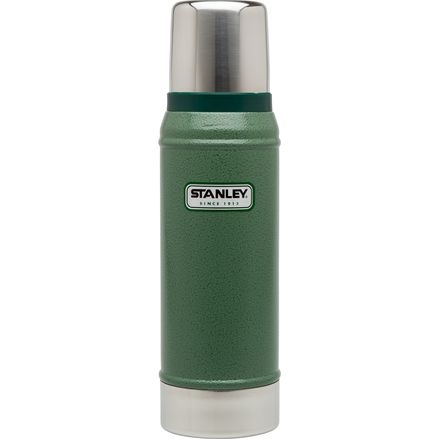 Colors
There's nothing better than watching the sun rise from the top of a mountain, but do you know what would make it even better? Some piping hot coffee. So throw the Stanley Classic Vacuum Bottle in your pack the next time you go to tag a summit before dawn—it'll be worth its weight in coffee.
18/8 stainless steel
Vacuum insulated
Insulated life
Leak proof
Memories in a bottle
Familiarity:

I've used it several times
I can remember my ol' man having one of these. He'd pour cups of that caffienated tough stuff out into the built in mug(that also served as an insulating lid) early most mornings when I was growing up in the late 80s/early 90s.
Every thing from quick trips out to the lake for some fishing to weeks' long vacations up to Superior Country to check places like the Kitchitikipiti and Tahquamenon Falls...that classic green thermos was there!
Now that I've gotten on in years and have a child of my own, I keep my coffee hot and my adventures bold. Every time I pour a cup of that tough stuff out of my Stanley Vacuum bottle it brings back memories of my father and the adventures we shared.
Here's to hoping I'm well on my way to instilling a sense of adventure and a love for the natural world in my son. Maybe someday I'll get him his own Stanley Classic drinking vessel and it will trigger memories of moments shared and days spent on the mountain with his ol' man.
John Schott
warm little gem on backcountry slopes
Familiarity:

I've put it through the wringer
drinking a hot beverage on a cold and windy slope/peak takes backcountry skiing to a whole other level, the tea warmth from the inside out is just what i need after hiking up anything and transitioning my gear to downhill mode. i make tea in this mug and take it backcountry skiing with me and the tea stays hot for 12+ hours even after being out in the cold all day, 10/10 will take this on every backcountry ski and camping trip forever going forward. seems very sturdy, and the little drinking cup is perfection.
Sarah S.
Does what it should! Keeps drinks warm all day.
Scott Hill
A true classic. Keeps coffee warm all day. Great for backpacking and/or backcountry ski adventures.
Ryan Kiel
Just what I remember
Familiarity:

I've used it several times
My Nonnie and Papa used to bring one of these bad boys to my soccer games when I was a kid, so really... I bought this out of pure nostalgia. Imagine my joy then when this thermos functioned as well, if not better, than any of my other beverage holders. Early morning hikes, photo trips, and river runs are vastly improved by hot coffee throughout the day and the Stanley thermos provides exactly that. I fill it (holds almost a whole pot) with coffee before scooting out the door, have some sips out of the lid/cup on the way and if it's an easy canoe trip, continue my piping hot caffeine fix through the morning.
Jen C
Yep, Classic.
Familiarity:

I gave it as a gift but have feedback to share
I gave this as a gift to my father in law. He takes it fishing on the rivers in Idaho, which is a pretty chilly place, most of the year. He loves that he can knock it around as much as he wants, and the wife never complains that it looks trashy. It just always has that Stanley look.

he has used Stanley his whole life, and says the quality is still reliable. The closure is solid and the drinks stay hot. His coffee is always gone, before it gets cold. So, basically, his drinks never get cold.
Emily Jenson
Unanswered Question
Stanley Classic Vacuum Bottle - 25oz just wonder what the dimensions of the item is? Thanks Rod
rodney
Classic look and bulletproof!
Familiarity:

I've used it several times
I received this as a gift last year. I have since used it hiking, backcountry skiing, road trips, and for soup at work. It doesn't hold as much liquid as I would like. My next purchase will be the 45 oz. But overall this product does exactly as stated.




Patrick Kilbourn
Lives up to it's reputation
Familiarity:

I've used it several times
Ever since I was a kid we have always had a Stanley thermos so I am confident in their durability. I have only had it for a week but am satisfied. Drinks stay HOT for the entire day!
Jeremy Collett
The Maserati of thermoses
Familiarity:

I've put it through the wringer
Hands down the best thermos out there. Have used for hunting, fishing, camping, skiing. Will keep coffee warm for a longgggg time. Last time was about 6hrs in the 20s and coffee was still good to go. I think they say 8hrs at 32 degrees...

Use the smaller versions for coffee, tea, etc. Use the bigger ones for soup.

Have used REI, LLBean, GSI...this one is the best. The ONLY other 'thermos' I would say compares to this one is the yeti rambler, BUT, the yeti comes with a garbage lid that has a hole in it like a regular Starbucks coffee lid, which is good if you're sitting at a desk but utterly useless in any other situation (and I'm a huge fan of yeti coolers).

Tip- just like anything else used to insulate, you gotta prime this guy. Don't leave it in your truck overnight then fill it when it's ice cold and expect it to keep coffee cold all day. Sleep with it, fill it with hot water first, keep it inside...whatever u gotta do but get the inside warm before u use it
John S.