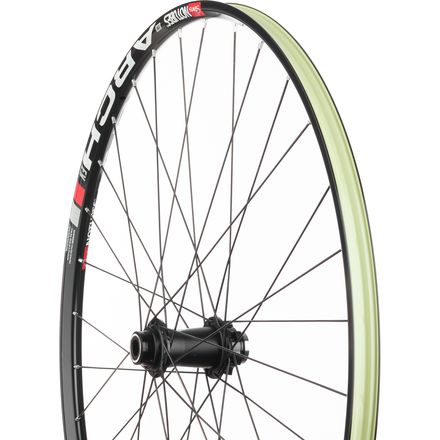 Colors

Detail Images
Dispel the noodliness.
While we typically focus on the tubeless rim design for Stan's wheels, the predictive steering hubs on the Arch EX 29in Predictive Steering Wheelset warrant some copy real estate up front. The predictive steering philosophy originates in the laboratories of SRAM, and Stan's adopts the technology here in order to reap the design's benefits of reduced torsional flex, better tracking, and more responsiveness when the pedals are turned in anger. These qualities are especially welcome on wagon wheels, helping Arch EX 29ers dispel the negative associations of noodliness that have dogged 29in wheels since their inception.
Stan's Neo freehub system is another key beneficiary of more efficient energy transfer. That efficiency combines with the freehub's 10-degree engagement in order to propel you over rocky cruxes and help you navigate shelves and pop-ups while you earn the downhill on climbs. The hub bodies themselves are altered with wider flanges, increased axle diameters, and more contact area between the end caps and the fork dropouts—the cumulative effect of which is the above-noted increase in torsional stiffness.
The hubs are laced to Stan's Arch EX rims, which incorporate two features that set Stan's apart as the industry's tubeless pioneer. The first is Bead Socket Technology (BST), which maintains a low profile without sacrificing security. Tires mounted on BST rims sit fatter than on rims with taller beads, increasing the tire volume by decreasing the restriction of the rim bead. Increased volume makes for more plush traction—especially when the tires are run tubeless. (ProTip: You should always run tubeless on the Arch EX rim.)
The Arch EX's other key feature is alluded to by its name: The rim is reinforced with an internal arch and a thick spoke bed. It's also wider than the previous Arch model, and the combined effect of these dimensions is a rim that's equal to any abuse you'd throw at it on a five-inch all-mountain bike.
Please note that the Arch EX 29in Predictive Steering Wheelset is only compatible with predictive steering forks.
An all-mountain wheelset with added stiffness
Predictive steering reduces torsional flex
Stan's low-profile bead hook creates more tire volume
Reinforced rim is XC-friendly but pushes into enduro terrain
10-degree freehub engagement for responsive climbing