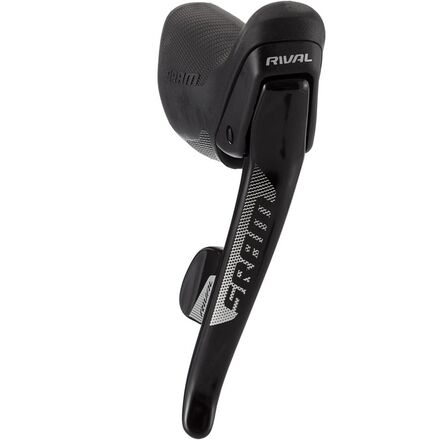 Colors
Shift expectations.
Ideally, shifting is one of those things you hardly even notice, but experience tells us all that isn't always the case. Things get out of whack, drivetrains get worn, and all of a sudden it's a battle to get into the right gear, generally when your need to shift is most pressing. SRAM's ZeroLoss technology provides instant reaction from your shifters and cables, so there's no lag time between pulling a lever and changing gears, and it automatically adjusts trim to ensure smooth, quiet drivetrains that feel just about perfect. DoubleTap shifting, cribbed from SRAM's top-shelf Red groupset, makes for short, quick shifts, and SRAM's reach adjust design lets you move the levers closer to or farther from the bars to suit your hand size. The aluminum levers are light and tough, and SRAM designed them with two different cable routing options, so you can run cables along the inside or outside of your bars for a streamlined look and killer efficiency.
Forged aluminum
DoubleTap shifting
ZeroLoss technology
Reach adjust
Unanswered Question
Is this compatible with hydraulic brakes?
Israel P.
Unanswered Question
The picture shows a right side shifter. Is the the right side shift/brake lever for 85 dollars?
john C.
Unanswered Question
Will these shifters work with an X9 type 2 ten speed rear derailleur? (I want to run a 36t in the back)
Aaron Ostrovsky
Are these actually carbon levers? Because...
Are these actually carbon levers? Because on SRAM's website is says the levers are aluminum... I think the carbon levers start on the Force level.
Jason G.
David Platt
Someone better correct that in the last paragraph then...
Jason G.
These are made of forged aluminum. Here is a link to the SRAM website http://www.sram.com/sram/road/products/sram-rival-22-doubletap-mechanical-shifters
Brooke Crum