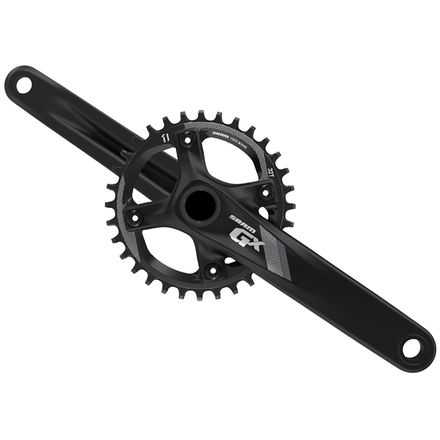 Colors
Value-minded.
SRAM's GX component group lets you pick and choose your drivetrain from a ton of different options —1x or 2x, grip shift or trigger, GXP or BB30, or even with the new wider hub options — all within a perfectly compatible groupset designed to work in perfect harmony.

The GX 1000 is just like its big brother, the GX 1400, except that it's about 50 grams heavier and quite a bit less expensive. SRAM decided to build the 1000 series cranks without the Open Core technology of the 1400 series cranks to keep costs down. Of course, this adds weight, but it may be worth the compromise for the rider on a budget.
The SRAM GX 1x chainring uses X-SYNC technology. Each tooth's thickness is CNC machined to work seamlessly with the chain's inner and outer links to hold the chain in place in any terrain. With X-SYNC you never need a front derailleur, tensioner, or chain keeper to maintain perfect control over your chain.