Spyder

Misfit Hat - Boys'
Item #SPD00V2
Spyder
Kids' Apparel
Girls'
S
M
L
XL
7
8
10
12
14
16
18
Chest

25in

(64cm)

27in

(69cm)

28.5in

(72cm)

30in

(76cm)

31.5in

(80cm)

33in

(84cm)

34.5in

(88cm)

Waist

23.5in

(60cm)

24in

(61cm)

25in

(64cm)

26in

(66cm)

27in

(69cm)

28in

(71cm)

29in

(74cm)

Hip

26in

(66cm)

29in

(74cm)

30in

(76cm)

32in

(81cm)

34in

(86cm)

36in

(91cm)

37.5in

(95cm)

Inseam

22.5in

(57cm)

24in

(61cm)

26in

(66cm)

28in

(71cm)

29.25in

(74cm)

30.5in

(77cm)

31.5in

(80cm)

Height

50in

(127cm)

51in

(130cm)

55in

(140cm)

59in

(150cm)

62in

(157cm)

64in

(163cm)

66in

(168cm)

Weight

51lb

(23kg)

60lb

(27kg)

75lb

(34kg)

88lb

(40kg)

101lb

(46kg)

113lb

(51kg)

126lb

(57kg)

Boys'

S

M

L

XL

7

8

10

12

14

16

18

Chest

25in

(64cm)

26in

(66cm)

27.5in

(70cm)

29in

(74cm)

30.5in

(77cm)

32in

(81cm)

33.5in

(85cm)

Waist

23.5in

(60cm)

24.5in

(62cm)

25.5in

(65cm)

26.5in

(67cm)

27.5in

(70cm)

28.5in

(72cm)

29.5in

(75cm)

Hip

26in

(66cm)

28in

(71cm)

29in

(74cm)

31in

(79cm)

33in

(84cm)

35in

(89cm)

36.5in

(93cm)

Inseam

22.5in

(57cm)

23.5in

(50cm)

25.5in

(65cm)

27.5in

(70cm)

8.75in

(73cm)

30in

(76cm)

31in

(79cm)

Height

50in

(127cm)

51.5in

(131cm)

55.5in

(141cm)

59.5in

(151cm)

62.5in

(159cm)

64.5in

(164cm)

66.5in

(169cm)

Weight

51lb

(23kg)

63lb

(29kg)

78lb

(35kg)

91lb

(41kg)

104lb

(47kg)

116lb

(53kg)

129lb

(59kg)

Mini & Bitsy
2
3
4
5
6
7
Chest

20in

(51cm)

21in

(53cm)

22in

(56cm)

23in

(58cm)

24in

(61cm)

25in

(64cm)

Waist

20.5in

(52cm)

21.5in

(55cm)

22in

(56cm)

22.5in

(57cm)

23in

(58cm)

23.5in

(60cm)

Hip

20in

(51cm)

22in

(56cm)

23in

(58cm)

24in

(61cm)

25in

(64cm)

26in

(66cm)

Sleeve Length

15.5in

(39cm)

17in

(43cm)

18.5in

(47cm)

20in

(51cm)

21.5in

(55cm)

22.5in

(57cm)

Inseam

12.5in

(32cm)

14.5in

(37cm)

16.5in

(42cm)

18.5in

(47cm)

20.5in

(52cm)

22.5in

(57cm)

Height

35in

(89cm)

38in

(97cm)

41in

(104cm)

44in

(112cm)

47in

(119cm)

50in

(127cm)

Weight

26lb

(12kg)

31lb

(14kg)

36lb

(16kg)

41lb

(19kg)

46lb

(21kg)

51lb

(23kg)
How to Measure:

For best results, take measurements over your underwear.

Chest:

Measure under your arms, around the fullest part of your chest.

Waist:

Measure around your natural waistline, keeping the tape a bit loose.

Hip:

Measure around the fullest part of your body at the top of your legs.

Inseam:

Using pants that fit well, measure the crotch seam to the bottom of the leg.

Sleeve:

Measure from the center of your back to your wrist with arms held out.
Select style & size:
Select options
Select options

Red/Glow/Polar, One Size

Sale:$14.00
Tech Specs
Material:
95% acrylic, 4% nylon, 1% elastane [lining] 100% fleece
Manufacturer Warranty:
lifetime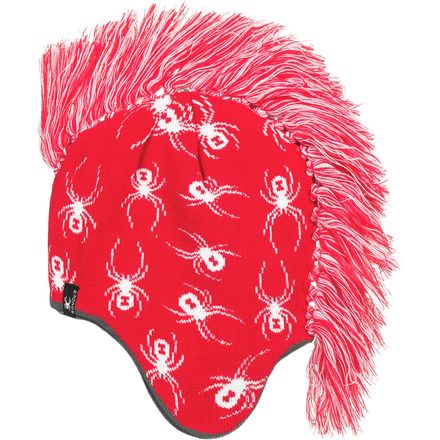 Colors
Matches his mohawk.
You don't remember agreeing to cutting his hair and dying it red, but the Spyder Boys' Misfit Hat might make a good compromise. Its full fleece interior keeps his head nice and toasty throughout winter, and he can always take it off when it's time to go over to grandma's.
Winter beanie with a punk attitude
Stretchy acrylic knit fends off wet, windy weather
Full fleece interior adds cozy warmth