Spy

Sprinter Polarized Sunglasses
from
$112.46
$149.95
25%
Off
Item #SPY008Z
Spy
Sunglasses Lens Tints

| | VLT* |
| --- | --- |
| HAPPY BRONZE POLAR w/ LIGHT BLUE SPECTRA™ | 9.84% |
| GRAY w/ NAVY SPECTRA™ | 10.18% |
| HAPPY BRONZE w/ BLUE SPECTRA™ | 10.27% |
| BRONZE w/ LIGHT BLUE SPECTRA™ | 10.8% |
| HAPPY BRONZE FADE w/ SILVER MIRROR | 11.25% |
| HAPPY BRONZE POLAR w/ GREEN SPECTRA™ | 11.41% |
| GRAY w/ LIGHT BLUE SPECTRA™ | 12.2% |
| HAPPY BRONZE POLAR w/ DARK BLUE SPECTRA™ | 12.49% |
| GRAY w/ GREEN SPECTRA™ | 12.5% |
| HAPPY GRAY GREEN w/ SILVER MIRROR | 12.87% |
| HAPPY BRONZE w/ EMERALD SPECTRA™ | 12.94% |
| GRAY | 13% |
| GRAY w/ BLUE SPECTRA™ | 13.2% |
| HAPPY MERLOT FADE | 13.26% |
| GRAY w/RED SPECTRA™ | 13.5% |
| HAPPY GRAY GREEN | 13.58% |
| HAPPY BRONZE w/ PURPLE SPECTRA™ | 13.83% |
| HAPPY BRONZE w/ BLACK MIRROR | 14.56% |
| HAPPY BRONZE w/ GREEN SPECTRA™ | 14.56% |
| HAPPY BRONZE POLAR w/ BLACK MIRROR | 14.6% |
| HAPPY BRONZE | 14.7% |
| HAPPY GRAY GREEN POLAR | 14.72% |
| HAPPY BRONZE w/ DARK BLUE SPECTRA™ | 14.78% |
| BRONZE w/ RED SPECTRA™ | 14.85% |
| HAPPY BRONZE w/ RED SPECTRA™ | 15.9% |
| HAPPY GLASS GRAY GREEN POLAR | 15.99% |
| HAPPY BRONZE FADE | 16.28% |
| HAPPY GRAY GREEN w/ RED SPECTRA™ | 16.99% |
| HAPPY GLASS GRAY GREEN POLAR | 17.59% |
| HAPPY BRONZE POLAR w/ BLUE SPECTRA™ | 19.84% |
| MERLOT FADE | 29.3% |
| HAPPY YELLOW | 69.57% |
| YELLOW | 72.4% |
| CLEAR | 100% |
*VLT (VISIBLE LIGHT TRANSMISSION):

THE PERCENTAGE OF AVAILABLE LIGHT ALLOWED TO REACH THE EYE (THE LOWER THE NUMBER, THE DARKER THE LENS)

HAPPY LENS:

Happy Lens is the only color and contrast enhancing lens on the market that harnesses the beneficial aspects of long-wave blue light while offering protection from damaging short-wave blue light.
Long-wave blue light helps you See Better by enhancing color, contrast, and clarity, making colors more vivid and surroundings more defined.
Long-wave blue light helps you Feel Better by stimulating the brain's production of serotonin to improve mood, increase alertness, and promote a healthy circadian rhythm.
Select style & size:
Select options
Cancel

Select options

Black Ansi Rx - Happy Bronze Polar W/Dark Blue Spectra, One Size

Sale:$119.96

Matte Black Ansi Rx - Happy Gray Green Polar, One Size

Sale:$112.46
Tech Specs
Lens:
Happy Lens (polycarbonate)
Nose/Temple Pads:
adjustable
Frame Dimensions:
[lens/bridge/temple] 72 x 45 / 16 / 125mm
Manufacturer Warranty:
1 year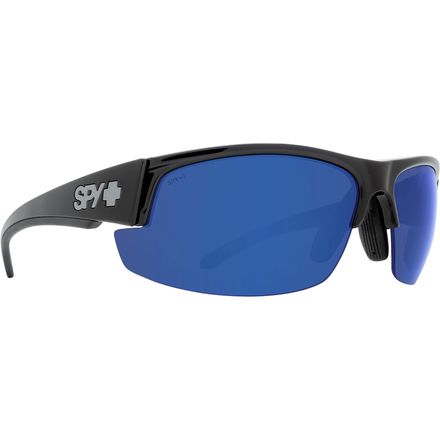 Colors

Detail Images