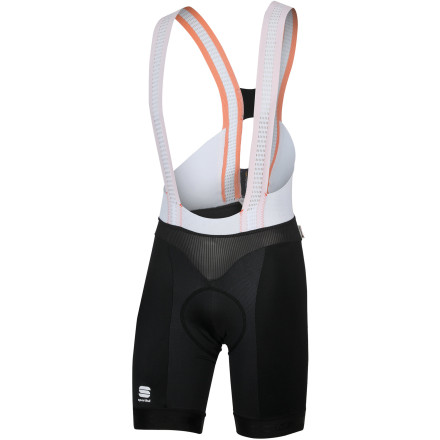 Colors

Detail Images
Appropriately named.
The Sportful Total Comfort Men's Bib Shorts have a big name to live up to, and they don't disappoint. With a variable density chamois that provides ample cushion, you're unlikely to find yourself in discomfort, even on the longest rides. And the compressive fabrics further enhance comfort by reducing the risk of muscle vibration and road chatter damaging your muscles.
Sportful built the Total Comfort bibs out of a blend of Lycra materials, each chosen to do a job supremely well. The majority of the shorts is comprised of mid-weight 220g Lycra, which acts as a compressive layer. Basically, it envelops your muscles in a firm embrace, which reduces muscle vibrations—a common cause of muscle tears. The seat of these shorts is built from Lycra Ceramic, which has added abrasion resistance, helping the shorts to hold up against long miles in the saddle, without wearing thin. Flat lock stitching minimizes the chances of chafing at the seams. The materials used throughout these bibs is breathable, so it will pull moisture away from your skin, and keep you cool and dry.
For the insert, Sportful chose its Total Comfort chamois, which is aptly named. It has three densities of foam, placing the firmest foam underneath typical hotspots, and helping to evenly distribute pressure. This insert is as thick as 18mm in some areas, which minimizes the effects of sitting on your saddle. When it comes to inserts that are built for all-day rides, this one is up there with some of the plushest, most forgiving options we're aware of.
The Sportful Total Comfort Men's Bib Shorts are available in seven sizes, from X-Small, to 3X-Large, and in the color Black.
Awesome bib shorts, too bad they cut
Familiarity:

I've used it several times
I'm on my second pair of these shorts and have had the same problem with both! CC graciously returned/exchanged the first pair even after the I had worn them and the return period was up, due to the fact that they were leaving a sore on my posterior the size of a quarter. And by sore, I mean blood. I looked the shorts over and found no seam that might do this, so I went forward with a replacement pair. Sadly, after about 750 miles on these, they are doing the same thing! On closer inspection, between the facing of the chamois and the lycra exists a stiff, almost rubber like layer which is quite stiff. It's very slight and hardly noticeable, but for some reason, on me, this seam perfectly aligns with my anatomy and rubs me raw. This time I have 3 sores in a row, following the contour of the chamois.

Too bad, they are otherwise fantastic shorts. Prior to getting the sores, I was going to rank them higher than my new Assos bibs. I love the length, the compression is awesome, the bib section is extremely comfortable. I'd buy another pair in a minute if they'd fix the seam issue....
Sean B.
I normally like shorts with thin to medium padding; I hate how with some brands the chamios bunches up and the resulting diaper-butt look that comes with it (I'm looking at you PI). So I was a bit skeptical when I saw 18mm of padding for these shorts. But after reading some good reviews from different publications around the web, I took a chance.



These shorts are awesome. Bought them on a Friday, put in 120 miles over the weekend, and bought another pair on Monday (at full price) I liked them so well.



JIM101564182 did a great job of explaining (see below) what's to like about these shorts so I won't repeat, but I'll add these things. Compression is good, but not body-paint-tight; these are all-day comfort shorts. The leg band is beefy compared to the ultra-thin laser cut bands popular on race shorts, but they don't annoy. I like that the front is cut a little lower so that there's no compression on my diaphragm to affect breathing. Overall cut feels just a bit off when you're standing up straight, but just right when on your bike--just as it should be.



If I had to find anything to pick on, it would be the handful of iron-on decals in a few places like what Castelli does. I expect them to come off after a few dozen washings.



I normally size up on Italian-made brands, but tried both on-size and one up. Stayed with recommended size. I'm 5'9", 170#, 34" waist, average build. Large is perfect.



Overall, great shorts. I would buy again.



Actually, I did.
macweelz
Great Value
Familiarity:

I've used it once or twice and have initial impressions
Like the reviewer above, I was concerned with the 18mm sit bone sections of the chamois compared to the 14mm of the Body Fit Pro which I love. Not to worry. The chamois in this bib is absolutely top notch. Super compressive, thicker fabrics than the BFP or Gruppetto......(I own all three) This is a high quality made in Italy (as opposed to Hungary for the other two) bib. Sportful stuff is by far my favorite. A little annoyed how it is now on sale for a greatly reduced price compared to what I paid just a week ago, but better for you guys!
Michael C.
Excellent bibs
Familiarity:

I've put it through the wringer
I am about 6'1", weigh about 210, and the XXL fits me perfectly. The fit is comparable to Castelli Aero Race bibs which tend to run small so size up if you are not accustomed to Italian race apparel sizing.



The chamois is listed as 18mm in some areas so I was concerned it would be bulky but it perfect, especially for roads that are like chip seal which we have a lot of in Texas. After I settle into the saddle, it seems to disappear during the ride, which is not the case with many other brands.



I have ridden these bibs in the Texas heat and the fabric seems to wick moisture very well. No hot spots.



The ceramic Lycra in the crotch and on the inside of the thighs is awesome. I have had some problems with light weight bibs wearing excessively in this area and with these bibs, PROBLEM SOLVED.



The bib straps are just right in terms of being supportive but also breathing well. I especially appreciate the work done on the body of the bibs to be supportive, breathe well, but still not show everything you have to the world. I would compare then to Giordana Laser and FRC in this regard.



The leg compression seems just about right but I like support for my quads.



These are an amazing value for everything you get.


James C.
In regards to length on the thighs for the...
In regards to length on the thighs for the Sportful Total Comfort Bib Short vs the Gioradana EXO shorts, I prefer the Giordana's length....do the Sportful's have similar length?
Eric M.
These bibs have a 10 inch inseam. Hopefully this helps with your comparison.
Wayne Christoffersen
That is a great question. I have found Sportful bibs to be on the same level of Comfort as the Gioradana EXO bibs. However, that being said the Sportful bibs do ride higher on the thigh. If you have any additional questions, please feel free to email me at dmyers@backcountry.com


Don Myers