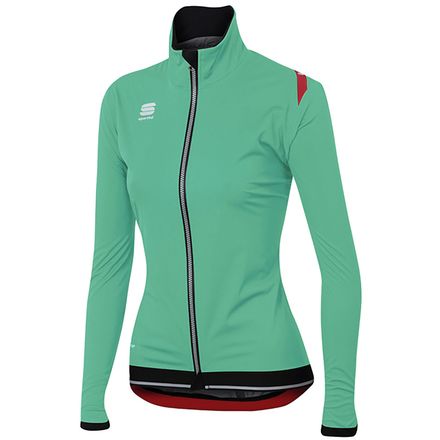 Colors
Protection, Wet or Dry.
If you're looking for one jacket to get you through wet or sunny winter rides, the Sportful Fiandre Ultimate Windstopper Women's Jacket is worth a look. Rarely do we find a jacket that possesses such an excellent balance between efficient breathability and wet-weather protection.
Using next-generation Gore Windstopper 4 Way Light construction, the jacket is extremely lightweight and the advanced construction makes it extremely waterproof. Sportful's propriety NoRain Mid fabric is utilized on the sides offering increased breathability and the panels are seamed sealed so no water can enter. The NoRain fabric also draws precipitation away from the skin during tempo efforts and keeps heat in, keeping you both dry and warm.
The material offers optimal stretch enabling a full range of movement while on the bike and cut to ergonomically fit the female physique. Elastic at the wrist cuffs form an excellent gasket against water intrusion when used with gloves and a reflective lay flat elastic waist keeps the jacket in place and prevents bunching.
Three rear pockets allow plenty of room to haul food and extra gear and the Windstopper anti-splash guard prevents wheel spray from soaking the contents of your pockets. Holes at the bottom of the pockets let any rain accumulation drain preventing you from hauling around extra weight and essentials aren't swimming around in your pockets.
Sportful rates this jacket to be optimal between a 32 and 68-degree Fahrenheit range. We'd say that the drier it is the lower temp you can go and vice versa. Finally, heat transfer reflective strips add visibility in the low light conditions you are likely to face while wearing this jacket.
A cycling jacket for training in wet or dry conditions
Gore Windstopper membrane breathes and blocks the weather
Water-resistant thermal inserts boost breathability
Protection is tailored to protect more vulnerable areas
Road spray from the front is blocked by waterproof zippers
Lie-flat elastic maintains race-appropriate fit in front
3 rear pockets for stowing cold-weather accessories