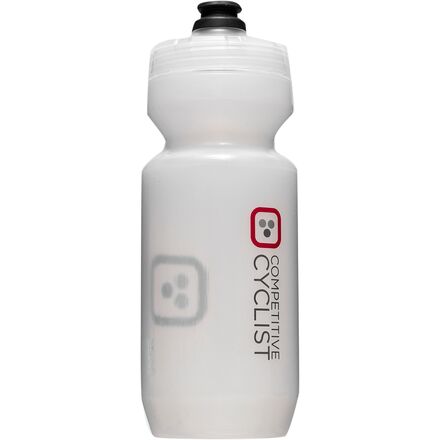 Colors
Portable hydration station.
Stay properly hydrated without dealing with a funky aftertaste when you're sipping from the 22-ounce Purist Competitive Cyclist Water Bottle. Made in the USA with a low-density polymer, this water bottle is freezer-friendly and incredibly easy to grip when you're grinding away on long rides. Its 5-nanometer-thick silicone dioxide treatment inside the bottle keeps plastic from leaching into your precious H2O, preventing the dreaded plastic taste that comes with low-quality plastic bottles.
22-ounce capacity
Low-density polymer is freezer-friendly
5-nanometer-thick silicone dioxide treatment inside bottle
Made in the USA
Hydrate in style
Familiarity:

I've put it through the wringer
Large opening, easy to clean or put ice cubes in. Soft tip easy to open with your teeth while riding. No plastic taste purist bottle. Super soft plastic that is easy to grip and squeeze... nice flow of water too. Let everyone know who your favorite cycling company is!
Stephen Wang
Why not?!
Familiarity:

I've used it several times
Awesome purist bottle that leaves no plastic taste, and you get to rep CC. Fits in most tighter fit mountain bike frames that have room for a bottle cage.
Luke Dordai
my new go-to bottle
Familiarity:

I've put it through the wringer
Compared to others, water tastes better (no plastic flavor) in this bottle, and the cap is really easy to open and close while you're riding. I prefer the way the water sort of gently flows out, rather than hitting you with a sharp jet stream to the back of the throat. A simple, well-thought-out bottle.
Zach Bonte
Great!
Familiarity:

I've used it several times
Great no-frills bottle. Opens easy, fits the cage well, and hasn't leaked. Love the look of the clear bottle, clear lid, and simple CC logos!
Eric Olofson
Rep the brand!
Familiarity:

I've used it several times
Happy to rep Competitive Cyclist! These are a classic that will last a while. Easy purchase!
Tyler Thunell
Great bottle, great price. Easily cleaned and keeps water in when closed.
Josh Spongberg
Best bottle!
Familiarity:

I've put it through the wringer
Purist bottles are the best. They never have that plasticky taste, and clean out easy. Plus it has a CC logo, so that's pretty hard to beat!
Andrew Meehan
Holds water
Familiarity:

I've put it through the wringer
Holds water (and sports drink too!). Doesn't get as gross as other bottles when you leave stuff fermenting for a few days in a hot car. Imparts no plasticky taste to your water.

Basically, it's hard to go wrong with any Purist bottle made by Specialized ... the only quibble would be the design printed on them, and these are simple and classic.
STEVEN SHEFFIELD
Kitten Approved
Familiarity:

I've put it through the wringer
You really can't go wrong with a Purist bottle - soft enough to squeeze without feeling squishy, and the cap is easy to open and gentle on teeth. Added bonus is that it's dishwasher safe, and this one looks particularly clean with the minimalist CC logo and clear body.
Lindsay Wetzel Polin
Works Great
Familiarity:

I've put it through the wringer
Great bottle for the price. Water tastes clean, and the soft plastic cap is light on your teeth. Can't beat it for the price.
Matt Dombrowski
Clean and Pure
Familiarity:

I've put it through the wringer
I've long been a fan of the Purist bottle. The construction really does prevent water from taking on that plastic taste. When the water tastes better you drink more of it - definitely a win/win.
Aaron Bender
Unanswered Question
What kind of cap is on this bottle? Watergate or MoFlo?
123106029375
Easy to open, fits tightly in my cage, and has a great squeeze. What more can I say?
Nathan Smith
Hydrate to Dominate the Dance Floor
Familiarity:

I've put it through the wringer
I'm picky about water bottles. Too squishy and I worry about being able to wash it, too firm and I'm not sure if it's going to pan out. These are, in the words of my pal Goldilocks, "just right."

I often find myself dancing while riding. I can't say it's done much for my watts, but it sure boosts morale on hour 4 of 5 of riding that day (#initforthesnacks). These bottles are just the ticket to ensure I am hydrated to dominate my dance floor of life. They're easy to handle, sip from, and wash. They don't retain the *stink* that some lesser watbots do, allowing me to focus on my ride not that-spooky-little-dude-in-my-bidon.

Hannah Dhonau
Good
Familiarity:

I've used it several times
Specialized bottles are extremely simple and very nice, this one is no exception. Works great for biking and fits nicely in my cages.



Personally I prefer the 24oz bottles (this one's only 22oz) they're a bit taller and I find them easier to grab out of my cages.
Max Besser
Rinse your bottle after every use...
This is one of my favorite water bottles also -for the same reasons as Sporty describes below.

But I can still get some mold at the bottom (in the corners) if I am not very careful. And I only put water or Scratch mix inside. So... rinse your Purist bottle immediately after every ride and air dry!

Also (we all know this, right?) do not use this (or any) bike bottle for protein/sugar recovery mix. Use a Blender Bottle for that.
Jonny Heinken
This water bottle is your typically plastic bottle. What's really nice about this bottle is the Competitive Cyclist logo and that you are able to freeze this bottle. I love the freeze feature on those really hot summer days. I've had this bottle for a long time and I haven't had any leaking issues, it still works great and is a go for my biking hydration!
Joelle Raynes
Straight up sucks is right
Familiarity:

I've put it through the wringer
Bought CC/ Backcountry blue Specialized bottle. All bottles came with huge 2" x 4.5" sku sticker on that are un-removable. I tried, razor, steam, water, de-greaser, & hours of effort. Nothing will get you a clean bottle from this sticker. Was sent a second shipment for free. Same issue. All are going in recycling bin. Small $, but irritating experience. Only option provided was more of the same exact bottles. No thanks.
Duke K.
The New Standard
Familiarity:

I've put it through the wringer
Anyone who has purchased water bottles has more than likely used a very similar bottle to this; it has been a classic general design for a long time. In this case however, the devil is in the details.

Not only does having a larger valve/opening to get more out of the bottle, faster; it is also made of a very pliable material that remains soft enough to squeeze easily at any temperature, even on the coldest days.

The other great feature is the silicon layer lining the inside of the bottle that prevents both flavors leeching into the plastic, and from the plastic taste leeching into your water. They claim it has similar properties to glass, and while I don't know that this is entirely true, it is certainly well above and beyond every other bottle out there!

I have no idea how many different bottles I have had throughout the years, but I used to have cases at my home. This model is all I will use anymore; nothing else is worth my money.
Bradley Gehrig
Does the job
Familiarity:

I've put it through the wringer
In-line with many of the other reviews I have read, this water bottle does the trick. The best part about the bottle is the cap. Nothing fancy here but also no complaints.
Peter Eischeid