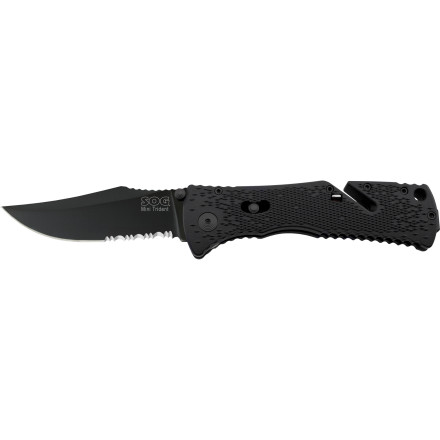 Colors
More than meets the eye.
The humble-looking SOG Trident Mini-Knife is packing a lot more features than it would appear to at first glance. The blade is cryogenically hardened for added stiffness and durability and, at just over three inches, is extremely versatile. The Trident is also sporting SOG's innovative, patent pending groove that is designed to make it easy to cut paracord, fishing line, or any other string-like things that you would like to shorten.
Assisted Technology opening means you start to open and it finishes on its own with a snap
Bayonet Reversible clip for comfortable carry anywhere
Patent pending groove in handle for easier cutting of paracord, fishing line, etc...
Checkered DigiGrip handle for no-slip handling
Cryogenic heat treating takes the blade down to -300 degrees then back up slowly to increase strength and edge retention
Overpriced?
Familiarity:

I've used it several times
The knife I received was not the tanto blade shown in the online picture, but rather the serrated blade matching the written description. I haven't "put it through the wringer yet" but so far it seems like a fairly high quality knife. I haven't had any issues with it yet, it is really light, the assisted opening works great, and its a handy tool to have around. Despite this, it feels somewhat cheaply made, possibly because of the plastic handle, so time will tell whether or not it's overpriced.
Ryan
Great!
Familiarity:

I've used it several times
super light weight, good steel, perfect size to carry for daily use, very sharp, easy to use action. I would recommend one of these bad boys to anyone.
Tyson Purkey
Perfect for EDC
Familiarity:

I've put it through the wringer
I really like this knife. I had the full size for awhile and decided that I wanted the smaller version for EDC. I love it. It's compact and the pocket clip allows it to ride really low in your pocket. The slit is a bit gimmicky as I've found no REAL use for it yet (other than cutting fishing line). Love SOG assisted opening. SOG has won me over with their great products and warranties.
Braden Turner
Good knife for EDC, bad pocket clip
Familiarity:

I've put it through the wringer
I was looking for a knife for everyday use so I didn't have to carry my Leatherman around all the time and finally decided on this one. This is a very sturdy little knife that has proven very useful. I bought the Tanto blade because that's what I found a deal on, but I could easily see myself picking up one of the other blade options in the near future. The opening assist is pretty well dialed, too. I never have an issue opening the knife with gloves on or cold/numb hands. While the notched handle seems like a great idea for line cutting, I have yet to really need to use it so I wouldn't call it a reason to buy this knife over one of the other fine SOG offerings.



The single biggest drawback of this knife is the pocket clip. It is attached to the handle by a small allen head screw threaded into the plastic. After a while, the clip on mine loosened and I broke the screw while trying to tighten it. SOG warrantied it but be careful.



Bottom line: Solid knife that you will find a use for on a daily basis, but the design of the pocket clip is a downside.
Harrison Gatos
S.A.T. (SOG Assisted Technology) propels the blade out once the operator has started opening the blade. This is NOT a switchblade. See various SOG models at http://bestsogknives.com
Chris Mantle
this thing is really sharp, best knife ive had
Asciutto
Alexander
Got this for Valentines from my AWESOME girlfriend, and it is a great knife. Study build that I expect from SOG, good edge retention, and I like the handle inset for cutting p-cord. The assisted open works great, and I really appreciate being able to lock it shut. Good sized handle and large thumb stud make opening this knife one-handed w/ gloves or cold hands a piece of cake. IMO this knife is too big for EDC. Light weight, strength, quality steel, and size make it great for camping or general utility.
Crazy Carl
Excellent !
Familiarity:

I've used it several times
Great EDC! Love the lightweight yet extremely sturdy build. Just bought another for my best friend for his up-coming birthday. YOU SHOULD BUY ONE!
Max E.
My Everyday Knife!
Familiarity:

I've used it several times
I had another SOG knife that I loved a lot but was just too big to carry around with me. So I picked this up and it is perfect! Perfect size to clip onto my poked and carry with me everywhere. I have also used it a couple times camping and so far it has stayed wicked sharp with no maintenance.
WONKA
Great Knife
Familiarity:

I've used it several times
I would recommend this knife. I liked how easy it flicks open and when locked in place the blade is very secure. Still as sharp as when I bought it even after extensive use.
Sully
My husband has a SOG knife and the kids kept "borrowing" it for camping, so when they came up on SAC for such a great price, we bought one for each of them a stocking stuffer for Christmas.

They will now have their own "go to" knife and leave dad's alone.
Mayla F.