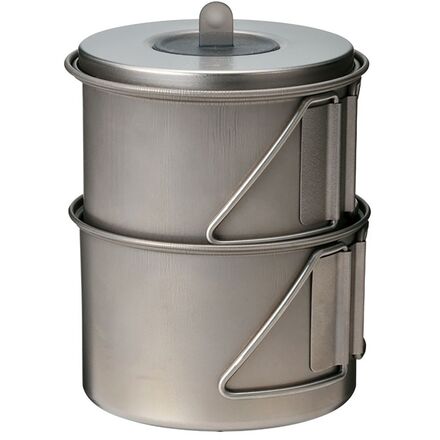 Colors
Compact cookset for solo travelers.
Made for one-man treks into the wilderness, the Snow Peak Mini Solo Combo Titanium Cookset provides the basic necessities for cooking and serving. Titanium construction provides exceptional strength-to-weight, speeds up heating time, and is easy to clean after cooking.
The 28-ounce pot and 10-ounce cup fit together for compact carrying in your pack, complete with a mesh bag for keeping both pieces together. The pot fits a Snow Peak GigaPower Stove and one 110-gram fuel canister inside or two 110-gram fuel canisters for a more streamlined set-up. Folding handles allow you to cook and serve yourself without taking up room in your pack.
Compact cookset for solo travelers and backpackers
Titanium construction for high strength-to-weight
30-ounce pot for cooking meals and boiling water
18.3-ounce cup for serving yourself and measuring meals
Fits a GigaPower Stove and 110g fuel canister inside
Mesh carrying bag keeps both pieces together
Perfect sizes
Familiarity:

I've put it through the wringer
I love my new pots! They are super light and sturdy. Great for the backcountry. No complaints.
Jason Wanlass
The picture for this product shows the new 2.0 model, but the information still describes the older version (smaller capacities, etc). Are you carrying the 2.0 or the older version?
Elizabeth E.
I recently purchased this and I took a gamble that the picture was the real product, not the description, since the picture is of the 2.0 version. I received the item today and it is the 2.0 model (box has SKU SCS-004TR). YMMV, of course. Lots of mangled descriptions out there from other sites too. The published weight (listed on the box) is 6.38oz. 5.5oz is listed on some sites that have the updated fluid capacities (including SnowPeak's own website), but I believe that is the weight of the original Mini Solo. My postal scale reads the weight as 6.4oz, without the mesh bag.
salmonoids
I got this for SL mountain adventures. Works great! Super compact. Ti doesn't hold much heat so the boil time is a bit longer... that's the trade off with a cookset this unbelievably light. Have used it with multiple stoves including the Snow Peak LiteMax.
Russel G.