Smith

Turner Sunglasses - Men's
from
$55.60
$219.00
60%
off
Item #SMI00CR
Smith
Sunglasses Lens Tints
CHROMAPOP+ POLARIZED LENSES
VLT*
CATEGORY
CONDITIONS
GOOD FOR
CHROMAPOP+
POLARCHROMIC IGNITOR
12 - 20%
3 - 2
bright / medium
ocean, in-shore, fresh water
CHROMAPOP+
POLARIZED GRAY GREEN
16%
3
bright
road, ocean, everyday
CHROMAPOP+
POLARIZED BROWN
14%
3
bright
road, in-short, fresh water, everyday
CHROMAPOP+
POLARIZED PLATINUM
14%
3
bright
ocean, everyday
CHROMAPOP+
POLARIZED BRONZE MIRROR
15%
3
bright
in-short, fresh water, everyday
CHROMAPOP+
POLARIZED BLUE MIRROR
14%
3
bright
ocean, everyday
TECHLITE GLASS LENSES
VLT*
CATEGORY
CONDITIONS
GOOD FOR

TECHLITE GLASS
POLARCHROMIC IGNITOR

12 - 20%
3 - 2
bright / medium
ocean, in-shore, fresh water, everyday

TECHLITE GLASS
POLARCHROMIC COPPER MIRROR

13 - 20%
3 - 2
bright / medium
in-shore, fresh water, everyday

TECHLITE GLASS
POLARCHROMIC COPPER

13 - 20%
3 - 2
bright / medium
in-shore, fresh water, everyday

TECHLITE GLASS
POLARIZED COPPER

12%
3
medium
in-shore, fresh water, everyday

TECHLITE GLASS
POLARIZED GRAY GREEN

15%
3
bright
road, ocean, everyday

TECHLITE GLASS
POLARIZED BROWN

15%
3
bright
road, in-shore, fresh water, everyday

TECHLITE GLASS
POLARIZED BLUE MIRROR

12%
3
bright
ocean, everyday

TECHLITE GLASS
POLARIZED GREEN MIRROR

12%
3
bright
in-shore, fresh water, everyday

TECHLITE GLASS
POLARIZED LOW LIGHT IGNITOR

40%
2
medium / low
in-shore, fresh water
CHROMAPOP POLARIZED LENSES
VLT*
CATEGORY
CONDITIONS
GOOD FOR
CHROMAPOP
POLARIZED GRAY GREEN
15%
3
bright
road, ocean, everyday

CHROMAPOP
POLARIZED BROWN

15%
3
bright
road, in-shore, fresh water, everyday
CHROMAPOP
POLARIZED PLATINUM
14%
3
bright
ocean, everyday
CHROMAPOP
POLARIZED BRONZE MIRROR
15%
3
bright
in-shore, fresh water, everyday
CHROMAPOP
POLARIZED BLUE MIRROR
14%
3
bright
ocean, everyday
CHROMAPOP
POLARIZED COPPER
14%
3
bright / medium
in-shore, fresh water, everyday
CHROMAPOP LENSES
VLT*
CATEGORY
CONDITIONS
GOOD FOR
CHROMAPOP
BROWN
17%
3
bright / medium
road, trail, field, everyday
CHROMAPOP
PLATINUM
12%
3
bright
road, trail, field, everyday
CHROMAPOP
GREEN MIRROR
12%
3
bright
road, trail, field
CHROMAPOP
RED MIRROR
15%
3
bright
road, trail, field
CHROMAPOP
CONTRAST ROSE FLASH
48%
3
low
road, trail, field
CARBONIC POLARIZED LENSES
VLT*
CATEGORY
CONDITIONS
GOOD FOR
CARBONIC
POLARIZED GRAY GREEN
15%
3
bright
road, ocean, everyday
CARBONIC
POLARIZED BROWN
15%
3
bright
road, in-shore, fresh water, everyday
CARBONIC
POLARIZED BROWN GRADIENT
16%
3
medium
everyday
CARBONIC
POLARIZED BLUE MIRROR
12%
3
bright
ocean, everyday
CARBONIC
POLARIZED GREEN MIRROR
12%
3
bright
in-shore, fresh water, everyday
CARBONIC
VLT*
CATEGORY
CONDITIONS
GOOD FOR
CARBONIC
GRAY GREEN
15%
3
bright
road, ocean, everyday
CARBONIC
BROWN
17%
3
bright
road, in-shore, fresh water, everyday
CARBONIC
IGNITOR
32%
2
medium
road, trail, field, everyday
CARBONIC
GREEN SOL-X
10%
3
bright
road, trail, field, everyday
CARBONIC
RED SOL-X
11%
3
bright
road, trail, field, everyday
CARBONIC
ROSE GOLD
18%
2
medium
everyday
CARBONIC
PLATINUM
11%
3
bright
road, trail, field, everyday
CARBONIC
SUPER PLATINUM
15%
3
bright
everyday
CARBONIC
GREEN
13%
3
bright
everyday
CARBONIC
BLACKOUT
10%
3
bright
everyday
CARBONIC
BLUE FLASH
20%
2
medium
everyday
CARBONIC
SIENNA GRADIENT
20%
2
medium
everyday
CARBONIC
CLEAR
92%
0
night
road, trail, field
CARBONIC
PINK MIRROR
20%
2
medium
everyday
*VLT (VISIBLE LIGHT TRANSMISSION):

THE PERCENTAGE OF AVAILABLE LIGHT ALLOWED TO REACH THE EYE (THE LOWER THE NUMBER, THE DARKER THE LENS)
Select style & size:
Select options
Select options

Matte Gold/Polarized Gray Green, One Size

Sale:$87.60

Gold/Brown, One Size

Sale:$55.60

Matte Brown/Polarized Brown, One Size

Sale:$87.60
Tech Specs
Frame Dimensions:
[lens/bridge/temple] 59 x 40 / 16 / 140mm
Manufacturer Warranty:
lifetime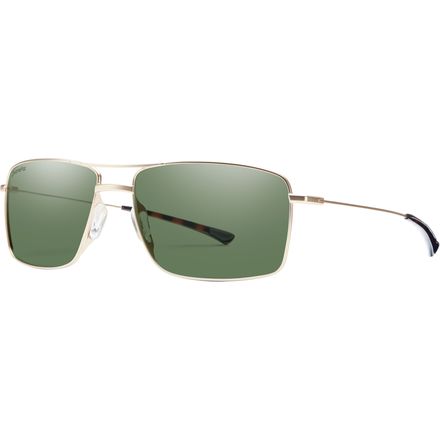 Colors
If sleek, timeless style is what you're looking for, then you'll find it in spades in the Smith Turner Sunglasses. The thin stainless steel frame and a squared lens shape lend it classic style, while the lightweight optically-precise lenses and adjustable nose pads ensure modern performance and comfort.
Proposition 65 Warning for California Consumers: This product contains chemicals known to the State of California to cause cancer and/or birth defects or other reproductive harm.
Carbonic TLT lenses
Stainless steel frame
Adjustable nose pads
Megol temple pads
Medium fit
Frequently purchased together