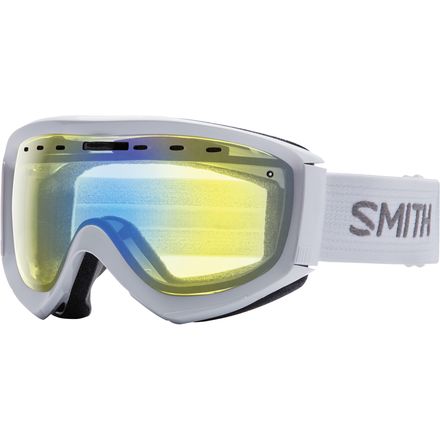 Colors

Detail Images

Videos

Community Images
Four eyes is so last year—be six eyes.
You've perfected the genius look, but you still want to shred in style. Enter the Smith Prophecy OTG Goggle. This eyeglass-compatible goggle will keep your look and your vision in top form. And for those eco-conscious minds, Smith's Evolve series utilizes 53% bio-based Rislan frame material, FSC certified packaging, a coconut fiber bag, and a water-based lens coating.
Proposition 65 Warning for California Consumers: This product contains chemicals known to the State of California to cause cancer and/or birth defects or other reproductive harm.
Unique floating foam membrane to keep your glasses from digging into your temples
Vaporator lens technology and adjustable lens ventilation keep air moving through and fog at bay
Helmet-compatible design lets you protect your smarts
I wear glasses and can't stand contacts, so an OTG goggle was a requirement for me. I tried on the Knowledge and felt they were a bit too big for my face and took a gamble with the slightly smaller Prophecy.

Likes:
- The side notches for the arms of your glasses frames makes for a really nice feeling fit.
- The Ignitor Mirror lens works great in sunshine AND in overcast, snowing conditions.
- They fit over my frames well, but I wear thinner rectangle frames. Larger glasses will have an issue with these goggles.
- The adjustable vent on the front.
- They look schweeeet.

Dislikes:
- These guys fog up on me bad. I wear a Smith Maze MIPS and as soon as I'm stationary, 0-60 fog action in like 10 seconds. Fine on a lift, fine while bombing down the hill, but always fogged on me as I was strapping in my back foot. All vents open on the helmet - vent open on the goggle... fog city. Even though it's kind of a no-no, I'd have to place them on the top of my helmet, start the run and about 15 seconds into it, pull them down onto my face. No issues after that. And yes... I was putting them on in the lodge before going outside.

Overall, I like the fit, the look and the lens clarity. The fogging concerns me (especially in concert with a Smith helmet). I'm wondering if maybe my helmet is not letting enough of the warm air from my face out of the goggle - even though they are compatible. I'll try and figure it out over the next few trips but for now can't give it above a 3. It works, but I feel that I shouldn't be fogging like this.

UPDATE: I've spent another couple of days with the goggles and am really not a fan. I think that once you wear glasses in them, there isn't enough airflow happening since these are on the smaller side for goggles these days. I actually have a pair of I/O X on order and am hoping the larger size of the goggle itself and slightly better airflow is just the ticket!
Benjamin Rogers
Great for Glasses
Familiarity:

I've used it once or twice and have initial impressions
Got these for my brother as he had been struggling finding good goggles that fit over glasses. These did the trick perfectly.
Brad
Pops loved em
Familiarity:

I gave it as a gift but have feedback to share
Got these as a present for my Dad. He loves them. Don't fog and fit over his glasses well. Defiantly recommend for any one that requires glasses while skiing. I recomend Smith in general!
Camden P.
Keeps the snow away
Familiarity:

I've used it once or twice and have initial impressions
These are some great goggles! I have used them a few times this year already and I have zero complaints. These have been great to use on the slopes!
Landon B.
I just bought these goggles and haven't had the chance to wear them out on the mountain, but am impressed with just trying them on. Very comfortable, and great fit on my face. Seems like I should be able to fit my glasses under these and still be pretty comfortable. Just what I was looking for!
Landon B.
Great Fit Over My Glasses - Use the clip
I got my Prophecy goggles last fall and they have been awesome since day one. My glasses fit perfect inside the goggles. The cut outs on the sides of the goggles allowed no pressure points from the temples of my glasses. One thing that helped me is when I put them on, I unbuckle the clip in back, take my glasses and put them in the frame and then put the frame and my glasses on at the same time. Most other companies don't even have a clip in the back. This is a great feature. No fogging issues at all.
Garret R.
MISREPRESENTED
Familiarity:

I returned this product before using it
just received my new smith prophecy otg goggles. simply put, theY do not FIT OVER EYE GLASSES! IF YOU NEED TO WEAR YOUR EYE GLASSES DAILY, DO NOT BUY THESE. The goggles do not fit over the eyeglasses. Also, the fit against your face is not comfortable and is not completely flush to the face.
phillip shuster
Great OTG Goggles!
Familiarity:

I've used it once or twice and have initial impressions
I was a little concerned about how these goggles would fit over my glasses, but they were just fine, and I couldn't have been happier! (The glasses I have on in my profile photo are what I was wearing.)



Every time I put them on, I worried over how I felt they were pushing my glasses down my nose and reducing my visibility, but somehow I adjusted after a minute or two every time and completely forgot about it. They were very comfortable the entire time I was skiing. I never once wished I could take them off for a break.



I was skiing in bright sun every day, and I couldn't believe how great I could see - no glare, no fatigue - they were perfect! Late afternoon shadows were a little tricky, but that's probably the case with any lens except clear. Had some very minor fogging a couple times, but it was only momentary and only partial, not over the whole lens.



Since these were my first pair, I got the cheapest ones - Rc36 - and while I was a little sad they weren't the cool, mirrored kind with a red lens, they worked so excellently that I forgot about their plain, brown looks once on the slopes. Like I said, I couldn't be happier! One hint that I just discovered a minute ago: if you click the Size Chart link, it tells you what conditions each lens is for and what the characteristics of that type are. Wish I'd known that before purchasing, but it worked out fine because my gearhead advised me correctly that Rc36 is for all conditions, and that's what I wanted. (Ignitor is the only other type for all conditions.)



Maybe if I ever get more advanced (in my goggle-wearing) I'll see these as middle of the road or "okay" like other reviewers...but right now I can say they worked great for me every day, and I'm very happy I got them!
Mark A.
Adequate but somewhat lacking
Familiarity:

I've used it once or twice and have initial impressions
Construction is good, lenses are readily available (for various types of conditions) and they're moderately straight forward to change out.



My only major complaint is with my particular glasses. If I'm not careful when I pull the goggles off, my glasses will come flying off as well. I have a large head/face so that may be part of it.



The seal around my face is good, but the goggles tend to push down on the bridge of my nose and constricts nasal breathing slightly. It's not enough that I won't use them, but not ideal.



Vision is tolerable and I haven't had any fogging issues (yet). The vent on the front does a good job of creating airflow if you start getting that steamy feeling.



These will work for this season, but next season I'll probably look at something a little more aggressive (and expensive).



Big selling point is the price. If you just need some goggles, you won't be disappointed.
hec105709809-0
Awesome fit over prescription glasses
Familiarity:

I've used it once or twice and have initial impressions
I currently wear Oakley prescription glasses which are slightly larger then average size and these fit nicely over them. Looking forward to using trying them out on our ski trip to Colorado later this year.
Michael T J.
Good Googles
Familiarity:

I've put it through the wringer
They worked great, i occasionally will get a little fogging on really cold days like -25 but other than they are excellent.
Mathew Johnston
For the price, not bad!
Familiarity:

I've used it several times
Truly, Smith is a darn good brand. They make quite the range of products when it comes to quality. These goggles are very middle of the road in my opinion, yet most certainly do the job well. These goggles aren't going to blow the park rats away with style, but who needs that insecurity anyways? If you're skiing and need a goggle that will keep you satisfied with your experience, these will suffice.
Soops
it ain't the goggles, it's your glasses
Familiarity:

I've put it through the wringer
Back and forth over whether they fit glasses. Depends on your glasses. If you rock big aviators or wide profile fat black Hollywood frames then you are going to be dissatisfied. If you go with a narrow lean look they are awesome. My gold rim, big lens, oh so chic 80s frames will never in a million years fit ... fast forward to the 21st century and my flexion wire frames with lightweight coated lenses and a narrow profile fit just fine.



Functionally, i've used these in cold and warm snowy days. On warm days in sweaty bump runs I got a little fogging up, but on cold days storm-skiing fresh they worked like the bomb. Great visibility enhancement, and fit my Smith helmet (no surprise) like a charm.



So don't hate on the goggle ... look for the right goggle for your glasses!
Ted F
Pow day review
Familiarity:

I gave it as a gift but have feedback to share
My husband purchased these for me to replace stolen snowboard equipment. I had Smith Prodigy goggles (which are no longer made) with the regular sensor mirror so I decided to give these a try (with the Red Sensor Mirror). I took these out on a still dumping big pow day and they worked great. There were a few flat light moments in which I couldn't see but my husband (had different lenses on) had issues in the same areas at Snowbird. Multiple face shots and no issues with build up on the lens or clogging on the foam (no ventilation issues - my vents were closed the whole time). My husband also sprayed me while my goggles were on my helmet getting snow inside and there were no issues after a quick wipe out and hitting the slopes again.

These work great with a helmet. They fit easily around the helmet and allowed me room for adjustment. The size of these Prophecy goggles are a little smaller than the Prodigy's were, which is great because I have a smaller face.
X-ina
Meets my needs
Familiarity:

I've used it once or twice and have initial impressions
I live in a suburban community, and walk 2.5 miles a day -- rain or shine, hot or cold. In the worst cold, I've tried to wear something over my nose and mouth (balaclava), but couldn't because my glasses would fog over. Either I needed to walk "blind", or just deal with a cold face. What to do? These goggles solve my problem! They do fit over my glasses, the corners of the frames cause a small indentation in the foam on each side, so you have to be careful in removing the goggles, or you pull your glasses off as well. But, they work! And they allow air flow through a series of slots at the top of the frame. I can successfully cover nose and mouth, wear the ventilated goggles, and I can easily stay out in well below zero weather! While this an unusual use for goggles of this type, they do what I need them to do. For me, they are a great find.
Daniel P.
OTG in name only
Familiarity:

I've used it once or twice and have initial impressions
On this site and on the Smith site, they brag about what a great fit these goggles provide for all styles of eyeglasses. Rubbish! As soon as I pulled these out of the box, it was evident that they would not fit any sort of eyeglass frame - unless you wear the ones that are actually narrower than your face. The Smith web site even notes "temple relief" in the goggle foam to accommodate the eyeglass frame. There is none. When I slid these over my generic wire frames (and I have a narrow face), there were BIG creases in the foam. I can't believe how many people claim these fit well over their glasses. A swing and a miss by Smith on this product.
yourDisplayName
These look like good goggles, but they definitely won't work with either my regular glasses or sunglasses.



I am disappointed and now don't really believe the eyeglass compatible rating on this site.
Amy T.
Fixes fashion faux pas
Familiarity:

I've used it several times
I'd been rocking the 80s look--with some sweet Oakleys sunglasses paired with my awesome lime green helmet. That was until my young friend asked where I kept my time machine, were those Guess jeans I was wearing, and did I drive a four cylinder BMW convertible?



Message received, I bought these prophecy goggles. I picked them because they were on sale and I'm not picky about fashion (but you already knew that). Thing is they are comfy, fit over my rather chunky plastic glasses, and they have effectively eliminated my Rip Van Winklish style choices.



These are great goggles and they make me look great as I take some totally tubular runs while rocking Bon Jovi and David Lee Roth. Huey Lewis too!
David Thiel