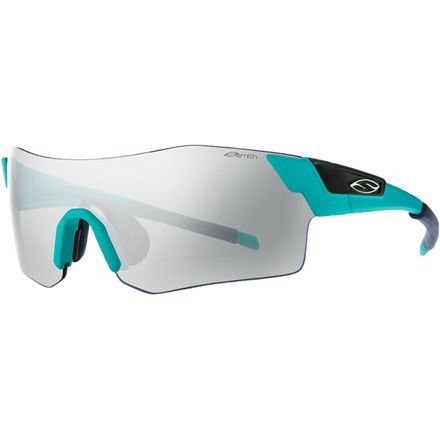 Colors
Shades that are as hardcore as you.
Ever gotten a bug in your eye when you're descending at 50mph? Kind of a bummer, but with Smith's Pivlock Arena Sunglasses, you'll never have to worry about it again. The Pivlock offers an enormous and uninterrupted field of view thanks to its bridgeless wraparound design, along with the crystal clarity of water-, oil-, and dirt-resistant Carbonic TLT lenses. It's designed to fit every face comfortably, too, with two-position adjustable nose pads and slide-on temple tips, both made of a hydrophilic material that actually becomes sticker as it gets wet, so sweat won't be a problem. Best of all, the superlight TR-90 frames feature Smith's innovative Pivlock lens-interchange system, which lets you swap out your lenses in a hurry so you can always have the perfect shades whether you're running or cycling.

Proposition 65 Warning for California Consumers: This product contains chemicals known to the State of California to cause cancer and/or birth defects or other reproductive harm.
Carbonic TLT lenses
Pivlock lens interchange system
TR-90 frame material
Hydrophobic lens coating
Two-position adjustable hydrophilic Megol nose pads
Slide-on hydrophilic Megol temple tips
These are great
Familiarity:

I've put it through the wringer
These Smith glasses are great! I've used them extensively for mountain biking, trail running, and skiing. They have a great field of vision, vent well, and feel solid in the hand. They also make you look so fast!
Greg
Height:
6'2"
Weight:
165lbs
From Tree to Trail
Familiarity:

I've used it several times

Fit:

True to size
I'm an arborist and I actually bought these for climbing work. As my current shades/safety glasses (sun clouds) would slide down the narrow bridge of my nose when I would get sweaty. Not in these bad boys. Wore them a couple days already and the glasses don't move at all. They did scratch pretty easy however. But then again they're designed for mountain biking not dodging limbs 65ft up a Douglas Fir. Overall very nice and affordable.





Levi C.
Everything you're looking for
Familiarity:

I've put it through the wringer

Fit:

True to size
These glasses are perfect for the job. They're stylish and offer the perfect amount of protection. The lenses are great and are easy to change. It comes with two lenses and an awesome case to store them in and keep everything protected while traveling.
Clayton Otto
Great glasses, just weren't for me
Familiarity:

I returned this product before using it

Fit:

True to size
Really wanted these glasses to work out, but the bridge of my nose just didn't agree with the adjustable nose pads. I'd say I have a medium to small sized face, and coverage of the lens was good, didn't look too big on my face, and didn't have a large gap between my temple and the frame.
Jon J
Love em
Familiarity:

I've put it through the wringer

Fit:

True to size
Everything you'd need in a pair of bike shades. They are light, have an adjustable nose piece, are easy to clean, easy to swap, and come with 3 lenses for all conditions. That and they look great.
Matt Dombrowski
Great glasses!
Familiarity:

I've put it through the wringer

Fit:

True to size

Size Bought:

One Size
I bought these glasses after my last crash broke my helmet in 4 places (Yes, I'm finally ok after months!) So I purchased a Smith helmet and saw that these fit into the helmet upside down, pretty cool option so I bought them...

I'll have to give the glasses a 10/10. Mine came with 3 lenses, clear, medium gray and the Ignitor (? I think, red lens) darker lens. I've got a massive head and they fit me well ,no movement while riding and I've probably got 3,000 miles with these glasses so far. You forget they are on your head. Lightweight. The only time that I've had them fog up was at a traffic light or something when I stopped moving but quickly cleared up at the least bit of breeze when you start moving again.

If I had a complaint, it would be that they don't really stay on the helmet very well. I've put them up there and as long as you are only walking around it's fine, but they will fall off on bumps while riding. I rarely leave them up there while riding so it's not really an issue but thought it might help you make a decision. I'd buy them again in a second because on the ride, they are great. Nice case too, which holds all three lenses and the soft cleaning cloth and that fits nicely in my upside down helmet in my cycling bag...
Kenneth C.
Height:
6'3"
Weight:
180lbs
Sweet Riding Sunnies
Familiarity:

I've used it several times

Fit:

True to size
I had my last pair of riding sunglasses for about 10 years and loved them, so they were a majorly tough act to follow. But I am pretty so stoked to have found the Arena's, so far they are pretty rad.



I have a medium sized women's face shape and wear a medium helmet and these seem to fit pretty perfectly. No foggy on hot sweaty climbs, and they keep the dust out on a filthy MTB descent.



I haven't had a chance to try out the different lens' but -- it's nice to have the options!
Lisa H
Height:
5'8"
Weight:
145lbs
Scientifically Proven to Go Faster
Familiarity:

I've put it through the wringer

Fit:

True to size
Ok maybe not scientifically proven, but I've used them and I totally dig them. I have a medium sized face and they fit pretty well. I mostly wear them mountain biking with a Smith Forefront helmet, though like Jennifer Newman commented, they do work well for running. Photo is of me sloggin' my way up Mount Baldy mid Discrete Peak Series Snowbird race.

Photo credit goes to Doug James, check him out on Instagram at @dougjamesphotography or contact him at dougjamesphoto@gmail.com

Pros:
-First off, they flip and clip onto a Smith Forefront helmet and it is awesome. Its relatively secure - I'll throw em on the helmet for a lot of the climbs.
-Next awesome bit is that they have three lenses that come with it - I bought the Green Sol X and it came with a mirrored gray lens and clear in addition.
-Swapping lenses out is actually a cinch. Some frameless goggles and sunglasses actually are more of a hassle to swap, these take 15 seconds to do.
-Pretty big lens, making it a good dust shield and keeping the sun out of the eyes!
-These make you go faster. Cause they look fast and you know, science and stuff.

Cons:
-Green mirror has scratched a bit, not sure if its just carelessness or if it was just easy to scratch. Something to note regardless.
-Wish the arms could be bent slightly, but they still stay on face relatively well anyway.

Needing an athletic pair of shades? Happen to already have a Smith helmet? Want to look fast & go fast? These shades are for you!
Connor Johnson
Great Sunglasses
Familiarity:

I've put it through the wringer
These are a great activity focused sunglass. They come with 3 lenses that are easy to swap out, and fit great under a bike helmet. They stay on your face and don't slip.
Ross Hayes
Cool for Chicks too!
Familiarity:

I've put it through the wringer

Fit:

True to size
Love these. Great value with the 3 lenses. Easy to change lenses out. Work as good running glasses too. I have a small face and they still fit and look good on me. Would definitely buy again. Never fog up and when sweat does drip down it wicks away with no staining. Super pleased!
Jennifer Newman
Height:
5'3"
Weight:
135lbs
I've read in these reviews (and others) that this pair tends to fog up (... but still receives pretty good reviews). Is there any spray or product I can use in the event this is really the case?
ALEX_C
Dawn dish soap: put a coating on both sides of the lens, let it dry, then buff it clear....
Corry
SO FAST
Familiarity:

I've put it through the wringer
When people see someone wearing these shades they always seem to say "Woah. They must be fast." And I'm pretty sure that these shades do make you at least 30% faster. But don't quote me on that. You can even change the lens super fast. Some might say "But don't the 100% speedcrafts (http://www.backcountry.com/100-speedcraft-sport-sunglasses?s=a) make you 100% faster?" To that I would say "I don't know. Maybe? Sounds legit though."
Joe Bolton
Great shades
Familiarity:

I've put it through the wringer

Fit:

True to size
I've had these since they first came out and they have always done a great job at protecting my eyes. Not only from the light, but from objects as well. It would be nice if they had RX available, but due to the lens curve, they just aren't able to without the adapter that they have. Either way, these are still great. The lens interchangeability is super fast so you can be dialed for what ever conditions are put in front of you. Smith has a huge range of lenses for any light condition so you can always be set. They fit well on the face and the rim less design helps keep sweat from building up on the inside frame and lens like it has a tendency to do. The compatibility with the Smith Forefront helmet is pretty spot on too, as they fit perfectly. They also sit in the front or rear docking design of the helmet fairly securely as well, though one could still have the possibility of them falling off the helmet depending on what they are doing. I use these for just about all my outdoor activities. backcountry touring, hiking, cycling, or even as safety glasses with clear lenses in them. Definitely versatile
Brennan K
Height:
5'8"
Weight:
170lbs
Nice Shades
Familiarity:

I've put it through the wringer

Fit:

True to size
Use these on all of my Mt. BIke rides. Having the ability to switch between 3 different lenses is great. I wouldn't wear these around town, but still like the look. Anything i buy for my bike is all related to performance and these fit the bill.

As always great service from Backcountry.com, makes it easy to spend money and be confident with all of your purchases.
James S.
gotta embrace 'em!
Familiarity:

I've put it through the wringer

Fit:

True to size

Size Bought:

SAFETY ORANGE
My tipping point for deciding to invest in a pair of "sport" glasses was when I crashed my mountain bike, landed on the side of my face, and had my old pair of sunglasses (a casual pair of Zeals) slam so hard into the side of my nose that it was dented briefly and I was left with a puffy/black eye for about a week. The other scary aspect of wearing those in a crash was that they could have just as easily broken, and I could've been left with plastic shards in and around my eye.. good times!

The Pivlock Arena contours pretty closely to your face, so if you do manage to have your head meet the ground (or any other solid object), the risk of being "punched" in the nose by them is pretty mitigated. The nose pads, made of 'hydrophilic Megol,' are very grippy (the hydrophilic part means the gripping power increases when introduced to moisture, according to Smith) and they're soft enough to be forgiving if you do have a head-on impact.

Apart from their face-saving qualities, what I've really been enjoying about these is the extra lenses they come with! Swapping the lenses out is pretty easy, and I've ended up swapping to the clear lens a lot more than anticipated during rides, especially now that it's getting dark earlier.

Only downsides so far are that they do fog up on me on most rides, and that replacement lenses aren't available here on Backcountry (but you can find them on Smith's site.)
Cassy
Do these glasses come with the extra clear and ignitor lenses?
Randy L.
Hey, yep, these do come with two extra lenses (definitely clear and I'm pretty sure the second is the Ignitor lens.)
Cassy