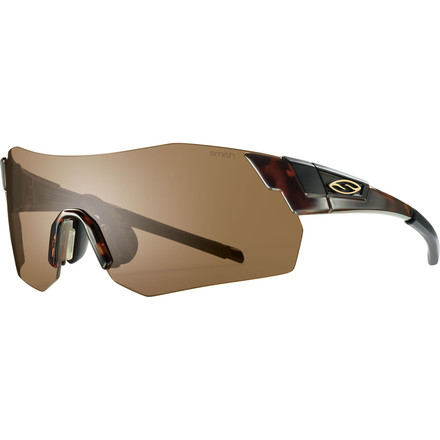 Colors
The world's most powerful shades.
Smith's Pivlock Arena Max Sunglasses feature the same design, lens technology, and space-age looks as the regular Pivlock Arena, but they're designed to provide full coverage for bigger faces. That doesn't mean they're clunky, though; the TR-90 frame material keeps them super light, while the bridgeless Carbon TLT lenses provide crystal-clear optics whether you're pounding the pavement or jumping on your bike for long a training ride. Smith also treated the lenses with an oil-, water-, and dirt-resistant coating to keep them clean, and included two-position adjustable nose pads and slide-on temple tips that actually become sticker when they get wet, so they won't slide off your face at a really unfortunate moment. Even after all this tech, the Arena's calling card is Smith's Pivlock lens-change technology, which makes it easy to swap lenses in a matter of seconds so you can be good to be while everyone else is still fussing with their shoes.

Proposition 65 Warning for California Consumers: This product contains chemicals known to the State of California to cause cancer and/or birth defects or other reproductive harm.
Carbonic TLT lenses
Pivlock lens interchange system
TR-90 frame material
Hydrophobic lens coating
Two-position adjustable hydrophilic Megol nose pads
Slide-on hydrophilic Megol temple tips
Pretty neat
Familiarity:

I've put it through the wringer
Full coverage for when I (try to) go full send. Stoked to try out the chromapop lenses
Morgan Eliasen
Height:
5'10"
Weight:
170lbs
Unanswered Question
How many lenses come with the white/green sol-x versions? Just the green lens or do they come with three? If so, which three?

Kerry M.
they real good
Familiarity:

I've used it several times

Fit:

True to size
used a credit to pick these up as i already have a nice new pair of Oakley's... Kind of an apparel whore these days........ The shades fit great, don't fog and are a fraction of the price of high-end Oakley models... i would definitely recommend Smith Optics..
Tom Halford
Height:
6'
Weight:
175lbs
fabulous biking glasses
Familiarity:

I've put it through the wringer

Fit:

True to size
I've been through Oakleys, Uvex, Native and others: I've really liked all of them, but these are my favorites and at this sale price they're an incredible deal. They come with 3 easily interchangeable lenses for different lighting conditions, all of which filter light extremely well. I particularly like the large lenses with no upper/lower frame to interfere and distract the visual field. And they protect extremely well in high wind or at high speeds. For my facial configuration they are snug, don't bounce around, yet totally comfortable. I have no criticisms, not even minor ones, and I find them attractive and stylish.

Nicholas K.
Awesome coverage
Familiarity:

I've used it several times
I was experiencing neck pain on the road bike trying to look over the frames of my old, inexpensive glasses. When they broke, I looked for glasses with no frame. The Smith Pivotlock Arenas Max are awesome! The Max version has a bit more coverage than the regular Arena's and it's plenty. I bought last years model, not only for the savings, but the new version does not come with a clear lense. For the price I spent I could buy a Chromapop lense and still have saved a good deal of money. The adjustable nose piece is great. It has 2 positions depending on how wide your nose is. The lenses can be changed quickly and easily. It came with the best glass case that I have ever seen. The lense with fog up on very humid days when you stop but quickly clear once you get rolling.
sc_108304246
I got these for a friend and he loves them. Being his first pair of performance sunglasses, he says they're superb.
Darick Nace
Unparalleled field of view
Familiarity:

I've put it through the wringer

Fit:

True to size
I got these for 2 main reasons: 1) multiple lenses with good quality and clarity, 2) the field of view. An upgrade from the Bolle Draft, I wanted no obstruction of the frame. I tried on a few Oakleys (Radar, Jawbreaker), but ultimately couldn't find a reason to justify the cost difference. Additionally, the frameless design has unmatched field of view and being a triathlete, this was a big selling point since I'm looking up while in the TT position. The lens quality is good, but not great and the comfort is good, but not great. However, they are insanely lightweight which add a lot to the comfort and forgetting they're on while riding and running.
While I love no obstruction of the frame, I've noticed the frame on previous glasses more or less acted as a guard from sweat dripping down. These lenses tend to get a bit blurrier, smudged, and sweaty on rides and runs.

Overall, I would recommend these depending on what you're looking for. If you're a heavy sweater like me, then the dripping sweat on the lens gets a little frustrating. While lens quality and clarity are solid on the Smith, some Oakley's feel a little more Cadillac. If value, lightweight, easy replaceable lenses, and field of view are what you need, there isn't a better option.
Mike
Great riding glasses! Look good and feel very light on your face. They seem like they fit all face shapes pretty well. I also love that they come with 3 sets of lenses for all different riding conditions! I got the turquoise color and was super happy with it. 5/5 would buy again.
Reiley Pankratz
New favorites
Familiarity:

I've put it through the wringer

Fit:

True to size
Great glasses for riding or running. The wife and I both have a pair, and despite very different face shapes, we both love the fit. The adjustable nose piece is key. Visibility is good and provides lots of coverage for dust and debris.
Hap Seliga
Super rad glasses
Familiarity:

I gave it as a gift but have feedback to share
These were bought for my fiance. She loves them. They fit really well and offer great protections. She likes most that there are interchangeable lenses depending on the conditions.
Tyler Palmer
I just ordered the Pivlock Arena Max sunglasses, Matt black super platinum. I'm not sure what type of lenses am I getting here?

gilbert Y.
Hey Gilbert- Thanks for the question.

So the, lens that was on your order was the Super Platinum. Smiths carbonic lenses are optically tuned to give you visual comfort while meeting the ANSI Z80.3 impact standard and includes a water and oil resistant coating. Providing 100% protection from harmful UVA/B/C rays.



Let me know if you want to look at another option of shades.

Feel free to contact me directly.



LSteelman@backcountry.com

801-204-4539
Lacey S
Awesome riding shades
Familiarity:

I've used it several times
Interchangeable lenses are simple and quick, coverage is excellent, I can barely tell I'm wearing sunglasses, good fit with bike helmet. Won't slip or slide even when wet.
Jason Page
I landed some of these on a deal and I've loved 'em! They look excellent and the optics are fantastic. They come with three lenses that cover pretty much all riding conditions. The lens change is simple and quick. No problems whatsoever. Defiantly recommend.
Joe Draper
The Best
Familiarity:

I've put it through the wringer
Simply put, Smith Pivlock Arena Max sunglasses are the best shades available for the road.

The MAX here is the key, as eye protection is absoluteness critical in road racing. Especially so if you're someone like me who relies on keeping your contacts safe and dry. In addition to a wide lens, the lenses are very easily interchangeable and come with a low light, and clear lens in addition to the lens included/pictured in our selections.

The looks is also second to none; streamlined, sleek and straight up fast.
Trevor J
Great coverage and overall fit.
Familiarity:

I've used it several times

Fit:

True to size
I wanted an extra set of sunglasses with lenses you could swap out for mountain biking and night riding. I also own a set of Parallel Max sunglasses. However, the coverage of those isn't very good for riding and I've had stuff get past the sunglasses and into my eyes. These sunglasses solve this problem as the coverage is excellent for riding and running.

However, coming from smaller sunglasses it took a little bit to get use to seeing the nose piece. But after a while I quickly got used to the design. I'm not sure I would recommend these for casual use, as I still prefer my other sunglasses. However, for athletic use these sunglasses are awesome.
Thomas J.
Great vision, nose clearance is tight
Familiarity:

I've used it several times

Fit:

Runs small
I love the glasses and the ease of the interchangeable lenses. However, I have a very large and broad nose and even with the adjustable pads it is ever so slightly to narrow. The glasses stay on and work well but I do notice them a bit more than my old pair which broke in a crash. I'm sure I will get used to it in short order.
Dylan W.
gifted
Familiarity:

I gave it as a gift but have feedback to share

Fit:

True to size
got these from an in law who completed the leadville 100. sort of a congrats on not dying gift. He plans on continuing to train so he can beat his time next year. He likes the 3 lenses, but the case isn't going to pack around easily so hopefully conditions don't change while he's riding. He says they fit good and are a huge upgrade from his not so comfy or light other sunglasses that hurt after an hour or so. He can wear these for his all day training rides.

matt
Height:
6'0"
Weight:
200lbs
Perfect Pick
Familiarity:

I've put it through the wringer

Fit:

True to size
I had the V2 and while I loved the glasses, they hit my cheekbones and the fit just didn't do it for me. Sent them back and purchased the Pivlock Arena Max with adjustable nosepiece (another conscious choice). I have total confidence in the lens quality for both the V2s and the Arena Max, but this shape is more functional for me and looks sweet on. The cutout on the bottom of the lens is a gentle one but allows for air-flow and the slightly larger size is not too large, but gives the coverage I need. Also count on Smith to throw in the right colors to interchange with and cover all the different light conditions. Had friends rocking these on a 400 mi team race this summer and lovin every minute. (What's right for you? Hit me up at klindsey@backcountry.com)
KAREN LINDSEY
Dig em
Familiarity:

I've put it through the wringer

Fit:

True to size
Great riding glasses. Comes with 3 lenses. I wish the case were a little smaller. The softshell case is so bulky that I don't want to take it on rides with me, which defeats the purpose of being able to take 3 lenses with me on the trail.

Apart from that, they're fantastic.
Mike Hulme
New Style
Familiarity:

I've used it several times

Fit:

True to size
Had the v2 max for a while, a meth addict broke into my car and needed them more than I did. I purchased the arenas and have been pretty happy so far. The nose piece is adjustable and fits ok, but slides around just a little more than my v2s did. Overall a solid choice.
Jason True