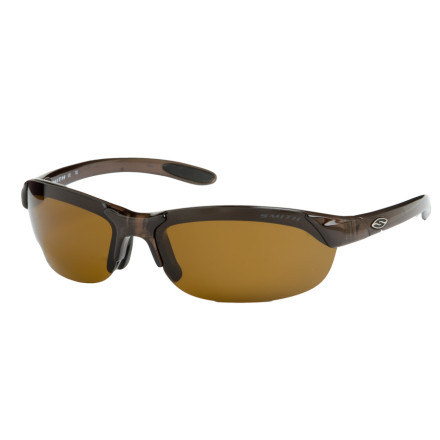 Colors
Adaptation.
When we think of the ultimate pair of high performance sunglasses, we envision a super lightweight, sweeping design that stays put, no matter how sweaty we get on a ride. The Smith Parallel checks all the boxes. Beyond all that, it delivers interchangeable lenses so no matter the light conditions, you'll have optimum clarity and definition.
We'd call the Parallel a close-fitting design. After all, the base curve of 9 ensures that the lenses sweep all the way around your eyes for optimum protection from unwanted light and glare as well as physical objects. The frame is made from Grilamid TR90, a tough plastic that is at once flexible, yet tough as nails. This lightweight frame supports individual lenses that pop out easily, like Smith's sliders of old. The lenses use Smith's Tapered Lens Technology (TLT) to give you a distortionless view. As you might've already experienced, visual distortion occurs when light waves hit an aggressively curved lens causing them to refract. This refraction causes a prismatic effect, or distortion. TLT corrects the distortion by progressively tapering the lens thickness from the optical center toward the peripheral edges. With TLT, light waves travel directly to your eye to generate precise vision and reduce potential eye fatigue. Objects are clearly defined and seen in their exact position.
Seeing clearly adds safety, but so does Smith's Carbonic lens material -- the most impact resistant lens material money can buy. Smith treats them with an anti-scratch coating to keep them as new as possible, as long as possible. They're light, they exceed ANSI Z80.3 specifications, and they protect your eyes from 100% of the UVA, UVB, and UVC rays out there.
The Grilamid TR90 frame provides you with maximum comfort, maximum flexibility, maximum toughness, and maximum resistance to sweat and sunscreen. And the hydrophilic Megol nose and temple pads keep them locked in place on your face. They won't slip. They won't slide. They won't fall off.
The Smith Parallel offers a close fit to your face and offers what's considered as medium coverage. It's available in Black w/polar grey and Brown w/polar brown. With either color option, you'll get two extra sets of lenses. The Ignitor lenses are great for overcast days as they increase definition and depth perception in low light. The Clear lenses are the best for very low light conditions. Switching between lenses is a total breeze and can be done in a matter of moments without tools.
Proposition 65 Warning for California Consumers: This product contains chemicals known to the State of California to cause cancer and/or birth defects or other reproductive harm.
Best Yet
Familiarity:

I've used it several times
These shades easily trump the Rudy Projects I've been using for quite a few years. The optics are extremely clear and clean. They're lightweight and fit my smaller face nicely. Having additional lenses is a definite bonus. I was considering the Oakley Half Jacket at the time of purchase, but I feel the Smith's provide a much greater bang for the buck. Believe someone else has stated this before, but the greatest measure of cycling shades is when you truly forget you're even wearing them. These definitely fall into that category. I've found myself (out of habit) attempting to push them back up my nose, but they have yet to move a millimeter.
Scott Primm
Lightweight, good fit, interchangeable lenses are easy to remove from the frames. I'm happy with them so far. They grip my head better than an old pair of polarized Oakley's I used to own.
David N.
I must admit, I have never disliked a Smith product. The optics are among the best, and the warranty can't be beat. That said - I got these lenses through a warranty of an old pair, from which that the polarized covering had de-laminated.

On to the shades -- they're pretty lightweight, and they don't move around on my face. I don't know if the included lenses (clear and rose) will get much play, but they could be good if I'm biking at night. These are good for an all around pair of sport glasses that will stay on your head and block the sun, while providing an excellent field of view.
Randall Edwards
I have a hard time finding sunglasses that work for me, but these were not good at all! They fit crooked on my face, hit my forehead and seemed poor quality. I returned them.
Meredith Richards
these sunglassses work very well for keeping debris out of the eye while biking and are very versital for fishing, hiking,skiing, etc. polarized is a bonus.
josh jackson